How Much Is A Gold Sovereign Worth Today
Gold sovereign prices fluctuate with the gold spot price, but below is the latest information on the value of a gold sovereign today. These are guide prices for selling standard Sovereigns.
Type Of Sovereign
Indicative Value (to sell)
As a general rule of thumb for gold sovereign prices, you can take the current price per gram, found on our live spot price page. You then simply multiply this price by the pure gold content of your coin, as seen in the table above. If you're looking to sell, then dealers will likely pay a small discount to this price.
However, these prices are not the same ones that you'll find on each of our pages if you are looking to buy full sovereign coins, half sovereign coins or quarter sovereign coins.When you purchase any gold coin or bar, you'll be charged a premium over this 'spot value' which reflects costs such as production and delivery and the quantity you're buying.
The value of a Gold Sovereign also depends on several other variables. The age and condition of the coin will also impact the worth, with Victorian gold Sovereigns being valued higher than newer coins for example. This is called numismatic value, which can lead to large increases in price for certain coins. Finally, private coin collectors may pay higher for a particular Sovereign than a jeweller for instance.
The prices you see above are an indication of what you'll receive when you sell gold sovereign coins to us. Live prices if you're looking to buy Sovereign coins can be found here  Full gold sovereign coins or half sovereign coins.
What Is A Gold Sovereign
A gold sovereign is a British gold coin first minted in 1489 under King Henry VII. The coin has a rich history and holds a special place in the hearts of coin collectors and investors. Today, gold sovereigns are popular for their gold content, historical significance, and tax advantages.
Dimensions of a Sovereign
Gold sovereigns are made from 22-carat gold, weighing 7.98 grams and measuring 22.05 mm in diameter and 1.52 mm in thickness. The pure gold content of a sovereign is 7.32 grams. See our guide for more detail on a gold sovereigns size.
History of a Gold Sovereign
Gold sovereigns were initially introduced in 1489 by King Henry VII and were used as currency across the British Empire. They gained popularity because of their gold content, intricate designs, and the significance they held in British coinage. Over the centuries, the designs on gold sovereigns have evolved, with the most famous design featuring Saint George slaying a dragon by Benedetto Pistrucci. For more information on the history of gold sovereigns, you can visit: The Royal Mint – History of the Gold Sovereign.
The Insiders Guide to Buying & Selling Gold Sovereigns
Comprehensive guidance on gold and silver investment
Sovereign Coin Design
Gold sovereigns are highly sought-after British coins known for their intricate design, resilience and historical significance. These coins have been minted since 1817, with various designs used over the years. This section will explore some of the most common designs and features found on gold sovereigns, focusing on aspects that would help collectors and investors identify and appreciate their coins.
Obverse Design: The obverse (front) of a gold sovereign typically features the reigning monarch's portrait. Since the coin's inception, there have been several different portraits, with each new monarch bringing their unique effigy. The most recent portrait features King Charles III, which follows the long reign of his mother Queen Elizabeth II, which featured a total of five portrait iterations minted throughout her reign. Other popular monarchs are Edward VII and King George V.
Reverse Design: The reverse (back) of gold sovereigns often showcases the iconic depiction of St. George slaying a dragon. Designed by the famed Italian engraver, Benedetto Pistrucci, this classic motif has graced the majority of gold sovereigns. However, some special editions and proof issue coins feature alternative designs, such as the Royal Coat of Arms, to commemorate specific events or anniversaries.
Royal Mint Branch and Mint Mark: Gold sovereigns have been minted at different Royal Mint branches worldwide, including the UK, Canada, Australia, and South Africa. Each branch used a distinct mint mark to identify the location of production. For example, the South African Mint in Pretoria used the mint mark 'SA', while the Perth Mint in Australia used the 'P' mark. Identifying the mint mark can add historical significance to the coin and, in some cases, increase its numismatic value.
Edge Design: The edge of a gold sovereign is typically milled or serrated, providing a tactile and visual distinction from other coins. The milled edge adds an extra layer of security, making it more difficult to counterfeit. This was originally introduced as tiny gold shavings were often 'stolen' from the edge of many coins. If the milling was missing, it suggested that the coin would weigh less due to this subtle theft.
Special Editions and Proof Issues: Occasionally, special edition or proof issue gold sovereigns are released to celebrate significant events or anniversaries. These coins often feature unique designs and can be worth more than the value of the weight of the metal.
What Is The Face Value Of A Gold Sovereign Coin?
The face value of a gold sovereign coin is £1. However, this does not necessarily mean the coin is worth only £1, as its gold content and market conditions significantly influence its actual value.
Gold Sovereign Prices Over The Last 20 Years
Below is a table detailing the average gold price per troy ounce in British Pounds (GBP) for each year from 2000 to 2020, along with the corresponding gold sovereign value based on the gold content only. The pure gold content of a gold sovereign is 7.32 grams, which is equivalent to 0.2354 troy ounces. Additional premiums on particular Sovereigns and during various timeframes will vary. Gold Spot Price (Light blue), Sovereign Price (Darker blue).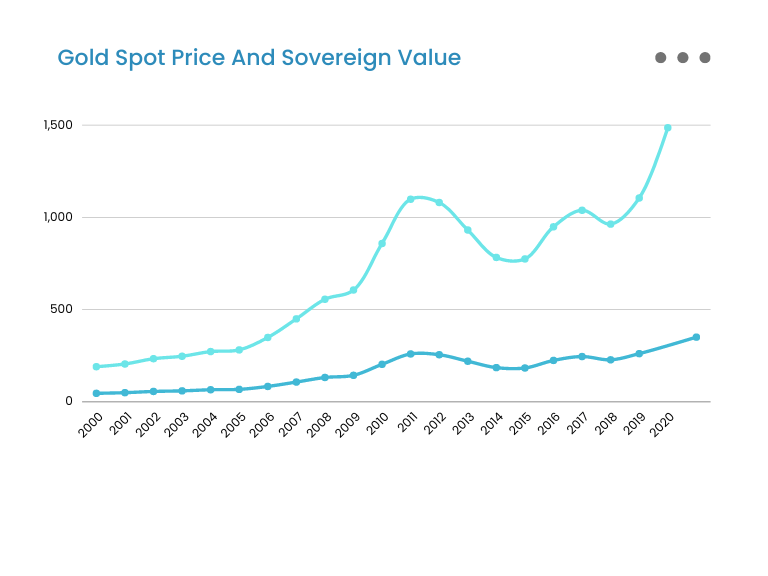 Are Gold Sovereigns A Good Investment?
Gold sovereigns are considered a good investment for several reasons, making them an attractive option for investors looking to diversify their portfolios. These British coins offer not only the pure gold value inherent in bullion coins but also come with a historical and numismatic significance. Let's delve deeper into the factors that make gold sovereign coins an excellent long-term investment:
Historical and Numismatic Value: As a highly sought-after British coin, gold sovereigns have a rich history that dates back to 1817. Their enduring appeal among collectors and investors can cause their value to appreciate over time, beyond the value of the gold they contain.
Global Recognition and Liquidity: Gold sovereign coins are recognised and easily traded worldwide, making them a highly liquid investment. Their popularity ensures that you can quickly sell them whenever the need arises.
Hedge Against Inflation and Market Volatility: The gold content in gold sovereigns acts as a hedge against inflation and market volatility. As a tangible asset, gold has historically maintained its value over time, making it a reliable investment during periods of economic uncertainty.
Tax Benefits: Gold sovereigns, including full and half sovereign coins, are exempt from Capital Gains Tax (CGT) in the UK. This tax advantage makes them an even more attractive option for investors looking to maximise their returns.
Versatile Investment Options: When buying gold sovereigns, investors have the choice of purchasing full sovereigns, half sovereigns, or other denominations, allowing for a flexible investment strategy that can be tailored to individual needs and budget. Their small size makes them accessible to smaller investors and provides divisibility to larger gold portfolios.
Long-term Investment Potential: Gold sovereigns are an excellent option for those seeking a long-term investment. Their historical performance, combined with the inherent stability of gold, makes them a suitable addition to any investment portfolio.
Conditions That Affect Gold Sovereign Value
The value of a gold sovereign is influenced by several market conditions, which can significantly impact its worth. Here is an in-depth look at these factors:
The Global Price of Gold
Gold prices fluctuate daily due to various factors, such as currency values, interest rates, inflation, and economic and political events. These fluctuations directly affect the value of gold sovereigns since their worth is primarily based on their gold content. Monitoring global gold prices can help investors identify trends and make informed decisions when buying or selling gold sovereigns.
Demand and Supply
The market demand for gold sovereigns and their availability also play a crucial role in determining their value. Higher demand for these coins, coupled with limited supply, often results in higher prices. On the other hand, if the market is saturated with gold sovereigns, their value might decline. Rarity, mintage, and historical significance can also affect demand and, consequently, the value of gold sovereigns.
Economic and Political Factors
Global economic and political events can influence the value of gold sovereigns. During times of economic uncertainty or political instability, investors often turn to gold as a safe-haven investment, which can increase demand for gold sovereigns and, in turn, their value. Additionally, government policies and regulations concerning gold ownership and taxation can impact gold sovereign prices.
See the latest Sovereign prices, availability and quantity discounts by clicking the links below
When Is The Best Time To Buy A Gold Sovereign
Identifying the right time to buy gold sovereigns can help investors maximise their returns. Here are some strategies to consider:
Buy when gold prices are low: One of the most effective ways to make the most of your investment is to purchase gold sovereigns when gold prices are low. By monitoring gold prices and identifying trends, you can time your purchases to take advantage of lower prices, increasing the potential for higher returns when you decide to sell.
Look for limited edition releases: Limited edition or commemorative gold sovereigns often hold a higher numismatic value due to their rarity and unique design elements. Collectors are willing to pay a premium for such coins, making them a potentially lucrative investment. There are benefits to buying both new or old gold sovereigns, but it pays to keep your eyes peeled for new releases.
Consider economic and political factors: Economic uncertainty or political instability can lead to increased demand for gold as a safe-haven investment. During such times, gold sovereigns might become more valuable as investors seek to protect their wealth. Stay informed about global events and consider investing in gold sovereigns when the market conditions seem favourable.
How Do You Know If Your Gold Sovereign Is Real?
To ensure your gold sovereign is genuine, pay attention to the following indicators:
Weight and dimensions: Verify that the weight and dimensions of the coin match the specifications of a genuine gold sovereign.
Design details: Examine the design elements, such as the portrait of the monarch or the St. George and the Dragon design, for accuracy and detail.
Hallmarks: Look for hallmarks specific to gold sovereigns that indicate the coin's authenticity.
For more information on gold sovereign hallmarks, visit our guide on the hallmarking of coins.
How Can You Sell Your Gold Sovereigns
If you're looking to sell your gold sovereigns, it's essential that you work with a reputable dealer to ensure you receive a fair price for your coins.
Physical Gold Limited, a registered member of the BNTA, has a long track record of providing excellent service. To get in touch with their investment team, call (020) 7060 9992.
For a more detailed guide on selling your gold sovereigns, check out our insights on how to sell gold sovereign coins.
FAQ's
Are gold sovereigns worth money?
Gold sovereigns minted in 1604 or before are highly desirable due to their scarcity and rarity value. Bigger and heavier than today's sovereign and made from purer 23-carat gold, their prices are not affected by the market price of gold and they can fetch thousands.
Are gold Sovereigns 24k?
Gold Sovereigns are British coins made from 7.98 grams of 22-carat gold.
How do I sell my gold sovereign?
To sell your gold sovereign, work with a reputable gold dealer to ensure you receive a fair price reflecting the gold content and numismatic value of the coin.
Are gold sovereigns pure gold?
A gold sovereign coin is minted in 22ct gold, which means it is made up of 91.67% fine gold. Each sovereign contains 7.32 grams of fine gold. The bullion value of your sovereign is determined by multiplying the fine gold content by the spot price at the time.
How much is a 1912 gold sovereign worth in the UK?
The value of a 1912 gold sovereign depends on its condition, rarity, and current gold price. To determine its worth, consider both the gold content and any numismatic value the coin may possess.
Are all sovereigns 22-carat gold?
All sovereigns have a fineness of 916.7, which means that out of 1,000 parts, 916.7 parts are pure gold, equating to a purity of 91.67%. This has been the purity and weight of gold sovereigns since their reintroduction in 1817, making them 22-carat gold coins.
How much is 1 sovereign gold in grams?
The weight of a gold sovereign is 7.98 grams, with a pure gold content of 7.32 grams. They measure 22.05 mm across and are 1.52 mm thick.