What's the most valuable gold Sovereign coin?
The Sovereigns with the highest value will likely be those that combine very limited supply with age and collectability. Let's take a quick look at some of those factors before we reveal some of the most valuable gold Sovereigns in existence!
3 Factors Affecting Gold Sovereign Value
1. Year of issuance
The general rule of thumb is the older the Sovereign, the more 'historical value' it contains. Based on that, we tend to see Elizabeth Sovereigns having the lowest value, then George V slightly higher, Edward VII, Victoria, George IV and finally George III being the most valuable. A simple illustration of this rule is how the earlier Victoria Sovereign coins, known as 'Young Heads' trade 10-15% higher than the more recent 'Jubilee' and 'Old Heads'. People are willing to pay slightly more for an older coin. Check out our more in-depth explanation of the Value of Victorian Gold Sovereigns.
While this rule provides a sound starting point for understanding Sovereign values, several other elements combine to impact the overall coin value.
2. Number of coins issued and in existence
The two elements affecting supply are the number of that particular type of coin issued and the quantity melted down afterwards. The natural dynamics of supply and demand mean that if far fewer Sovereigns were minted in a particular year and if many coins were melted down during the ensuing years, then circulation will be low, pushing up prices. An obvious example of a limited production run is Edward VIII Sovereign coins as he was only on the throne for a limited time in 1936. Mass minting was suspended before it began in January 1937 due to the king abdicating so only a small number of test coins exist.
3. Collectability
The final element influencing the value of a Sovereign coin is its collectability. A vast majority of Sovereign coins feature the famous George & The Dragon design on its reverse. But 'Shield back' designs have been used sparingly instead to celebrate jubilee years (2002, 2012 and 2022 are good recent examples). Their beautiful design combines with their relative rarity to push up demand and therefore prices.
Some Sovereigns will feature less common mint marks from the British Empire, increasing demand from collectors, while other coins may mark the beginning or the end to a monarch's reign. We've seen prices of the recent 2022 Gold Sovereign increase as supply has struggled to meet demand. This particular very modern Sovereign has broken the 'age rule' due to the coin featuring a jubilee-inspired shield back design and the sad passing of Elizabeth II in 2022, meaning it's the last year featuring her portrait.
Larger size Sovereigns like the Quintuple Sovereign are sometimes issued to commemorate a particular event and can be worth more due to their collectability.
The Rarest Gold Sovereign Coins In Circulation
In the world of gold sovereign collecting, rarity often translates to value. Some gold sovereigns are more sought after by collectors due to their scarcity and historical significance.
The rarest gold sovereign coins in circulation include:
Coin Year
Coin Name
Mintage Figure (approx.)
1819
George III Sovereign
3,574
1828
George IV Sovereign (Bare Head)
386,182
1838
Queen Victoria Sovereign (Shield Reverse)
3,910
1841
Queen Victoria Sovereign (Shield Reverse)
2,970
1917
Sovereign Coined in London in the Last Year of Royal Mint's Production
1,327
1957
Queen Elizabeth II Sovereign
5,001
1989
Elizabeth II Sovereign for the Commemoration of the 500th Anniversary
12,500
1819 George III Sovereign:
Features King George III on the obverse
Designed by Benedetto Pistrucci
Extremely rare with an estimated mintage of 3,574 coins
1828 George IV Sovereign (Bare Head)
Depicts King George IV on the obverse
Designed by Jean Baptiste Merlen
Mintage of 386,182 coins, making it a rare find
1838 Queen Victoria Sovereign (Shield Reverse)
Queen Victoria's first gold sovereign coin
Young Head portrait on the obverse and a shield design on the reverse
Low mintage of only 3,910 coins
1841 Queen Victoria Sovereign (Shield Reverse)
Similar design to the 1838 Queen Victoria Sovereign
Mintage of just 2,970 coins, making it rarer than the 1838 version
1917 Sovereign Coined in London in the Last Year of Royal Mint's Production
King George V portrait on the obverse
Last year of sovereign production at the Royal Mint in London during WWI
Extremely rare with only 1,327 coins minted
1957 Queen Elizabeth II Sovereign
Features a young Queen Elizabeth II on the obverse
First sovereign issued during her reign
Mintage of only 5,001 coins, making it a rare and sought-after piece
1989 Elizabeth II Sovereign for the Commemoration of the 500th Anniversary
Commemorates the 500th anniversary of the first gold sovereign
Features a special obverse design by Raphael Maklouf
Limited mintage of 12,500 coins
Looking to buy Gold Sovereigns?
Download the 7 Crucial Considerations before you buy
The Gold Sovereign – a flagship British coin with enduring value
The UK gold sovereign is a historic British coin that has been in circulation for more than two centuries but which gold Sovereign coin is the most valuable? They have been issued by the Royal Mint since 1817, as 22 carat gold coins having a face value of one pound. Initially, it was well-known as a circulating coin. The gold Sovereign was withdrawn from circulation in 1932.
However, the Royal Mint has continued to issue these coins as bullion coins. which is attractive to collectors and gold investors. The modern-day Sovereign carries a design of St George and the Dragon on the reverse of the coin. This design was created by the famous Italian Engraver, Benedetto Pistrucci and his initials appear on the coin.
The Sovereign is now one of the most sought-after British coins. It is attractive to both investors and numismatists as an investment and a collectable coin.
"Of the commonly traded and readily available bullion Gold Sovereigns, the Young Head Victoria tends to be the most valuable with prices around £450-£500 each. The earliest shield-back versions tend to fetch prices at the top of that range."
A long and prestigious history
Due to its long history, the gold Sovereign has been around for more than two centuries. During this time, the coin has seen the reigns of several British monarchs. Having been minted for over 200 years, the gold Sovereign is easily available to investors. However, the value of a gold Sovereign is often decided by its gold content, the age and the condition of the coin. Newer gold sovereigns do not carry hefty premiums.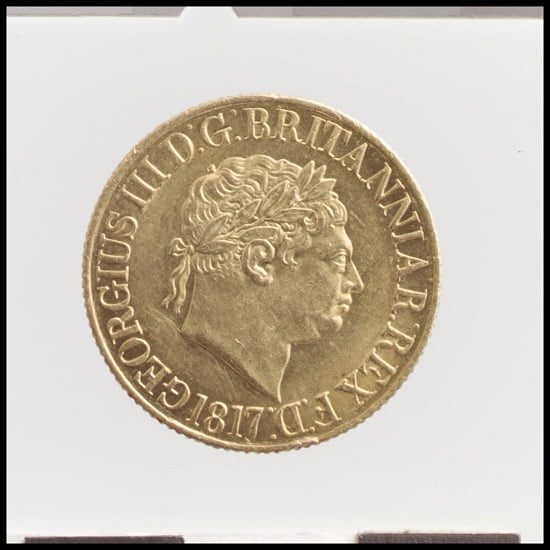 The Sovereigns of George III
The gold Sovereign was reintroduced into British coinage in the early 19th century, after a long hiatus since 1603. When the re-introduced Sovereigns were initially minted in 1817, George III was the reigning monarch.
Therefore, the coins were produced with an image of his head on the obverse. However, the King died in 1820. So, George III Sovereigns were struck for the duration of only three years.
There were other factors that led to limited mintage produced during these years. The coin failed to win popularity at the time and there was a lack of demand. By 1819, only a little more than 3500 were being produced. There was talk of gold being discontinued as a metal used for coinage. This was another factor that contributed to the low numbers being manufactured.
The reigns of many monarchs
The British gold Sovereign has witnessed the rule of several monarchs. George IV acceded to the throne in 1820 and now the Sovereigns were produced with his image. William IV became King in 1830 and once again, a new Sovereign was introduced. However, his reign was short-lived and ended in 1837 with his death. It was now the start of the Victorian era and by 1838, the 'shield back' Sovereign was being minted regularly at the Royal Mint.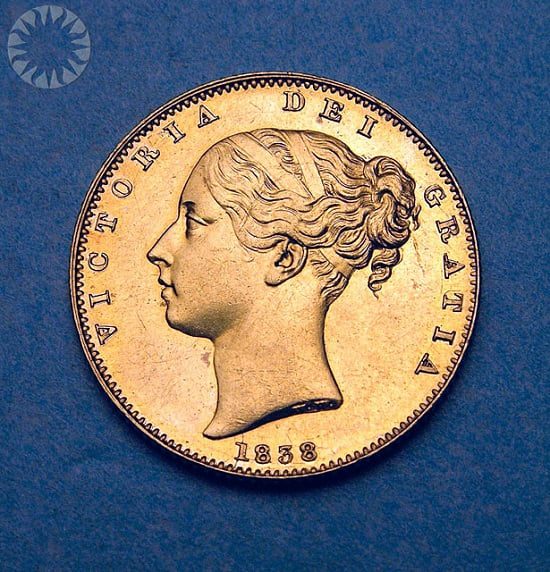 Victorian era Sovereigns
On the other hand, Victorian gold Sovereigns can fetch a much higher value due to their increasing scarcity. It was during the reign of Queen Victoria that the Sovereign gained worldwide popularity. The reign of Queen Victoria witnessed issues of three gold Sovereigns – the Young Head, the Jubilee Head and Old Head.
From 1842, a massive re-coinage operation was undertaken that lasted three years. New quality control measures ensured that the coin was produced to a high standard and distributed across the world. Of course, these coins featured an image of the young head of Queen Victoria. Of the commonly traded and readily available bullion Gold Sovereigns, the Young Head Victoria tends to be the most valuable with prices around £450-£500 each.
The price of a Sovereign can also vary according to demand and the type of investor. For example, a private buyer may often be willing to pay a higher price for a gold Sovereign that was issued in a particular year, perhaps to finish a collection or match a birth date.
The most valuable commonly-traded Sovereigns
Of the commonly traded and readily available bullion Gold Sovereigns, the Young Head Victoria tends to be the most valuable with prices around £450-£500 each. The earliest shield-back versions tend to fetch prices at the top of that range.
Proof and rarer modern Sovereigns can also fetch higher prices like the Elizabeth II third head which can trade around £700.
By 1890, all gold coins prior to the Victorian era were recalled by the government and the demonetisation came into effect in 1891. This is another reason why early Sovereigns are scarce today.
Looking to sell your Gold Sovereigns?
Learn the 10 commandments to selling your gold coins for the most money
Which Gold Sovereign coin is the most valuable?
Let's take a look at gold Sovereigns that have fetched record prices. George III Sovereigns have proved to be the most valuable due to their scarcity, with one fetching £186,000 at auction.
The sovereign was discontinued during the start of the First World War in 1914. In 1937, a proof set of Sovereigns were created for the reign of Edward VIII. They were never released as the King abdicated in 1938. These are considered to be very rare and one of them fetched £516,000 at an auction in 2014, this was subsequently sold to a collector for 1,000,000 pounds in 2020.
Needless to say, the gold sovereign remains one of the most collectable coins in the world today and brings joy to generations of investors and collectors alike.
Call our team of experts to know more about valuable British gold coins
Shop brand new and pre-owned Gold Sovereigns
FAQs
Why Are Some Sovereigns Worth More Than Others?
The difference in cost between most sovereigns is due to the market value of the gold content. Double Sovereigns contain 0.4708 Troy Ounces of gold, Full sovereigns contain 0.235 Troy Ounces of gold, half sovereigns 0.1176 Troy Ounces and a quarter sovereign coin has 0.0588 troy ounces.
There are also numismatic features to the coins which can influence value such as age, mint year, condition and rarity.
Are old gold sovereigns worth more?
Old gold sovereigns can be worth more if they are rare, in excellent condition, or hold historical significance. However, the gold content remains an important factor in determining value.
What year gold sovereigns are rare?
Some rare gold sovereign years include 1841, 1937, and 1923, among others.