King George V sovereigns are highly valued amongst numismatics due to being the last gold sovereign in actual circulation before the end of the Gold Standard in Britain.
Over the years, gold sovereigns have become a standout investment for collectors as they represent a significant part of British History and are considered legal tender in the UK. This means they areCapital Gains Tax exempt.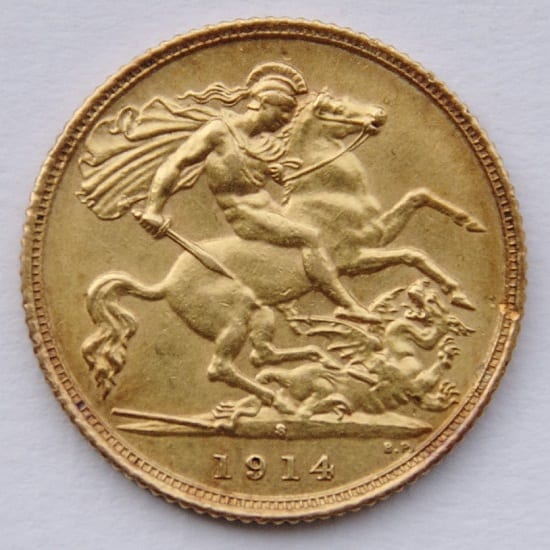 History of King George V Sovereigns
King George V reigned over the United Kingdom from 1910 to 1936, a period marked by significant events, including World War I and the beginning of the Great Depression. The sovereigns minted during his reign are a tangible link to this pivotal era in history.
The first King George V Sovereigns were struck in 1911, following the tradition of portraying the ruling monarch on the coin's obverse. The coins feature the iconic design by Edgar Bertram Mackennal, an Australian sculptor, depicting the king in his coronation robes.
The sovereigns were minted in several branches of the Royal Mint across the British Empire, including London, Melbourne, Sydney, Perth, Ottawa, Bombay, and Pretoria. This global mintage adds an extra layer of intrigue and variety to these coins, making them highly sought after by collectors.
Production and Mintage Details
The production of King George V Sovereigns was a global operation, reflecting the vast reach of the British Empire during the early 20th century.
The Royal Mint had branches in several countries, each producing sovereigns with distinctive mint marks. These marks, usually a single letter, can be found on the ground above the date and indicate the mint of origin. For example, coins minted in London carry no mint mark, while those from Melbourne, Sydney, Perth, Ottawa, Bombay, and Pretoria carry the marks 'M', 'S', 'P', 'C', 'I', and 'SA', respectively.
The mintage numbers of King George V Sovereigns varied greatly from year to year and from mint to mint. Some years saw production in the millions, while others had much lower figures.
This variation, along with the different mint marks, contributes to the collectability of these coins. Collectors often seek to acquire sovereigns from each mint and from different years to complete their collections.
During the reign of King George V, the mintage of sovereigns was influenced by significant historical events, including the First World War and the expansion of the Royal Mint to new locations.
For instance, the Royal Mint briefly expanded to Bombay (now Mumbai) in India to increase output during the ongoing 'Great War'. The Indian refinery began production in August 1918 and ran until early 1919.
A year after India stopped producing Sovereigns, the Ottawa refinery in Canada also ceased operation. The mint stayed active, however, and simply passed over to the Canadian authorities for domestic production.
In 1923, the Royal Mint expanded to one last new location. This site was to be in South Africa, with a new refinery established in Pretoria.
The mint would operate until 1932 when it was turned over to local authorities. It is now better known as the Rand Refinery and produces Krugerrand coins for the South African government.
King George V Sovereign Design
George V gold sovereigns were produced to the same purity as other modern-era Sovereigns, in 91.67% fine gold (22 carats). The coin's design was changed in 1929 to incorporate an inner circle and beading around the outside edge.
This extra level of security made it much harder for forgers of the time to replicate the coin, which is why the sovereign is still held in such high regard by collectors and investors.
The obverse of the George V Sovereign features his portrait by Australian-born engraver Edgar Bertram Mackennal. The task of creating the king's depiction for the new coin's was mandated after Mackennal impressed with his 1908 London Olympic medal designs. The engraver's initials "BM" appear in the truncated neck of the effigy.
The king's portrait faces left, continuing the tradition of each succeeding monarch's head facing the opposite direction to the previous one, which started in the 17th century during the reign of Charles II. The exception to this rule came immediately after Charles V, with the brief reign of his eldest son Edward VIII before he abdicated. Although coins were never circulated due to the brief nature of his reign, Edward VIII insisted on his portrait also facing left, like his father's, as he preferred that side of his face. This wish was granted in the designs. Coins featuring his sibling successor George VI also faced left, as if Edward's portrait had faced right.
While it seems that this single portrait was used for the entire period of King George V's coinage, there were actually two versions used.The original design was used on coins minted between 1911 and 1928. However, after production issues at The Royal Mint, a revised identical, but smaller version, appeared between 1929 and 1932.
Surrounding King Charles V's image is the wording: GEORGIVS V D.G.BRITT:OMN:REX F.D.IND:IMP and the edging is milled to minimise thieves trying to shave off tiny fragments of gold.
The coin's reverse displays the familiar fable of St. George slaying a dragon by Italian engraver Benedetto Pistrucci. His famous interpretation depicts the saint clutching a sword, sat astride his horse, which is trampling the wounded dragon. This design replaced the original version featured between 1817 and 1819 in which St.George was instead holding a broken spear, with other fragments in the dragon and on the ground beside it. The sword version has been used on the rear of the Gold Sovereign since.
Unlike some other Sovereign periods, those featuring George V never exhibited an alternative 'shield-back' reverse design. Most recently, the alternative shield of arms reverse is selected for Sovereigns minted during commemorative years such as jubilees. Notable examples during Elizabeth II's reign are featured on the 2002, 2012 and 2022 Gold Sovereigns.
The Ultimate Guide to Tax Efficient Gold & Silver Investing
Get free insider tips to ensure you achieve the best investment returns
What Is The Rarest King George V Sovereign?
The 1917 George V gold sovereign is considered incredibly rare and is highly sought after by many coin collectors. This is because many of them were melted down after World War I to help pay off Britain's war debts to America. Remember, the value of a coin is not just in its metal content or face value, but also in its historical significance, rarity, and condition. The 1917 George V sovereign is a prime example of a coin whose value far exceeds its weight in gold.
Identifying a 1917 George V Sovereign
The 1917 George V sovereign features the classic design of St. George slaying the dragon on the reverse, created by Italian engraver Benedetto Pistrucci. The obverse features the portrait of King George V. It's important to note that genuine 1917 sovereigns do not carry a mintmark, as they were minted in London. Any 1917 sovereign with a mintmark is not a genuine London issue.
Significance of King George V Sovereigns
The King George V Sovereigns are more than just gold coins; they are a piece of history. Minted during significant global events, including World War I and the onset of the Great Depression, these coins offer a glimpse into the past.
The sovereigns bear the portrait of King George V, who reigned during these challenging times, making them a tangible connection to this pivotal era in history.
Moreover, the sovereigns are a testament to the global reach of the British Empire in the early 20th century. They were minted in various branches of the Royal Mint across the globe, from London to Bombay to Pretoria.
This global mintage adds an extra layer of intrigue and variety to these coins, making them a fascinating subject of study for historians and numismatists alike.
Build Your Precious Metals Portfolio Today
Our portfolio Creator shows you the best precious metal investment for your budget.
King George V Sovereigns for Collectors
For coin collectors, King George V Sovereigns hold a special appeal. The variation in mintage numbers and mint marks make these coins highly collectable. Collectors often seek to acquire sovereigns from each mint and from different years to complete their collections.
The challenge of finding specific coins, especially those with lower mintage numbers or from less common mints, adds to the thrill of collecting.
Furthermore, these coins' historical significance and beautiful design make them a prized addition to any collection.
The portrait of King George V in his coronation robes, the iconic image of St. George slaying the dragon, and the various mint marks all contribute to the aesthetic appeal of these coins.
Whether you're a seasoned numismatist or a beginner in coin collecting, King George V Sovereigns offer a rewarding and engaging collecting experience.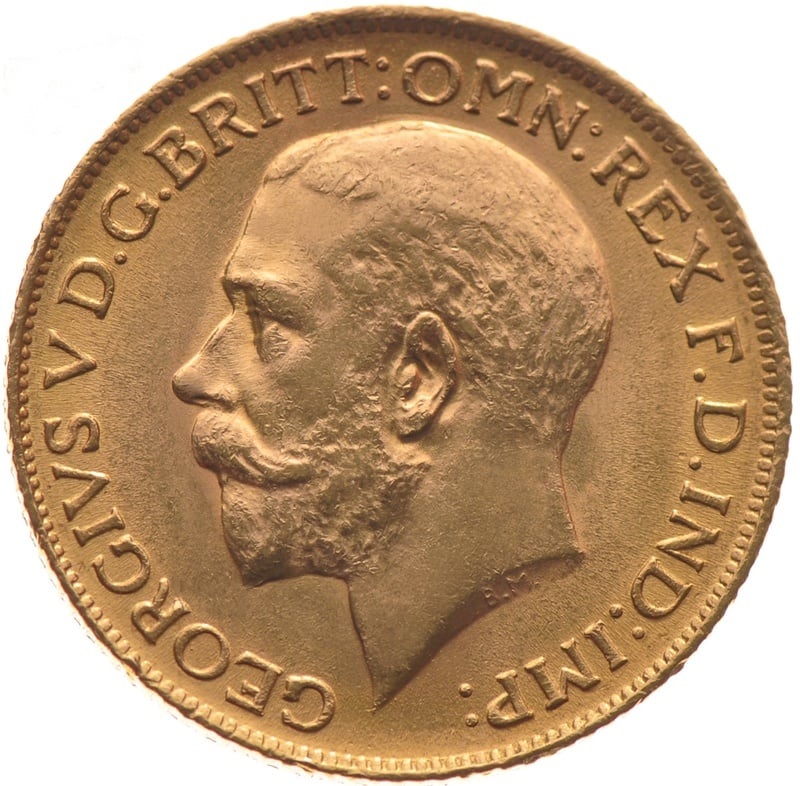 Tips For Buying George V Coins
Understand the Different Mints: King George V Sovereigns were minted in several locations, including London, Sydney, Melbourne, Perth, Ottawa, Bombay, and Pretoria. Each mint has its unique mintmark, and some are rarer than others. Understanding these differences can help you make more informed purchasing decisions.
Look for Key Dates: Certain years are more valuable than others due to their rarity. For example, the 1917 London Mint sovereign is among the rarest and most valuable. Be aware of these key dates when purchasing.
Learn About Grading: The condition of a coin greatly affects its value. Coins are graded from 1 (poor) to 70 (perfect). Higher-grade coins are more valuable, but they can also be more expensive. It's important to balance the grade of a coin with its cost.
Verify Authenticity: Always purchase fromreputable gold dealers who can guarantee the coin's authenticity. Counterfeit coins are a common issue in the numismatic world, so ensuring you're getting the real deal is crucial.
Remember, the key to successful coin collecting is patience, education, and building relationships with trusted dealers.
Why Do King George V Sovereigns Make A Good Investment?
Gold sovereigns are considered semi numismatics. This means collectors buy them for both their bullion content as well as their numismatic (rarity/historical value).
Due to the coin's everlasting popularity with collectors from all over the globe, gold sovereigns are relatively liquid which means they are easily exchangeable for cash.
For New Investors:
Historical Value: King George V Sovereigns are not just coins but pieces of history. Minted during a significant period in world history, they offer a tangible connection to the past. This historical value can make them more appealing and valuable than modern bullion coins.
Accessibility: Unlike rare coins, many King George V Sovereigns are relatively accessible to new investors. While rare dates and mints can command high prices, many are affordable. This makes them a good entry point into gold coin investing.
Recognisability: King George V Sovereigns are well-known and widely recognized. This can makebuying sovereigns and selling them easier for new investors, as they are likely to be accepted by dealers and collectors worldwide.
Gold Content: Each King George V Sovereign contains .2354 ounces of Gold. This intrinsic gold value provides a base value for the coin, making it a relatively low-risk investment
For Experienced Investors:
Variety: With King George V Sovereigns minted at various mints worldwide; there is a wide variety of coins to collect. This variety can make building a collection more interesting and challenging.
Rarity: Certain years and mints are rare, especially the 1917 London Mint sovereign. These rare coins can command high prices and offer significant potential for appreciation.
Condition and Grading: For experienced investors, the coin's condition becomes more important. Higher grade King George V Sovereigns can be worth significantly more than those in average circulated condition. This offers the opportunity for more nuanced investing strategies based on grading and condition.
Historical Market Performance: King George V Sovereigns have a track record of steady appreciation over time. While past performance does not guarantee future results, this historical trend can provide some confidence for experienced investors.
Portfolio Diversification: Adding King George V Sovereigns can provide further diversification for investors with a diverse portfolio. They offer a different set of risk and reward factors than other investments, such as stocks or bonds.
Purchase George V Sovereigns through Physical Gold
We have a huge amount of experience in the buying and selling of gold sovereign coins, with many trusted 5-star reviews to back it up. A member of our team is always available to offer guidance on purchasing or selling Gold Sovereigns if you need. Our wide stock of pre-owned Sovereigns have all been checked for quality and condition by our numismatic team to ensure we only offer the best products for investment and collectors.
Browse and Buy Gold Sovereigns From Our Extensive Stock