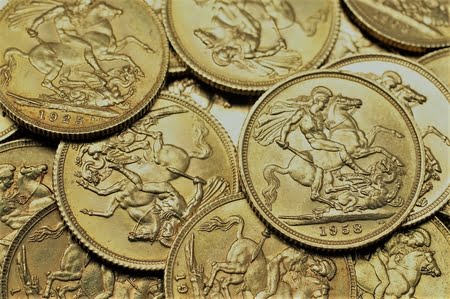 01.
Select the amount you wish to invest
If your desired amount isn't in the dropdown menu, please add multiple amounts to your basket to achieve the required figure.
02.
Our team hand picks your portfolio
Our experts select products based on value, divisibility, upside potential and tax efficiency. Prices are locked on the day funds clear.
03.
Receive a full portfolio breakdown
An itemised invoice is provided with your order. Storage customers also receive a Storage Document and can view their portfolio breakdown in their online account.
Specifications
Select amount:
£2,000, £3,000, £4,000, £5,000, £10,000, £15,000, £20,000, £25,000, £30,000, £40,000, £50,000
What is the Director's Pick?
Benefit from our experience and expertise as we hand select a mixed portfolio of UK Tax free coins. This will consist of coins picked at PGL's discretion from the selection of Enhanced Performance coins. All coins are Royal Mint issued and pre-owned. All our pre-owned coins undergo strict quality checks by our team of experts to ensure their condition is excellent. The idea is two-fold. If you're unsure which coins to go for and feel you'd benefit from our years of experience and knowledge, then leave the choice to us. We know which coins offer the most value, upside potential or are currently trading cheap to their usual prices.
Secondly, it's the perfect way to create a varied, balanced and mixed portfolio of UK coins (such as Sovereign coins and Britannia coins. The entire portfolio will be tax-free and depending on investment amount may vary in monarchy and age, size of coins and numismatic level. In other words, you'll get coins large and small, nearly new, and more historic. The slightly older UK coins move up in value just like brand new coins, but because they're not issued any more, or less abundant.
They may also be of a limited issue and enhanced desirability due to a combination of scarcity and historical interest. This additional value makes them worth more than their equivalent brand-new coins, and returns can be greater if their historical premiums rise. It's a great way to own an appreciating asset and a piece of history.

Learn "6 Hacks to buying the best value gold sovereign coins", in our YouTube video.
Who is the Director's Pick for?
A growing number of investors are buying gold for the first time as they realise it's the missing component in their portfolio. For most UK residents, Tax free gold coins are the best option.
Coins issued by the Royal Mint are both VAT exempt and Capital Gains Tax (CGT) free. However, choosing the right coins, and the optimum mix isn't easy. It's important to achieve a varied portfolio to maximise returns, buy coins which are liquid and easy to sell, and those which are perhaps offering additional value at the time of purchase. That choice can be overwhelming which is why we created the Director's Pick, which is a free service to all our investor's, new and old.
This product is subject to availability. If we are unable to fill your entire order size within 5 business days of receipt of funds, then you're entitled to a full refund, we also offer a buyback guarantee, see: https://www.physicalgold.com/sell-gold-silver-metals/ for details.
Orders are delivered free of charge within the UK only.
Delivery is in non-branded tamper proof packaging by Royal Mail Special Delivery and is fully insured. Delivery usually takes place before 1pm on the day following despatch, but some areas may run over this timeframe.
Maximum value per parcel is £50,000, so larger orders will be sent in multiple installments.
When placing your order, the delivery address needs to match the registered address of the buyer.
You'll receive a despatch email with a tracking link once the goods are sent so you can see the status of the delivery and location of the parcel.
In the event that no-one is in to receive the delivery, you'll be left a red card confirming attempted delivery, with confirmation on the Royal Mail tracking page. You then have the choice of arranging redelivery or picking up the parcel from your nearest sorting office.
For more details please see section 4 of our Terms & Conditions and our Delivery & Storage page.
If you request storage for your order, your goods will be sent free of charge to the storage vaults.
All gold & silver orders are stored at Loomis International in the UK and held on a fully allocated and segregated basis.
Storage fees are 1%+VAT/year for gold and 1.5%+VAT/year for silver, subject to minimum charges.
Please see further details of storage fees and minimum charges on our Storage & Delivery page.
Storage is charged at point of purchase by selecting 'Buy with Storage' to the next semi-annual pay date. Semi-annual storage dates are 15 March and 15 September each year and are subject to minimum charges for the period.
A recurring storage fee will be taken from your card at each semi-annual storage date.
You can opt to have your goods delivered at any time, subject to delivery charges of £25 +0.25% of the metal value.