How much is a Sovereign worth?
Victorian Gold Sovereign coins can make a wonderful gift or investment and are one of the most popular forms of physical gold.
But what are the Sovereigns worth?
With the price of gold moving steadily upwards over the years and money very tight for many of us, it could be time to dig out those coins we were handed down by our Grand Parents to raise some much-needed funds. If you're lucky enough to have been given the coins, you'll see why Sovereigns are such a good investment as the price has risen dramatically.
Do you own one of the 10 best British gold coins in history?
1. Underlying Gold Price
We always start deriving the value of a Victorian Gold Sovereign coin from the underlying gold price, known as the spot price. This price is generally quoted in various currencies in ounces and grammes and acts as a benchmark to value the various types of gold. The value of a Victorian Gold Sovereign will be at a premium or discount to this benchmark – with the first step being to multiply the ounce spot price by 0.2354 (which is the gold weight of a Sovereign coin in ounces). The underlying gold price values all gold-based coins including Gold Sovereigns as well as Gold Britannias.
2. What sort of Victorian Gold Sovereign do I have?
It's important to note that not all Victorian Sovereign coins are valued the same. 95% of them will likely fetch the same price regardless of the year of issue. However other factors to consider would be the condition of the coin, the year of issue and the rarity of the coin. For instance, there are 3 varieties of Victorian heads available, each of which may attract different collectors or buyers (Young Head, Jubilee Head, Old Head).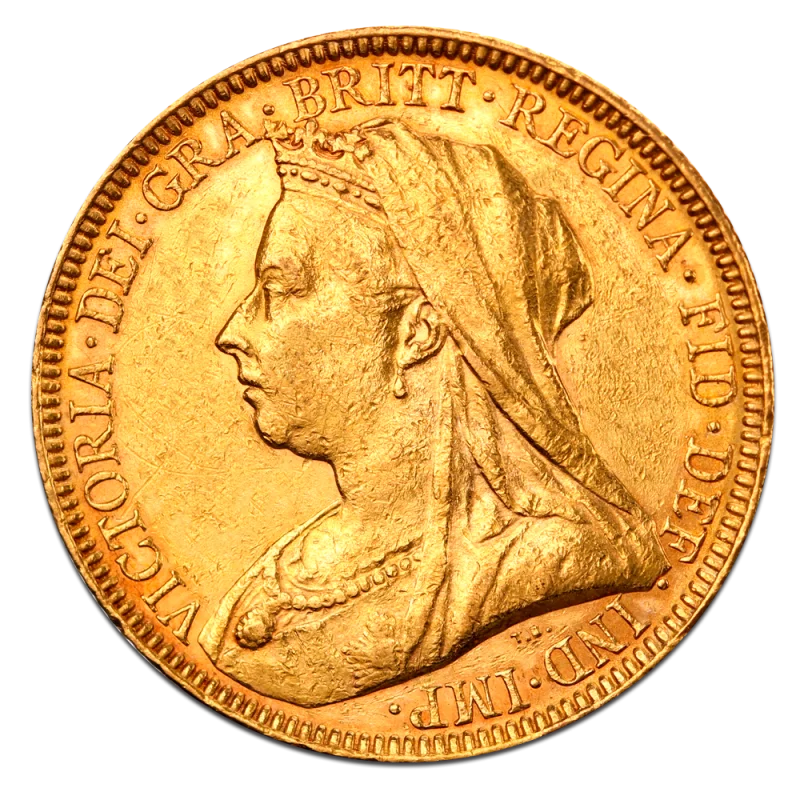 Why does this matter?
With Victorian holding the record for longest British female monarch, up until recently when Queen Elizabeth took her crown (sorry!), the Sovereigns issued during her extensive reign were updated twice. Obviously, the Young Head portrait represents the early years of her reign when she was a young woman. Therefore they're the oldest Victorian coins of the three and worth the most. Prices for young head coins can be around 15-20% than later portraits. These coins are also unique as they were produced in what's called 'coin alignment' This means that the portrait side and reverse side are upside down to each other.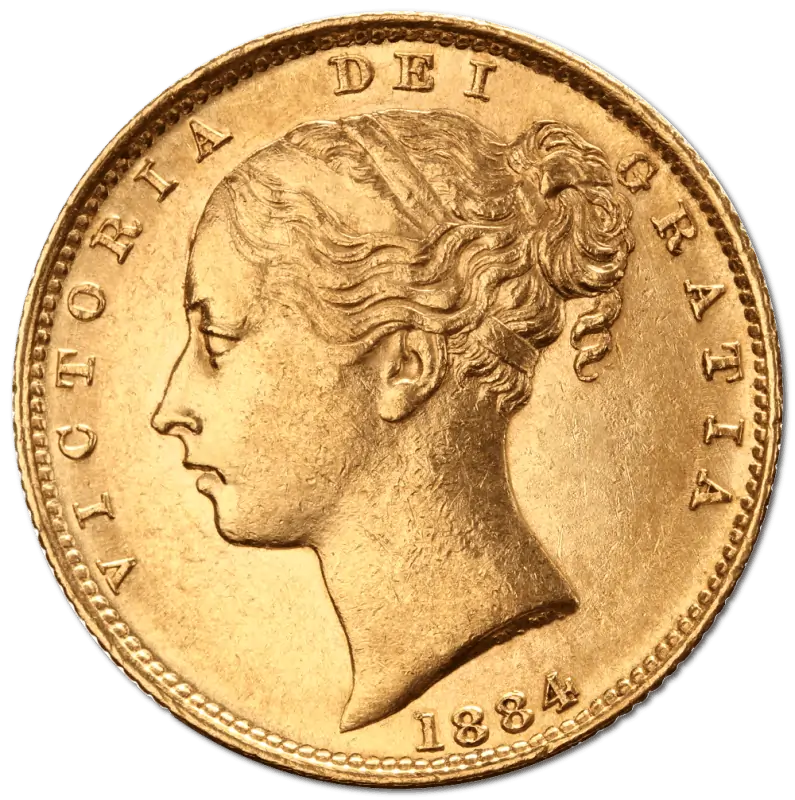 How about the later versions?
The jubilee head was the next version to be launched and encompasses the middle period of Victoria's reign, including her golden jubilee. This portrait only lasted for 7 years (compared to the Young Head's 17-year stint) so naturally, there were fewer coins minted. For this reason, you could argue that the Jubilee Head coin is rarer than the more expensive Young Head version. Perhaps this suggests that premiums on these could rise faster in the future. Certainly, the value varies quite a lot depending on general market supply. Sometimes, it trades at the same level as the newer Old Head coin, while other times it can command 5% higher prices than the Old Head. This coin also marked the very first Sovereign to be minted in 'medal alignment', whereby the obverse and reverse are printed the same way around. All Sovereign issues since have followed this format.
10 Commandments to selling your Sovereigns at the best price
Old Head Victorian gold Sovereign value
The Old Head Victorian coin, also known as the veiled head due to the portrait featuring the monarch wearing a veil rather than a crown, is generally the least valuable of the three versions. It's the most recent edition so has less history about it and there is a plentiful supply. Generally, we tend to see relatively stable premiums for these coins. Because of this, they can be a really good value way of adding Victorian Sovereigns to your gold investment collection without having to pay the high premiums of the rarer coins.
What else do I need to know?
Generally, the second-hand Sovereign market will provide a good price for Victorian Sovereigns as long as there isn't visible damage to the coin or small pieces missing. Clearly, a coin of over 100 years in age isn't expected to be in pristine condition. You may want to check whether your Victorian coin falls into the 5% of Sovereigns worth significantly more than others. If your coin is a shield back, then this could instantly demand a premium over regular coins. Years of low print runs (and therefore rarity) will also command a further premium.
Read our article on which gold Sovereign coins are the most valuable.
3. Mint Marks
Of course, sometimes the devil is in the detail. If you look closely at Victorian Sovereigns even of the same year and portrait, they're not necessarily identical or command the same price. Their worth can also vary due to mint marks. These can be difficult to see but basically, a letter will depict which mint the coin was produced in. The Young Head and Jubilee Sovereigns were minted amongst three different factories, namely – London, Melbourne and Sydney. The Old Head coin added Perth Mint to the production list. Interestingly, this reflected Britain's growing empire, with the Sovereigns to follow in the Edwardian and Georgian eras, also being minted as far afield as Canada, South Africa and India.

How can I benefit?
Depending on which branch mint the coin was made, certain coins can be worth more, depending on the quantity produced by each mint. For instance, while the various Australian mints produced Sovereign coins for between 30 and 50 years, Ottowa and Pretoria mints only produced for around a decade, with Bombay only minting during 1918!
Mint marks to look out for are London (L), Sydney (S), Melbourne (M), Perth (P), Ottowa (C), Bombay (I) and Pretoria (SA).
4. Timing
Exactly when you choose to sell or value your Victorian Sovereign will impact its value. We've already spoken about the underlying gold price, and how the worth of any gold bar or coin is calculated from that point first. Clearly selling your Gold Victorian Sovereign when the gold price is high will dramatically enhance the worth of your coin. But there are two other timing elements which play a role.
Market sentiment
The supply and demand dynamics of gold are fluid. In other words, there are times when supply is particularly tight, perhaps due to mine closures or investors hoarding their gold. Other times, we see plentiful supplies of even the more numismatic gold coins. Similarly, demand can fluctuate greatly. In particular, we experience the same theme time and again, that demand for gold rises when there's economic or political unrest and then declines during periods of economic prosperity and global peace.
7 Crucial Considerations before you buy gold or silver
Insider tips to investing in precious metals
So how can I actually use this?
Intuition and common sense tell us one golden rule with investing. Buy low and sell high. Simple! However, with gold investing, retail buyers tend to buy gold as the price is rising or already high as they're seeking a safe haven. When newspaper headlines feature stories of impending banking crises, Brexit disasters and world wars, retail investors buy gold coins and bars as security against possible stock market crashes and property price declines. Unfortunately, they're buying at high prices as everyone else is also looking to purchase.
Conversely, when equity and property markets do well and political news is quiet, the gold price falls. When this happens, many investors sell their gold as they feel the bad times are over.  Again, the timing isn't great as they're selling at a low price.
But it gets worse because dealers will react to supply-demand dynamics, further amplifying the movement of the market. In other words, when everyone is selling, dealers will pay lower premiums for Victorian coins as there's a spike in supply and fewer buyers in the market. When everyone is buying and very few offloading Victorian Sovereigns, premiums go up to reflect the difficulty in sourcing the coins.
Just like the smart money – think hedge funds and central banks, try to buy your gold sovereigns when the price is low and everyone else is selling. If you can, sell them when the market is high and everyone else is helping push up premiums.
Which price point to take
If you're looking to sell your Victorian gold Sovereign, make sure you agree with the buyer if the price is fixed or set on either the live gold spot price or the LBMA gold fixing. On a volatile day with lots of economic news releases, the gold price can fluctuate considerably. The difference between fixing a price on the morning fix, afternoon fix or live spot price, can have a huge impact on the value of your Sovereign.
5. Who you sell to
Is my coin worth a premium or discount to the spot price?
If your coin is deemed to hold a numismatic value due to the year of issue or design (a value over and above simply the gold content), then it will undoubtedly fetch a premium to the spot price, in some cases up to 75% more. Otherwise, the value of the coin will depend on who you eventually sell to, and the current state and volatility of the gold market.
Selling to 'Cash For Gold' sites or a jeweller will undoubtedly achieve the largest discount to the benchmark (the lowest price) as these buyers will seek to melt down the gold and profit from your sale. However, this route may offer the convenience of simply dropping in the coin locally.
Selling to a collector may achieve a high premium as an individual may need your coin to complete a collection. However, you may be waiting for years to find the 'right' collector and you also expose yourself to the danger of dealing with the public or small unknown intermediaries.
Selling to a gold dealer should achieve a value close to the spot price while offering both convenience and safety. These coins are tax free in the UK which means gold dealer's specialising in gold investment have a great need for these coins.  Indeed, at the moment supplies of second-hand Sovereigns are particularly tight due to the demand for physical gold, meaning that the brand-new gold Sovereign coins are better valued than old ones.
If you were handed the coin many years ago, you may be delighted to know that a coin worth around £20 when it was given to you 10 years or more ago may be worth more than £400 now.