King Edward VII Sovereign Guide
British Sovereigns have existed since ancient times, but the modern-day Sovereign has been minted since the Great Recoinage of 1816. Sovereigns have been produced for each Monarch since this time with King Edward VII being no exception. In this article, we provide various facts and insights about King Edward VII sovereigns.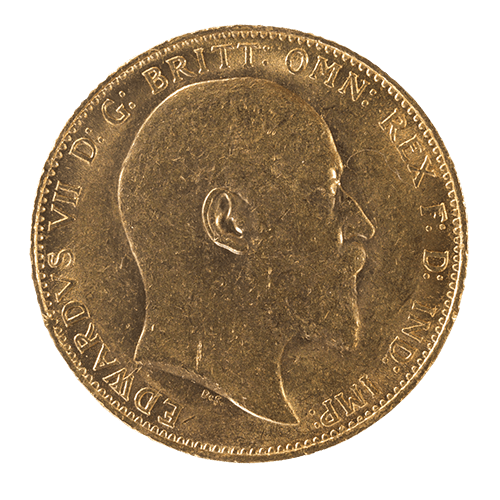 How much are Edward VII sovereigns worth?
As with many sovereigns, the value of an Edward VII sovereign varies from day to day and from coin to coin. Some of the coins have a numismatic value alongside the value of their pure gold content, which causes further fluctuation in the prices.
Generally speaking, Edward Sovereigns are valued at a similar price to George V Sovereigns, slightly more expensive than Elizabeth II coins but cheaper than the older Victoria Sovereigns.
There are multiple ways you can find the cost to buy one right now, including checking out our King Edward VII Sovereign prices. We offer quantity discounts if you're considering buying more than one coin.
If you're looking to sell an Edward VII Sovereign, you can see how much your gold sovereign is worth today by clicking below.
Date of King Edward VII Sovereigns
King Edward VII was king of the UK and British Dominions from 22nd January 1901 until 6th May 1910. Therefore, King Edward VII Sovereigns were minted at this time with coins being available with dates from 1902 (when King Edward was crowned) until his death in 1910.
Due to his short reign, Edward VII coins are in short supply.
Buy a King Edward Gold Sovereign Today
How Many Edward VII Sovereigns Are There?
In total there were 221,532,955 sovereigns minted through Edward VII's reign, with 190,295,638 of them being full sovereigns and 31,237,317 being half sovereigns.
The following were the production quantities of King Edward VII gold sovereigns for each year:
Total King Edward Sovereigns Minted By Year
Year
Total Half Sovereigns
Total Full Sovereigns
1902
4,328,457
16,129,018
1903
2,753,057
19,890,410
1904
1,777,470
21,277,022
1905
3,023,993
16,198,434
1906
4,635,479
21,746,651
1907
4,638,455
29,303,643
1908
4,965,694
21,701,771
1909
4,240,831
21,758,878
1910
5,497,881
32,287,791
Where Were Edward VII Sovereigns Minted?
Edward VII's reign came at the heart of Britain's growing Empire and coin mintage reflected this, with production in several far flung territories. There are five possible mint locations for King Edward VII sovereigns, these are listed below with the quantities minted (around 200 million in total):
London Mint
Year
Half Sovereigns
Full Sovereigns
1904
1,717,440
10,041,369
1906
4,245,437
10,466,981
1907
4,233,421
18,458,663
1908
3,996,992
11,729,006
1909
4,010,715
12,157,099
1910
5,023,881
22,379,624
Sydney Mint
Year
Half Sovereigns
Full Sovereigns
1904
None Issued
2,986,000
1905
None Issued
2,778,000
1907
None Issued
2,539,999
1909
None Issued
2,057,000
Melbourne Mint
Year
Half Sovereigns
Full Sovereigns
1902
None Issued
4,289,122
1903
None Issued
3,521,780
1904
None Issued
3,743,897
1905
None Issued
3,633,838
1910
None Issued
3,054,547
Perth Mint
Year
Half Sovereigns
Full Sovereigns
1902
None Issued
4,289,122
1903
None Issued
4,674,783
1905
None Issued
4,876,193
1906
None Issued
4,829,817
1907
None Issued
4,972,289
1910
None Issued
4,690,625
Canada Mint
Year
Half Sovereign
Full Sovereign
Which Is The Rarest King Edward VII Coin?
The rarest Edward VII sovereign would be the ones minted in Canada in 1910, with only 28,020 minted.
The most common Edward VII sovereign would be the one minted in London in 1910, with 22,379,624 minted, which was by far the highest mint of the reign.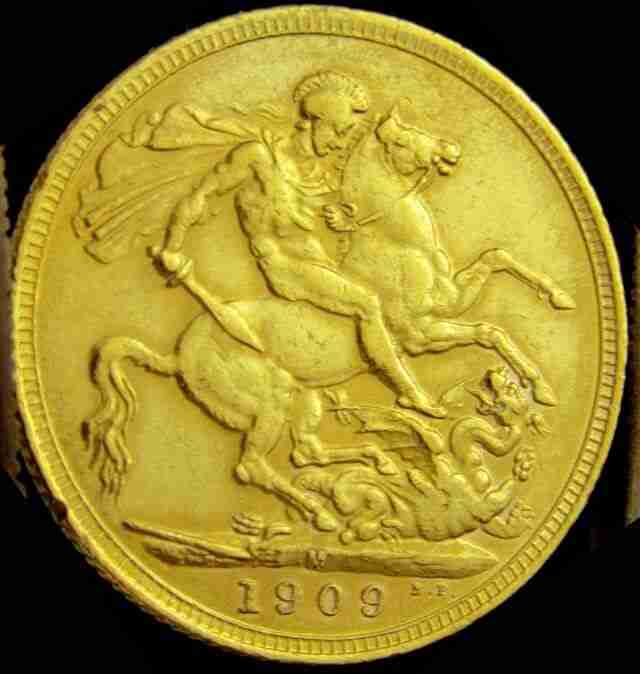 Design of Edward VII Sovereigns
The coin portrait was designed by George William de Saulles, a British medallist. He was the chief engraver at the Royal Mint from 1892 until his death in 1903.
The rear of the coin features the classic fable of St.George slaying a dragon, as created by Benedetto Pistrucci.
Unlike during the reign of Queen Victoria and Queen Elizabeth, no Edward VII Sovereign has featured a Shield Back reverse design, usually reserved to commemorate a jubilee year.
This sovereign features the following design on the obverse/reverse:
Obverse – The obverse features a portrait of Edward VII
Reverse (shown) – The reverse displays a St. George and Dragon design
Use as £1 Coin
Until the first world war sovereigns were used as £1 coins. The majority of the population could not afford to keep them as collectables, so many sovereigns became worn through active use.
Therefore, to this day the quality of sovereigns is extremely variable with matte proof and extra fine examples commanding a significant price premium. Edward VII Sovereigns can generally look more worn than other monarch versions due to this use as currency.
Despite today's Sovereign coins being officially classed as legal tender, they cannot be used to pay for goods and services as they're no longer in circulation.
Investment Approach
The gold amount within a King Edward VII sovereign weighs about 0.2354 troy oz. (i.e. just less than a quarter of an oz. When calculating as an investment it's easy to see that a premium is paid for these Sovereigns over the market price for gold. This is the balance between the current gold price, production cost, dealer margin and its numismatic value. When buying coins like this it's important to remember for your investment you are not only becoming a gold owner, but also will benefit from the future collectors' demand for these Sovereigns.
Edward Gold Sovereigns are a popular investment choice for a number of reasons.
They provide a good balance between cost and numismatic value. The coins offer the chance to own assets more than a century old, but can be bought considerably cheaper than the previous Queen Victoria versions.
Their additional historical value can protect your portfolio's worth in times when the gold price falls. Brand new coins Sovereigns will fall in value directly in line with the underlying gold price. But the additional premium of Edward VII Sovereigns provides a slight buffer.
They're far more affordable than larger 1oz gold coins. This means that investors can buy them regularly to gradually build a collection and investment portfolio.
If in doubt just give us a call and we can advise on the best investment approach for your circumstances.
Need Help Choosing the Best Coins for Investment?
Our Portfolio Creator tool will suggest 4 options based on your budget and objectives. Give it a try below.
Buying King Edward VII Sovereigns Through Physical Gold
If you are looking to buy this famous and highly collectable sovereign, then why not contact us here at Physical Gold on 020 7060 9992? We, of course, stock this Sovereign, but what we hold does fluctuate, socontact us for our latest holdings and price. If you need a specific year or level of quality, please let us know.
Image Credit:James Shepherd
Browse and Buy Gold Sovereigns From Our Extensive Stock