Half sovereigns are 22-carat gold coins with a value which can be influenced by numismatic factors, alongside their bullion value.
They are classed as British legal tender (and have a nominal face value of 50p), which of course means they are free from Capital Gains Tax. It's for this reason, they are extremely popular amongst UK coin collectors and gold bullion investors alike.
Gold half sovereigns are cheaper to buy than full gold sovereigns, due to their smaller size, giving investors a great option to start their gold portfolio.
History Of Half Sovereigns
Half sovereigns were initially minted during the reign of Henry VII, though the earliest sovereigns you'll find in the modern day are from the reign of King Henry VIII, launched in 1544.
Their production was carried on by Edward VI, who also increased the fineness of the coins to 23 carats during parts of his reign.
In 1604, the last half sovereigns were minted by James I, before they were replaced by the half guinea.
Production was then started again over 200 years later by George III, who oversaw a massive change in British coinage.
British half sovereigns were discontinued once again in 1926, after having issues struck during the reigns of George IV, Queen Victoria and King Edward VII.
Production was again restarted by Queen Elizabeth II in 1980 and continues to be minted each year as an uncirculated bullion coin.
Gold Content Comparison: Half Sovereigns vs. Other Gold Coins
Coin
Pure Gold Content (grams)
Purity (carats)
Gold Britannia (1 oz)
31.1035
24
American Eagle (1 oz)
31.1035
22
Canadian Maple Leaf (1 oz)
31.1035
24
The Role of Half Sovereigns in Diversifying Investment Portfolios
In this section, we will discuss how half sovereigns can serve as a diversification tool for investment portfolios. By understanding the benefits of diversifying with half sovereigns, investors can make informed decisions about their gold investments.
Diversifying with Half Sovereigns
Investing in half sovereigns can help diversify an investment portfolio by spreading risk across different asset classes. Gold, in general, is considered a safe-haven asset and can protect against inflation and market volatility. Half sovereigns, in particular, offer the following benefits for diversification:
Affordable entry point: Half sovereigns are cheaper than full sovereigns and other gold coins, allowing investors to start their gold portfolio without a large initial investment.
Liquidity: As British legal tender, half sovereigns are easily bought and sold, providing investors with a liquid asset.
Tax benefits: Half sovereigns are exempt from Capital Gains Tax and VAT, making them an attractive option for UK investors.
Their affordability allows investors to buy a half Sovereign on a regular basis, thereby adhering to a popular investment strategy known as Dollar Cost Averaging (DCA)
Their relatively low value compared to larger coins is practical for possible bartering. If paper currencies continue to devalue or the financial system as we know it completely unwinds, then Half Sovereigns could be used to buy goods and services.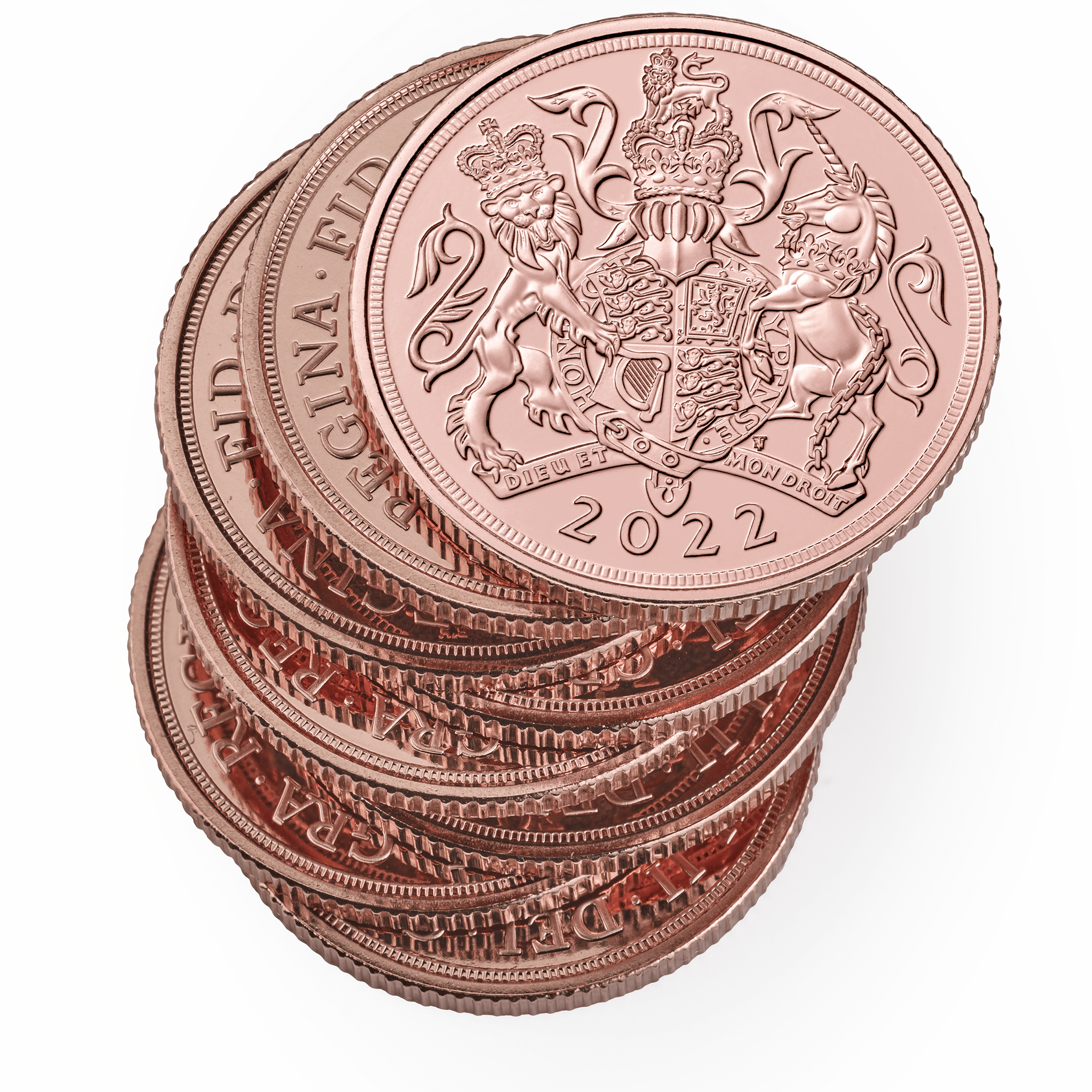 How Can I Tell The Difference Between A Half Sovereign and A Full Sovereign?
Before finding the gold value of your half sovereign coin, you must first identify whether you have a half sovereign or a full sovereign.
The easiest way to do this is by measuring the size of the coin. Typically, a half sovereign measures around 19.30 mm in diameter, while a full sovereign has a diameter of 22.05 mm.
You can see a the differences between a full sovereign and a half sovereign, in our insight guide.
How Much Is A Half Sovereign Worth?
Gold half sovereigns are worth less than their full sovereign counterparts, but still hold value for their gold content. This can easily be easily calculated by taking the current gold spot price and multiplying it against the gold content of the coin. Dealers may pay you a slight discount to this value.
Financial returns on trading these British coins are boosted as they are both Capital Gains Tax-exempt and VAT free.
How Much Is Your Half Sovereign Worth Today (Selling) ?
To calculate the value of gold in a half sovereign using the troy ounce price, you need to follow these steps:
Determine the gold content: A half sovereign contains 3.6575 grams of pure gold (22 carats or 91.67% gold purity).
Convert grams to troy ounces: There are 31.1035 grams in a troy ounce. So, to convert the gold content of a half-sovereign to troy ounces, divide the gold content in grams by the number of grams in a troy ounce.
3.6575 grams / 31.1035 grams per troy ounce ≈ 0.1175 troy ounces
Find the current gold price per troy ounce: You can check the current gold price per troy ounce on financial news websites or through a precious metals dealer. For example, let's assume the current gold price is £1,500 per troy ounce.
Calculate the gold value of the half sovereign: Multiply the gold content in troy ounces (0.1175 troy ounces) by the current gold price per troy ounce
Considering investing in Half Sovereigns?
Read our Insiders Guide to Gold & Silver investment first
Additional Factors Affecting Gold Half Sovereign Price
There are occasions where a gold half sovereign coin will be worth more than just the gold content, sometimes a lot more!
Rarity
Rarity plays a crucial role in determining the value of a half-gold sovereign. Coins that were minted in smaller quantities or have unique characteristics may fetch higher prices.
Examples of rare half sovereigns include certain Queen Victoria and King George V issues, particularly those from low mintage years or with distinctive design features.
Condition
The condition of a gold half sovereign significantly affects its value. Coins in pristine or near-mint condition are generally more valuable than worn or damaged ones.
Factors influencing a coin's condition include wear from circulation, damage from improper handling or storage, and the quality of the minting process.
Grading systems, such as theSheldon scale, can help determine a coin's condition. A higher grade typically corresponds to a higher value.
Coins in exceptional condition, known as 'uncirculated' or 'mint state,' may command a premium due to their rarity and appeal to collectors.
Further Evaluating Numismatic Value
In addition to the gold content, your half sovereign may have increased numismatic value. To assess this, consider the following:
Age: Older half sovereigns, especially those from reigns before 1837 or limited commemorative coins.
Historical Significance: If your half sovereign has an interesting story or provenance, it may attract collectors and command a higher value.
Half Sovereign Coin Properties
Understanding the weight of a gold half sovereign is crucial for assessing its gold content and value. In this section, we will explore the weights of different sovereign sizes, including the half-sovereign, full sovereign, and others, to provide a comprehensive understanding of their respective weights and gold content.
Half Sovereign Weight
A half sovereign typically weighs 3.99 grams, with a gold content of 22 carats (91.67% gold and 8.33% copper alloy). The gold content of a half sovereign amounts to approximately 3.6575 grams of pure gold.
The half-sovereign's diameter measures 19.30 mm, making it a popular choice for collectors and investors alike.
Half Sovereign Design
Half sovereign designs are largely the same as the full sovereign version. On the obverse of the coin, you will always find the picture of the reigning monarch. Before 1817, the reverse usually featured the royal shield.
Coins that were minted in other countries, such as via the Australian mint, can feature the name of the country across the back.
Browse our full catalogue of Half and Full Sovereigns
Are Half Sovereigns A Good Investment?
Buying half sovereigns can offer one of the lowest entry points for investors starting their gold portfolio. They are CGT-free, have highly liquid markets and bring with them the same benefits as investing in other precious metals.
For the best value coins you may want to start with a standard half sovereign, which are the same designs as you will find on the full sovereigns. This design is world famous, featuring St George and the dragon on the reverse, with the obverse featuring the reigning monarch.
Half Sovereigns are particularly popular amongst investors who fear for the future of the Fiat currency system (money as we currently know it).
With inflation, Quantitative Easing and global debt at record levels, concerns grow that traditional currencies are simply losing value and purchasing power. If this situation continues to escalate, very small gold tokens, such as Half Sovereigns, could be used to acquire goods and services.
Using larger 1oz coins would be far more problematic when trying to purchase lower value goods such as groceries.
You should note that half sovereigns can have higher premiums than is standard, due to their smaller units having slightly higher production costs.
There are other options available, should you want to see some of the best coin investments available.
They remain a great investment though, and the top tip from the brokers at physicalgold.com would be to buy the coins in higher quantities to offset the production costs.
Selling Your Half Sovereign Coin
Selling to collectors
Selling a half sovereign to collectors involves finding potential buyers interested in the coin's rarity, condition, and history.
Proper presentation and marketing are crucial when selling to collectors, as they seek coins with unique features and high-quality conditions.
They may require a minimum level of coin condition (known as grading). Examples are Brilliant Uncirculated (BU) for pristine coins, Extremely Fine (EF) for those with slight surface marks and Very Fine (VF) which reflects coins with some wear on high points but no dents on edges.
To attract collectors, consider using online platforms like coin forums, social media groups, or specialised auction sites to showcase your coin.
When presenting your coin, be sure to provide a detailed description, including information on its mint, year, rarity, and any other distinguishing features.
Selling to bullion dealers
Selling your half sovereign to a bullion dealer is a convenient and secure way to realise its value.
Reputable bullion dealers, such as Physical Gold, offer competitive prices and a straightforward process for selling gold coins. We are fully accredited and offer guaranteed buyback prices for our customers. Take a look at our reviews to see why customers rate us so highly. Some other benefits are:
Instant payment
Accurate valuation
Professional handling
So give us a call today on 020 7060 9992 or drop us an email on info@physicalgold.com to speak with one of our customer service team today.
include instant payment, accurate valuations, and professional handling of your coins.