Gold Sovereigns versus Half Sovereigns
The sovereign is an iconic British coin popular among investors and collectors. The modern sovereign has been in existence since 1817, and the coin has witnessed the reigns of several British monarchs.
The current version features a design of St George and the Dragon, created by the famous coin designer Benedetto Pistrucci.
The sovereign is available with various rulers featured on its obverse, owing to separate releases during the reigns of different monarchs.
The gold coins issued during longer reigning monarchs will also have various portraits within that reign. For example, Sovereigns issued during Queen Victoria's reign can have three different portraits – the young head, the Jubilee head and the old head.
An incredible five different portraits covered the record-breaking rule of Queen Elizabth II.
These variances make the coin extremely attractive to collectors. Excitement is now building for the first Sovereigns to feature King Charles III.
This article will explore the differences between a gold sovereign, otherwise known as a full sovereign and a half-sovereign.
At A Glance Comparison Between A Full And Half Sovereign
Full Sovereign
Half Sovereign
Weight (gold)
7.322 grams
3.661 grams
Size (diameter)
22.05 mm
19.30 mm
Divisibility
Lower
Higher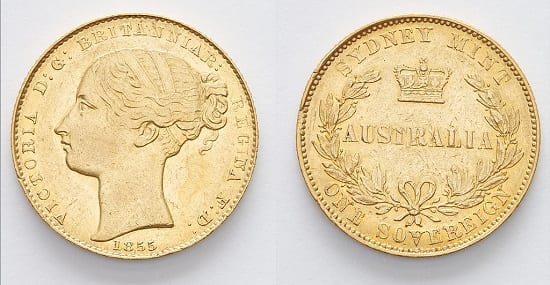 Differences in size and weight
In basic terms, the sovereign is twice the size of the Half Sovereign. The smaller coin is a miniature replica of the larger version, made from a 22-carat alloy mix and sharing the same front and back design. To the untrained eye, the two coins deceptively appear to be very similar in size, with only a marginal difference in diameters. It's the difference in thickness where the weight difference adds up. A full gold Sovereign coin is about the size of a one pence piece and weighs 7.98g, while the half Sovereign is closer to the old halfpenny size and weighs 3.99g. Both have a face value, qualifying them as legal tender in the UK, with the larger coin featuring a £1 value and the half Sovereign 50p.
The half sovereign goes by that name since it is half the weight of a full sovereign and has half the gold content. The face value of the half-sovereign is also half a pound sterling. The Bank of England decided to discontinue the gold standard in 1931.
Since then, the half-sovereign was minted as a bullion coin. However, it continued to be recognised as a legal tender in the UK.
The Insider's Guide to Tax Efficient Gold & Silver Investment
This ultimate guide is a must-read before you invest
Dimensions of the Half-Sovereign and Sovereign
When we speak about modern sovereigns, including the half sovereigns, we refer to issues beyond 1817. The dimensions of the modern half-sovereign include a diameter of 19.30 mm and a thickness of 0.99mm.
On the other hand, the full sovereign has a diameter of 22.05 mm and a thickness of 1.52 mm. The half-sovereign, weighing 3.99 g, is around half that of the full sovereign, which weighs 7.98 g. The half-sovereign, therefore, contains 0.1176 troy ounces of 22-carat crown gold. You can see more detail about the sizes of sovereigns on our dedicated page.
Comparing the history of the two coins
The half-sovereign was introduced into British coinage in 1544, during the time of King Henry VIII. In contrast, the original sovereign was released during the reign of King Henry VII in 1489. However, the circulation of both coins lasted only till 1604.
The long hiatus of both sovereigns finally ended in 1817, when they were reintroduced, following the great British recoinage of 1816. In the following years, the half-sovereign remained in production until 1926 in the UK. It is interesting to note that Australia continued using this coin until 1933.
Production of the half-sovereign was restarted only in 1980. However, there were certain special issues for events like the coronation of Queen Elizabeth II.
Coin Issue
Full Sovereign Mintage
Half Sovereign Mintage
George III
7,688,037
3,145,526
George IV
37,556,308
3,859,854
William IV
9,171,655
1,163,525
Victoria
61,123,951
15,684,875
Edward VII
131,655,398
14,703,406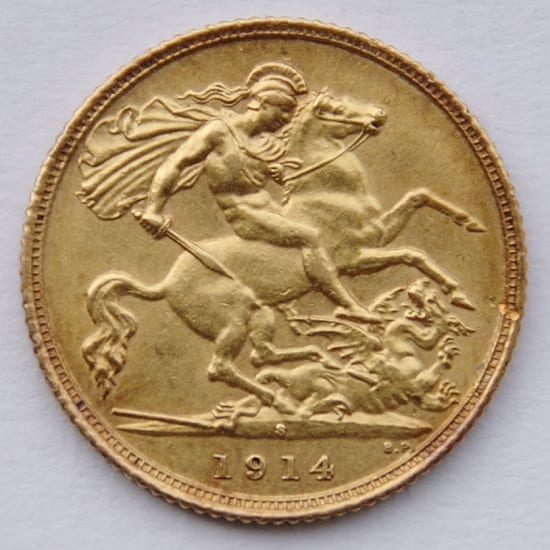 Divisibility considerations
When building a gold portfolio, divisibility is an essential factor.
The half-sovereign is an invaluable addition to a gold portfolio since it allows the investor to invest in a small portion of gold, around half that of the gold sovereign, which contains approximately a quarter ounce of gold.
This makes the half-sovereign a more affordable coin for those with modest budgets.
With growing fears of fiat currency devaluation, more investors are seeking the smallest denominated gold coins to prepare for possible future bartering.
Price, tax and value of the Sovereign and Half-Sovereign
The half-sovereign and the full gold sovereign coins are UK legal tender and qualify for CGT exemptions. Since both coins contain investment-grade gold, they can be purchased VAT-free.
While the sovereign may be double the weight of the smaller half Sovereign, it can be bought for less than double the price.
The general rule of thumb with prices for standard bullion coins is the smaller the coin, the higher the premium.
This is due to relative production costs reducing as coins get bigger. In other words, it's cheaper to make one 1-ounce coin than 4 quarter-ounce coins.
Therefore, investors should understand that they will pay an extra premium for the convenience of owning smaller-denominated coins.
In theory, the potential values of historical and collectable Sovereigns and half Sovereigns are the same. It all depends on how rare a particular coin is.
The Difference In Gold Content Between A Full Sovereign And A Half Sovereign
When considering the purchase of British gold sovereigns, it's essential to understand the differences in gold content between a full sovereign and a half sovereign.
These popular investment coins offer varying degrees of gold content, and knowing this information can help you make informed decisions when buying gold.
Full sovereigns and modern half sovereigns are made from 22-carat gold, meaning they consist of 91.67% fine gold, with the remaining 8.33% made up of a copper alloy to give the coin durability.
However, these coins' actual amount of gold differs significantly due to their size and weight.
A full sovereign contains 7.322 grams (0.2354 troy ounces) of pure gold, whereas a half sovereign holds half of this amount – 3.661 grams (0.1177 troy ounces) of pure gold.
This difference in gold content makes full sovereigns more valuable than half sovereigns, as they have a higher weight of gold.
Summary of the differences between a sovereign and a half sovereign:
British gold sovereigns and modern half sovereigns are both made of 22-carat gold, with 91.67% pure gold content.
A full sovereign contains 7.322 grams (0.2354 troy ounces) of pure gold.
A half-sovereign holds 3.661 grams (0.1177 troy ounces) of pure gold.
When buying half sovereigns, it's vital that you understand that the price difference is due to lower gold content.
Although a full sovereign and a half-sovereign coin share the same purity and design, the amount of gold they contain varies.
Investors seeking a higher gold content should opt for full sovereigns, while those who want a more affordable option can consider half sovereigns
Wear and tear of the two coins
The smaller Half Sovereigns look more worn on average than the larger Full Sovereigns.
The difference is usually apparent when comparing older coins from the Edwardian or Victorian eras.
This is simply due to the Half Sovereign's diminutive size offering less protection.
Which Is The Best Gold Sovereign To Buy: Full Sovereign vs. Half Sovereign
When considering an investment in British gold sovereigns, evaluating the pros and cons of both full and half sovereigns is essential.
Each coin type caters to different investment objectives and preferences, making it crucial to understand their features before purchasing.
Let's compare a full sovereign and a half sovereign to help you determine which coin is right for you.
Full Sovereign
Higher gold value: A full sovereign contains 7.322 grams (0.2354 troy ounces) of pure gold, double the gold content of a half sovereign. As a result, the full sovereign generally holds a higher market value.
Royal Mint recognition: The British gold sovereign is recognised and trusted by investors worldwide, ensuring its liquidity and easy trade in the global market.
Capital Gains Tax exemption: For UK residents, full sovereigns are exempt from Capital Gains Tax (CGT), making them an attractive option for tax-conscious investors.
Ideal for long-term investment: Full sovereigns are well-suited for investors seeking a long-term investment to preserve their wealth and hedge against inflation.
Half Sovereign
Lower entry cost: With half the gold content of a full sovereign, half sovereigns are more affordable, allowing investors to enter the gold market at a lower price point.
Suitable for coin collectors: Half sovereigns can be an excellent addition to a coin collection, offering historical and numismatic appeal and intrinsic gold value.
Flexible liquidation: Due to their lower gold value, half sovereigns can be easier to sell in smaller increments, providing more flexibility for investors looking to liquidate their assets.
Capital Gains Tax exemption: Like full sovereigns, half sovereigns are also exempt from Capital Gains Tax for UK residents, making them an appealing choice for tax-conscious investors.
Browse our full stock of Gold Sovereigns and Half Sovereigns
Talk to the gold experts at Physical Gold when buying sovereigns