There are many different ways to invest in gold, but have you ever wondered – why are gold sovereigns a good investment? Gold sovereigns, or gold sovereign coins, are not just any gold coins.
They're unique pieces of history, reflecting the British Empire's past glory and, more importantly, legal tender.
King Henry VIII minted the first British gold sovereigns. These days though, the sovereign coin you're most likely to invest in was minted in the UK from 1817 under King George III. It's named 'sovereign' for the image of the enthroned monarch depicted on one side.
Over the centuries, they've evolved and been minted under various monarchs, making them highly sought after by collectors and investors.
Benefits of Investing in Gold Sovereigns
As a flagship coin from the Royal Mint, the British sovereign is a historically significant coin, with both a pure gold value and collectability value.
Tax Advantages. Sovereigns qualify as 'Investment Grade' gold and therefore are exempt from VAT. Other gold items such as jewellery or less pure gold coins would cost an extra 20% to purchase due to this tax. Additionally, as gold sovereigns are legal tender, they are exempt from Capital Gains Tax. This means that if the value of your gold sovereigns appreciates, you can keep all the profit. This tax efficiency is a significant advantage over other investments, including property, shares, or even gold coins that don't have this status.
Historical and Numismatic Value: Gold sovereign coins are a tangible link to history. Each coin reflects the monarch of the era it was originally minted. This can make them highly collectable coins and desirable, often leading to a premium value above their gold content. Some of the most valuable gold sovereigns ever sold did so due to the additional scarcity value.
Safe Haven Asset: In times of economic crisis or volatility, investors often flock to 'safe haven' assets – ones that maintain or increase in value while other asset prices are falling. Gold has long been recognised as a safe haven asset, and gold sovereigns are no exception. Investing in sovereigns provides a level of security that more volatile investments, such as equities, cannot.
Hedge Against Inflation: When inflation rises, the purchasing power of cash diminishes. Historically, we have seen the value of gold increase with inflation, helping to protect your wealth. Gold sovereigns can, therefore, be a fine example of an inflation hedge, preserving the purchasing power of your investment.
Store of Value: Gold sovereigns have a proven track record of holding their value over time. Unlike paper currency which can depreciate or digital assets that can disappear, physical gold offers a tangible store of value recognised for centuries. Compared to more volatile or ephemeral asset classes, this makes them a secure long-term investment.
Liquidity: Gold sovereigns are popular and widely recognised, making them easy to buy and sell globally. This level of liquidity can be particularly beneficial if you need to convert your investment into cash quickly. Gold sovereigns offer much faster liquidity than assets such as property, which can take a significant amount of time to sell.
Recognised Worldwide: Gold sovereigns are one of the most recognisable coins in the world. This makes them easier to sell internationally, providing access to a larger market than other investments. This global recognition can also make gold sovereigns a practical choice for those who travel or move countries frequently.
Portfolio Diversification: Including gold sovereigns in your portfolio can help to spread your risk. This is because gold prices often differ from other asset classes, providing a counterbalance during market fluctuations. Diversification is a key strategy investors use to manage risk and enhance long-term returns.
Long-term Appreciation: While the price of gold can fluctuate in the short term, it has consistently appreciated over the long term. This appreciation, combined with the additional numismatic value of gold sovereigns, can make them an attractive investment for those with a long-term investment horizon.
Low Entry Point: Unlike some investments that require a high upfront cost, you can start investing in gold sovereigns with just a single coin. This makes it a more accessible investment opportunity for those new to investing or with a limited amount of capital to invest. Sovereigns also come in half-sovereign and quarter-sovereign denominations, reducing the cost even further. Half sovereigns themselves can provide solid long term returns on investment at outstanding entry points, so see how much a half sovereign is worth.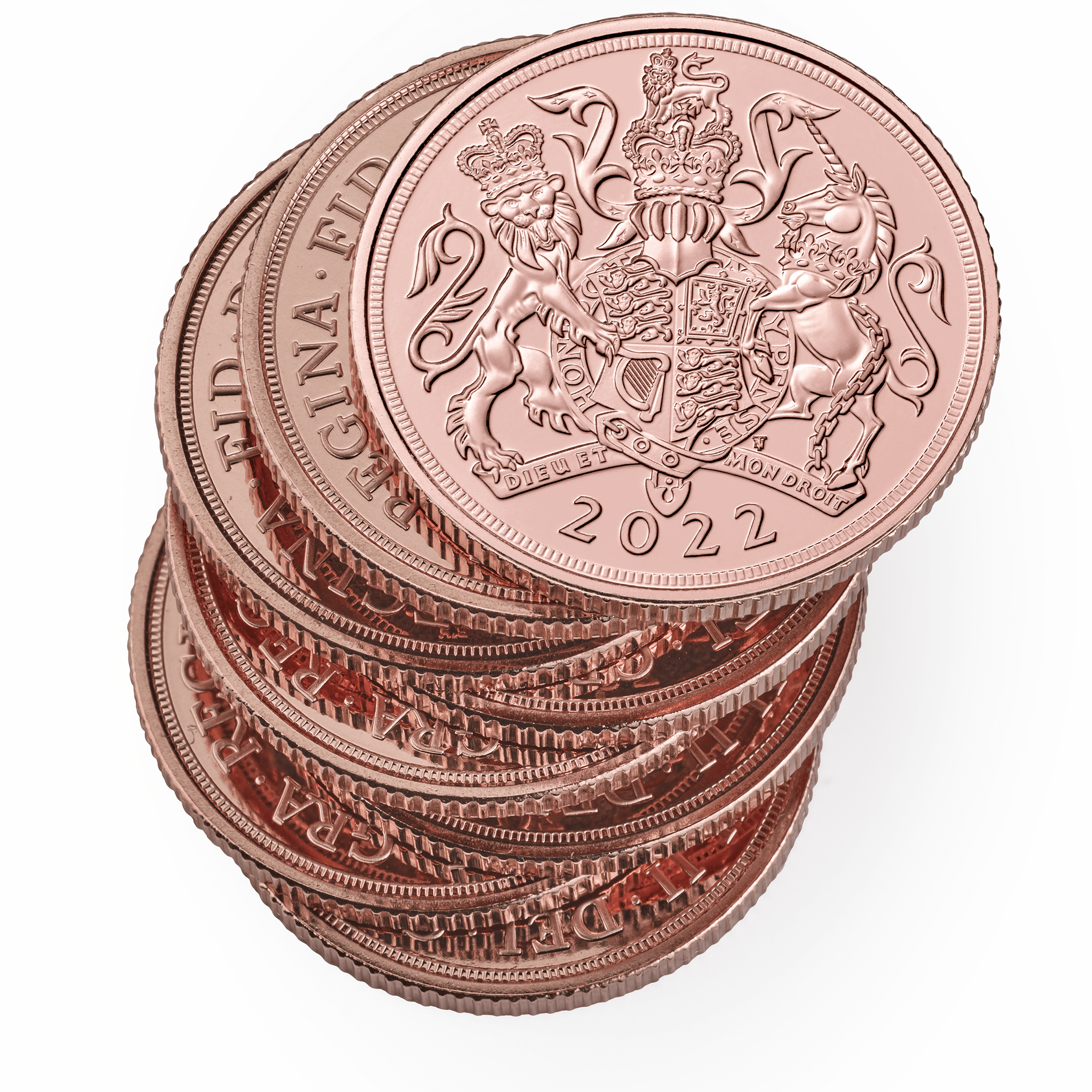 Who Should Invest in Gold Sovereigns?
Sovereigns offer both coin and bullion investment advantages for most kinds of investors.
Their craftsmanship has been perfected over centuries by The Royal Mint, so you know they are of the highest quality.
So, who are the different kinds of investors who'll benefit from these extremely popular investment coins? Here are 5 suitable investor profiles.
1. The Long-Term Investor
Gold sovereigns could be a compelling choice if your investment strategy is geared towards the long haul.
As mentioned earlier, gold is known for retaining value over long periods. It's not just about the metal value, either.
The historical and numismatic worth of gold sovereigns can also appreciate over time, making them a good fit for a long-term investment plan.
2. The Inflation-wary Investor
Inflation is the silent eroder of wealth that can chip away at your investments.
British gold sovereigns are worth considering if you're conscious of inflation and looking for a way to hedge against its effects.
As we've discussed in this guide to investing in gold sovereigns, gold often maintains its value even when inflation is high, making it a tried-and-true inflation hedge.
3. The Diversification Seeker
Gold sovereign coins can offer a level of diversification that's hard to find elsewhere.
They're not directly correlated with more conventional investments like stocks and bonds, meaning they can help to reduce risk and improve returns.
You can further diversify within the gold coin category itself, choosing from full sovereigns, half sovereigns, or even quarter sovereigns. Mixing your portfolio between newer and older Sovereigns offers further balance. The more historical Sovereigns fall less in value percentage-wise than new coins if gold prices fall, due to their collectible premium.
4. The Numismatic Investor
Finally, the numismatic value of gold sovereigns could be a significant draw for those looking to collect gold coins.
While not every gold coin has numismatic worth, these collectable coins, with their rich history, certainly do. It's one of the major factors to consider when considering whether to invest in new or old sovereigns.
5. The Regular Investor
With gold Sovereigns being approximately a quarter of the size of standard 1oz gold bullion coins, their cost is also far more accessible. Many investors will want to build an investment on a regular basis, whether that's weekly, monthly, or whenever they have available funds.
The relative low cost of Sovereign gold coins is perfectly suited for this approach, while 1oz gold coins are simply too expensive for most budgets. This investment approach enables asset accumulation for those with limited upfront capital to invest and Dollar-Cost Averaging (DCA) for those anticipating that gold prices might be volatile.
Need Help Choosing the Best Coins for Investment?
Our Portfolio Creator tool will suggest 4 options based on your budget and objectives. Give it a try below.
5 Possible Risks of Investing in Gold Sovereigns
Like any form of investment, investing in gold sovereigns is not without risks.
Even though these historical gold coins, crafted from 22-carat gold, have been treasured by investors for centuries, it's crucial to be aware of potential hazards before embarking on this journey.
Here, we'll delve deeper into the risks of investing in gold sovereigns.
1. Market Volatility
Gold sovereigns are not immune to the fluctuations of the gold market. The price of gold can swing based on various factors, including geopolitical events, economic indicators, and market speculation.
These fluctuations can directly influence the value of your gold sovereigns, making market awareness crucial for potential investors.
2. Counterfeit Risks
Counterfeiting is a significant risk in the world of gold coins. Fake gold sovereigns can be highly sophisticated and difficult to identify, potentially tricking unsuspecting investors.
Ensuring you're buying gold sovereigns from reputable dealers like ourselves is critical to mitigating this risk.
3. Liquidity Concerns
Selling standard gold Sovereigns from the past century or so is easy and quick. Sales can be completed through a dealer in a day. You can always see how much a gold sovereign is worth today.
However, It can be a lengthy process to realise the value of rare sovereigns or other historic coins, as much of the value is tied to the numismatic worth, not standard gold bullion prices. Just like selling any collectible physical asset, realising its true value depends on finding the right buyer. There are fewer buyers of rare Sovereigns than standard ones.
4. Condition and Numismatic Value
The condition of a gold sovereign can significantly affect its value. Older coins, in particular, can vary widely in quality.
A worn or damaged sovereign may fetch a lower price than one in mint condition, even if rare. Thankfully, their 22 carat composition makes them more resilient than 24 carat coins.
Numismatic value can add to a coin's worth, but it can also fluctuate over time and is often more subjective than the value of the gold itself, as mentioned above.
5. Economic Factors
The value of gold sovereigns can be influenced by various economic factors, including interest rates, the strength of the dollar, and overall economic stability.
In turbulent markets, you'll usually see gold thrive. In a strong economy, investors might turn to other assets, causing the price of gold and, consequently, gold sovereigns to drop.
The Ultimate Guide to Tax Efficient Gold & Silver Investing
Get free insider tips to ensure you achieve the best investment returns
Tax Implications of Investing in Gold Sovereigns
Tax implications play a significant role for many investors when deciding on an investment avenue. Regarding gold, not all forms are created equal in the eyes of the British government.
Legal tender coins, like gold sovereigns, offer noteworthy tax benefits distinguishing them from many collectable coins.
Here, we delve into the tax implications when buying and selling gold sovereigns, including Capital Gains Tax, Inheritance Tax, and VAT considerations.
Capital Gains Tax (CGT)
Gold sovereigns are uniquely tax-efficient for UK investors because they are considered legal currency. As such, they are exempt from Capital Gains Tax, meaning that any profit you make when you sell your gold sovereigns is tax-free.
This is a significant advantage over other forms of gold investment, such as gold bars or foreign coins like Krugerrands, which do attract CGT on any profits above your annual tax-free allowance.
We have a guide which details whether you should buy sovereigns or Krugerrands, though, from a tax perspective, the British gold sovereign has the edge.
Value Added Tax (VAT)
The tax advantages of gold sovereigns extend to VAT as well. All investment gold, including gold sovereigns, is VAT-free in the UK.
This contrasts with other investment forms, such as silver, platinum, or palladium, which incur VAT.
When you buy gold, especially in times of financial crisis, these savings are another brilliant attraction for investors.
Browse and Buy Gold Sovereigns From Our Extensive Stock
Conclusion
Investing in British gold sovereigns offers a compelling blend of aesthetic and historical appeal, financial security, and substantial tax benefits.
As we've journeyed through this guide on why we consider sovereigns a great investment, we've unpacked their unique qualities, their role as a store of value, and the benefits they offer to a broad spectrum of investors.
The resilience of gold as an asset, especially during times of economic uncertainty, is well documented. However, gold sovereigns take this a step further.
They provide more than just the intrinsic value of their pure gold content. They represent an integral part of British history, symbolising strength and longevity that resonates with many investors.
Of course, like any investment, gold sovereigns are not without their risks. The potential for market volatility, costs of storage and insurance, and the risk of counterfeits are all factors that need careful consideration.
The decision between investing in a full sovereign or a half-sovereign depends on your investment goals and risk tolerance. We usually recommend a diverse portfolio containing both.
If you're seeking an investment combining tangible, historical, and financial value, gold sovereigns are a worthy addition to your portfolio.