How to sell Sovereign gold coins
Selling gold Sovereigns can be a tricky business to get right. Just understanding the type of gold coin you have can be challenging as Sovereigns are issued in a number of sizes with various monarchs and features. Selling your Sovereigns at the best possible price will require you to address three main factors;
Understanding which Sovereign you have to sell
Selling it to the best buyer
Timing the sale
Selling different sizes of Sovereigns
The best starting point is to know if you have a Full Sovereign gold coin, weighing just under 8 grams, or if it's a half, quarter, double of Quintuple Sovereign. While the Quintuple Sovereign's large size makes it easy to identify, the difference between a Full and Half Sovereign can be difficult to determine by eye. Reading our breakdown of various Sovereign sizes including a table of dimensions and weights is a great resource.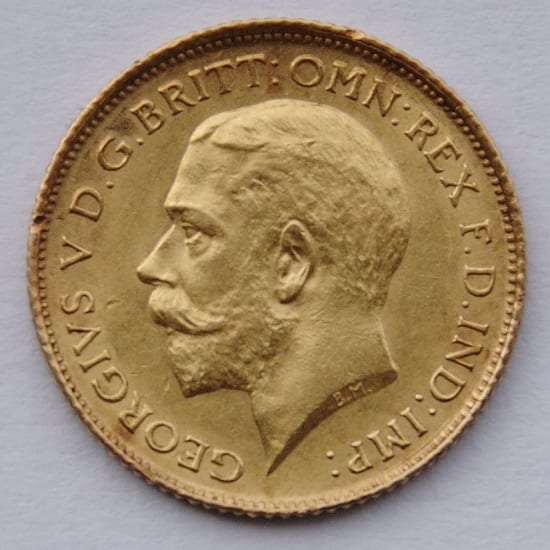 Identifying Sovereigns with historical and collector's value
Gold Sovereigns have been in circulation for over two centuries, making it one of the most popular iconic British coins with a large secondary market. The Royal Mint struck these coins, using 22-carat gold from the year 1817. They have now been put out of circulation and are available as a bullion investment coin. The iconic design of St George and the Dragon, created by Benedetto Pistrucci make these coins unmistakable and they are in great demand from numismatists and investors alike.
Gold sovereigns can carry hefty premiums depending on the monarch and the year. For example, the Young Head Victoria can fetch prices of around £400. There are even rarer ones like a proof set created for Edward VIII. A single coin from this set can command a price of £516,000. So, investors need to know how to sell these coins in order to maximise their profits.
Identifying a reputed online dealer
Since the Sovereign can carry a numismatic value as well as its value in gold, it's best to sell your Sovereign gold coins to a reputable gold dealer. This will ensure you receive a fair price that reflects the gold content and the numismatic value of the coin. Here at Physical Gold, we're members of the British Numismatic Trade Association (BNTA) providing sellers with peace of mind. Going through a reputed dealer can get you access to a wider secondary market, increasing the chances of a quick sale at a good price. Selling through a gold dealer is the ideal choice for security, a hassle-free sale and selling larger quantities of Sovereign coins.
Research your dealer well
You aren't forced to sell through one dealer only. If you identify two or three reputed dealers, feel free to engage all of them. Doing your research means connecting with other investors and buyers in the marketplace. Find out all about a dealer's reputation and background by speaking to other investors and viewing their ratings online.
The 10 commandments to selling Gold Sovereigns at the best price
Free Guide for gold sellers
Attempting a private sale
Some investors believe that they can get a far better price by arranging a private sale. But, be aware that it may not be possible for you to check the backgrounds of the buyers. It could be risky to have them visit your home. As an individual investor, it is unlikely that you will have a large network of interested buyers. So, you will be forced to depend upon only a few interested buyers who may have responded to your ad. Of course, it may also take a lot of time and effort to post your ads and reach out to the right audiences. A dealer would be far more adept at reaching out to interested parties.
Private sales can be a good idea if you only have a very small number of very collectable coins to sell. It's more likely that an individual collector will pay a further premium for your coin if it completes a coin collection.
Timing and planning
Communication and planning are key factors in achieving the best sale price. If you want the best possible price, let the dealer know in advance that you want to sell your Sovereign coins.
Providing a dealer with full details of your coins, along with time to sell them will help your dealer identify match your sale with interested buyers – boosting the price you obtain.
Don't be in a hurry to sell unless you need the funds for an emergency. A distress sale is always likely to get you a far lower price.
Don't forget that the price you obtain for selling your Sovereigns will also depend on the underlying gold price and market demand. Selling when the gold market is busy and prices rising is ideal to maximize returns.
Contact Physical Gold for the best way to sell your gold Sovereign
An effective way to properly market your gold Sovereign is to simply speak with our investment team. Physical Gold Limited is registered with the BNTA and have a long track record in providing exemplary service. Getting in touch with our team is easy. Simply call (020) 7060 9992 or visit our website to reach out to us.
Image credit: Wikimedia Commons