Gold & Silver Video Guides
If the content is queen for websites, then the king must be multimedia content! With this in mind, Physical Gold set out to create 20 gold and silver industry videos, related to questions and topics, we are frequently asked about relating to the gold and silver industry.
Precious metal investments need careful thought and planning. In this article, we will review 20 important educational videos that have been published by Physical Gold, one of the most reputed gold dealers in the UK. These videos are an excellent educational tool for experienced and new investors alike. Each section below provides a brief summary of the video and tells you why it's worth watching.
We have published these on YouTube, so, why not click on any of the 20 videos below and learn what Daniel Fisher, the CEO of Physical Gold has to say on each of the topics.
Silver coins have steadily gained in popularity amongst investors. Learn about the value of buying 1oz silver coins, including the Krugerrand, Canadian Maple Leaf, Australian Silver Kangaroo, the UK Royal Mint's Lunar series and annual Britannia coin. In this video published by Physical Gold, Daniel Fisher, CEO some valuable insights are shared as to why this coin denomination is great to add to a portfolio as well as the tax-efficiency benefits, which are available for UK residents.
This video guides investors on how to make the best decisions when buying 1-ounce silver coins. Daniel reveals his top five choices, with each selection based on a different investor objective. As a silver investor, the video is an excellent guide to making smart silver investments.
Sovereigns have been around for centuries and enjoy a vibrant secondary market. Of course, this provides excellent liquidity for your portfolio. Divisibility and flexibility can be achieved, as the sovereign is available as a quarter ounce coin. Sovereigns were issued through the reigns of different monarchs, creating excellent variety and easy availability. In this Physical Gold video, five important reasons are unveiled as to why sovereigns can be an important inclusion in your portfolio. Watch the video to learn more.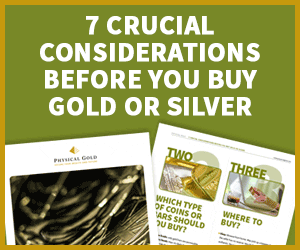 This video focuses on the fact that any investor thinking about buying silver should seriously consider buying the Britannia silver coin. An ideal low-priced 99.9% pure coin (since 2013) and are available with low premiums. The iconic image of Britannia is updated frequently, making it attractive to collectors. The silver Britannia is also available as a limited-edition proof set and in sets of fractional sizes.
The Britannia's history is explored as well as investment potential, tax-efficient status as well as various options including proof sets and storage solutions. The video analyses several factors that make the silver Britannia a great choice for both collectors and investors.
The easiest way to purchase gold is to simply buy online. In this video, Daniel Fisher, CEO and founder of Physical Gold tells us how easy it is. The video walks buyers through five easy steps from creating a free online account on the website to adding products to your shopping cart and finally checking out. Daniel also explains the inherent advantages of purchasing gold online in the video.
Why buy gold bars rather than gold coins? This video reveals all and expands upon many of the benefits and the investment philosophy to adopt when buying gold bars. Listen here to some quality investment tips and how having a combination of bars with differing sizes, weights and quantities all make perfect investment sense!
The investor awareness video kicks off with an analysis of the reasons why people buy gold bars, followed by a lesson on how to choose the best bars. Investors should be equipped with good knowledge of buying gold bars after watching this video.

We could have written 55 reasons but limited ourselves to just five within this video! Daniel Fisher talks about how gold investments can protect you from exposure to global economic turmoil. Five compelling reasons are discussed in the video, including the impending possibility of a housing market crash. The thought-provoking video is a must-watch for every investor.
The next video from Physical Gold unveils six strategies that investors can employ when buying Sovereigns. So, you might be sold on the idea of buying gold sovereign coins, produced by the UK Royal Mint. But, how do you get the best value for your money when buying them This is the question posed and answered within this video, which explores a range of approaches (hacks) to getting more gold Sovereign coins for your money!
Investors are advised to buy the quintuple sovereign, as it's a much bigger coin and provides greater value for money. Other strategies include buying nearly new used coins, waiting for a lull in the market and speaking to a dealer to buy a particular Sovereign when its price comes down.
This silver investment video addresses the confusion faced by investors about which silver coins to buy. In the video, Daniel Fisher, founder, and CEO of Physical Gold reveals his top five choices in silver coins. Analysts are predicting an explosive price rise for silver in the future, but which coins do you buy Daniel reveals all in this highly informative video, which selects five of the best silver coins, which can leave investors with no doubt as to which coins, they should buy. The list includes the legendary silver Britannia and Krugerrand. The Fiji 5 kg silver bar is also included as it has a face value.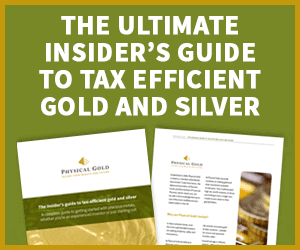 Do you know your alloys from your carats Learn about these and other gold and silver industry jargon terms in this helpful video. Listen to understand what the terms mean and blast away any myths or misunderstandings from the crevices of your mind! This video is an excellent educational tool for investors and the general public alike!
The flagship coins of British coinage have always been the gold Britannia and Sovereign.
Do you like the idea of investing in Gold Britannias and Gold Sovereigns, but only have funds for one, so which do you choose Daniel answers all in this informative video, Daniel Fisher explains the investment rationale behind both gold coins based on five essential factors. Learn about both coins in terms of tax efficiency, liquidity, and other factors too!
Collecting coins makes you a Numismatist, but is it possible to make a profit too. The answer is YES, learn how in this Physical Gold video which explains how coin collecting is not only for fun but is for profit too! As with all investments, it's important to let your head rule rather than your heart, so why not become an informed numismatic investor?
Balanced it's such a lovely word, especially when it's used in the phrase "balanced investment portfolio". Gold often plays a pivotal role in balancing a portfolio and providing portfolio insurance. In a ground-breaking video, Daniel Fisher, CEO of physical gold reveals seven great ways in which gold can play an important role in providing liquidity, hedging currency risks, and fighting inflation.  By watching this video, you can learn how gold can help protect your investments during economic uncertainty.
There are so many different factors, which determine the value of a gold bar? So, how much is a gold bar worth? Find out by watching this video, which gives viewers the "lowdown" on the calculation process behind valuing gold bars and how this can be used to the advantage of informed, streetwise and "savvy" gold investors.
Is there a formula for investing effectively in gold coins and bars? Open your eyes to the world of gold investment by watching Physical Gold's video "How to buy gold". It sounds like an easy question to answer, but we explore "buying gold well" here and guide listeners through the steps to a healthy buying process. From finding a reputable gold dealer and discussing objectives to the eventual buying process, every step is explained in detail in this comprehensive, insightful video. Many think that gold is only for the extremely wealthy, but Daniel also explores more affordable monthly saving options too.
Do, you own some gold and want to realise the highest cash price for it? Of course, you do! Daniel Fisher explores the various techniques here and learns how to maximise your profits, with a particular emphasis on buying correctly in the first place. Are you intrigued to learn more about selling, then simply click on the video!
We know the answer to this question, but the video explores the often-asked question of should people invest in gold and silver Daniel guides viewers through the many reasons that investors should consider these precious metals and the contrast between investing in the two of them.
So, you have decided on investing in silver – but what suits your investment purposes better, silver bars or coins? Investors are hugely attracted to silver because it is 85 times cheaper than gold and holds the promise of rich dividends in the years to come. This illuminating video created by Physical Gold takes a look at four points of comparison between silver bars and coins. The video is extremely helpful for silver investors in making the right choice.

We have come to 2019 and silver investment has now been popular for millennia. So, we can predict with optimism that silver will flourish into the future, it's safer than low-interest earning cash. Listen to Daniel in this video to hear his views on the investment potential of silver in 2019 and in years to come.
The Holy Grail of the gold investment market is the spot price. In this back to basics video, Daniel Fisher, founder of Physical Gold teaches investors how to stay abreast of the current gold price and analyse it. He also explains effective strategies and themes that investors can employ when planning their investments with a medium to long-term horizon.
Why is gold priced per oz (ounce), what is the spot price and why is this so important Daniel discusses this and more in our final of 20 videos. If you haven't watched any then watch this video, which is highly educational to investors, Numismatists, and quizzers alike!
About Physical Gold Limited
Physical Gold is a highly reputed precious metals broker in the UK.  Please view the video links above to gain an understanding of the market.  The Physical Gold investment team is always open to discuss your investment goals.
Physical Gold – YouTube channel
We hope you have enjoyed these 20 gold and silver videos? If so, why not view all of our videos at the Physical Gold YouTube channel? As a business, we believe in removing the "trade jargon" and hope that visitors will find our videos to offer sound advice and information.
Buying gold and silver from Physical Gold
We are only a phone call away on 020 7060 9992 or complete our contact form for a speedy callback. We offer competitive prices, a fine selection of gold and silver coins and bars all with our hassle-free customer-focused service.
Image Credits:
Wikimedia Commons, Michael Steinberg, Eric Golub, Wikimedia Commons and Evan Bench