Best Silver Coins for Investment
With so many different silver coins now on the market, a question we get asked time and time again, is – "Which silver coins are best for investment?".
So today, I'm going to reveal my top 5 silver coins which you can buy TODAY to achieve the best balance, returns and tax efficiency.


1. Silver Britannia
The starting point and backbone of any silver portfolio should be the UK Britannia.
This coin ticks all of the boxes. As a mass-produced silver bullion coin, premiums are low and it's easy to buy in large quantities from precious metals dealers. Not only that, but most dealers will offer tiered price savings at regular quantity points to reward you for buying in bulk. If you can afford to buy 500 Britannias, they'll arrive packed in a monster box, perfect for storing.
But that's not all.
The Royal Mint produced Britannia is also legal tender in the UK. Why is that important to me? Well, if silver performs the way we expect over the coming years, and its value explodes, then cashing in your profits on silver coins could cause a capital gains tax issue. But any UK legal tender coin is Capital Gains Tax free to UK residents. So you get to keep ALL of your profits!
2. Silver Krugerrand
Next up is the infamous silver Krugerrand.
Possibly the best-known coin in the world, the Krugerrand has been issued in gold for over 50 years and is the most plentiful 1oz coin on the market. For that reason, the coin benefits from a super strong secondary market and can be easily traded around the world. It's possibly the most common coin in continental Europe.
It's quite surprising then that despite the success of the gold coin, the Silver Krugerrand only launched in 2018 for the first time. I'd recommend adding this iconic coin to your portfolio to provide value and liquidity.
3. Royal Mint Lunar Series
Balance is key to any investment portfolio,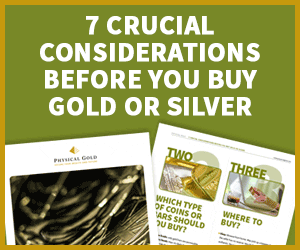 and the same goes for silver. So to provide a different angle to your portfolio, I'd recommend the Royal Mint Lunar Series.
Like the Britannia, the coin qualifies as legal tender, so any profits are CGT-free. But these coins add a whole new dimension to your portfolio. Each of the twelve coins in the series features an animal from the Chinese calendar and is released on its corresponding year. 2019 for instance, witnesses the release of the Year of the Pig coin.
This is clever marketing by the Royal Mint. These silver coins benefit from a collectability factor as buyers seek to own every coin in the set. But the Chinese theme means demand is strong from Asia, a market the Mint is targeting to increase its reach.
With each coin having a restricted mintage, prices tend to increase quickly when supplies run dry – boosting profits.
4. Argor Heraeus 5KG Silver Bar
Fourth in my list is a little leftfield – It's the Argor-Heraeus produced Fiji 5kg silver bar.
I know what you're thinking….That's a silver bar, not a coin, right? Well, yes and no. Clearly, it appears to be a silver bar, but when you look closer, it has a twist. Each of these huge 5kilo bars has a Fijian face value. This coin is not CGT-exempt for UK investors.
It makes sense to add some of these to your silver portfolio as the huge size, reduces relative production costs, especially when compared to 1oz coins. So by owning some of these 'coin bars' as we call them, you can bring the average cost of your holding down, and boost profits!
5. Royal Mint Queens Beasts Series
Last up is the Silver Queens Beast range of coins. These play a similar role to the Lunar coins.
Legal tender and therefore tax free –
Part of a collectable series –
Limited mintage –
But the Queens Beast coins also come in two sizes. 2oz bullion coins and massive 10oz versions. We've already seen premiums on these coins increase quicker than regular coins as each year passes.
So there you have it. 5 best silver coins to really boost your investment portfolio. Of course, there are many other silver coins available. So if you feel passionate about any coins I haven't highlighted today, get in touch. If you found this video useful, be sure to check out all 20 of our video tutorials.
Buy the five best silver coins from a trusted source
When you're ready to start investing in the best silver coins, there's no better place than with the Physical Gold. We have a track record stretching back to 2008 and have a huge selection of silver coins and bars which can be ordered online, including our five best silver coins. If you need guidance, don't hesitate to call our team on 020 7060 9992.