Gold has been one of the most popular investments over the past 5 years. That's not surprising with returns exceeding 60% over that period and beating most other asset classes. But experienced investors will know the real reason for the marked interest in buying gold coins and bullion bars is down to gold's role as a safe haven in unstable times.
Given the financial crisis that UK residents, in particular, have been put through, gold represents a safe investment. Unstable currencies, flailing financial institutions, high inflation and geopolitical uncertainty are exactly the kind of scenario that will drive up interest in gold investing. With a limited gold bullion supply, it's only expected that this growing demand will continue pushing up gold prices.
But if you have not invested in gold coins or gold bars before, you may not be sure about where to start. The range and price of coins can be overwhelming as you try to sort your Double Eagle from your American Buffalo, or your Gold Panda from your Maple Leaf. To optimise your gold investment returns, you'll need to understand the various weights, purities and types of gold coin. You'll need to learn when to buy coins rather than bars, where to purchase, store and sell them, how to time the market and how to shield your profits from the taxman.
. This precious metal has a lot to offer when it comes to tax benefits, steady value, and peace of mind, and it can add stability to your investment portfolio.
With that in mind, here are some of the most important things that you should know about when, what, how and why to invest in gold bullion coins. Step-by-step.
Why Should You Buy Gold Coins?
Let's start by asking the question: why would investors want to add gold or silver to their investment portfolio? One of the most compelling reasons is that there is a finite supply of gold. As such, increasing demand means that while gold prices may waver, they always increase over the medium to long term.
Gold coins, like Britannias, Krugerrands and Sovereigns are well-known worldwide, so you don't need to worry about selling your gold overseas.
Most every day people will have noticed that banks are now making it difficult to spend your own money. Try making an electronic payment to a new payee, and it's likely they'll block the transaction. Owning gold coins gives you autonomy and control over your own wealth.
There are also tax benefits to buying gold coins. For example, in the United Kingdom, you will not have to pay Capital Gains Tax on any legal tender gold coins that have been made by the Royal Mint. This means that when you sell Royal Mint-manufactured gold coins, you will be making a tax-free profit.
Your typical gold bullion coin is also easy to buy and simple to sell, which makes it a very appealing investment to add to your portfolio. One of their key benefits is the divisibility they offer. For example, a £5,000 investment would buy around 12 Gold Sovereign coins, meaning you'd have 12 pieces of gold, rather than one gold bar. This provides the flexibility to sell small parts of your portfolio when you like, whether it be to lock in some profit or simply cash some in for a holiday.
It's also important to note that the price of gold tends to do well when other market investments take a downturn. For this reason alone, it can be argued that it's always important to own some gold to protect against falling markets – expected or otherwise. By owning some gold coins alongside your other assets such as property, stocks, bonds or crypto, you're more protected when the economy declines. Gold coins are also a fantastic hedge against inflation, and come with a far lower barrier to entry than gold bars.
When Should You Buy Gold Coins
Physical gold coins tend to appreciate in price when there is turbulence and turmoil in the world's economy. Traditionally, gold is a non-volatile investment when considered over a longer horizon, so gold coins are a great diversifier within your portfolio.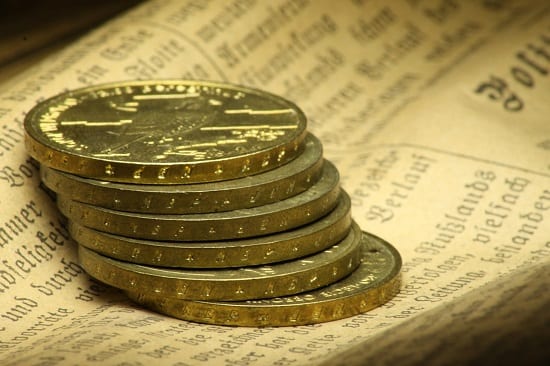 In Times Of Financial Crisis
This will feel particularly relevant at the moment to anyone living in the United Kingdom, but gold coin prices tend to go up sharply when uncertainty enters the world. With the current cost of living crisis, UK residents are seeing inflation rise while the threat of recession continues to loom large.
As inflation rises, the value of your money goes down. This is where buying gold coins can be an important store of wealth. It is one of the best hedges against inflation you can own, and performs significantly better than raw cash at holding its value.
By simply leaving savings in the bank, you're losing purchasing power on a daily basis. Your Pound may be able to buy a loaf of bread today, but it may only afford ⅔ of that same loaf in a year's time. Diversifying into gold during inflationary periods can protect your money's value.
In Times Of Political Turmoil
The geopolitical situation around the world is extremely unstable right now, and has been over the last decade, which causes uncertainty in the stock markets.
Whether it's the spiralling cost of living, rising energy prices, or the supply shortages that have continued over the last couple of years, there's plenty of uncertainty in the world today. As such, everyone is looking for more certainty and security in their lives.
Bullion gold coins can be a safe haven for investors because you can know exactly where your money is at any given time. You have control over your gold coins, and you are not going to have to worry about whether the situation in the country where you are holding your investments is going to make it difficult to get it back.
So, as a general rule, when there is a serious lack of confidence in a nation's government, you can expect to see investors buying gold.
To Diversify Your Investment Portfolio
Every investor knows that there is real value in a diversified portfolio. It's rarely a good idea to be exposed too much to one type of investment. And when you are thinking about how to invest, you will want to make sure that you have at least one asset that is going to stay at a consistent value.
Many people choose to invest in gold because it adds a steadying element to their portfolio. This can be particularly important if you have other assets that you are less sure about (such as property, stocks or cryptocurrencies) or if you know that you are going to be heading towards a major expense in the near future. You could always look to sell a special coin if the price is right, for example.
In short, buying gold bars or coins is a reliable and steady investment at a time when there are not many of those around.
The 7 Crucial Considerations Before You Buy Gold Coins
Free insider's cheat sheet for successful gold investing
What Types Of Gold Coins Can You Buy?
There are many types of gold coins to buy, each serving a different purpose for investors. First it's best to outline what types of gold coins are in existence and how they differ:
Coin Type
Gold Bullion Coins: Bullion coins made of precious metals such as gold and silver, though there are also platinum and palladium bullion coins. These are usually made via a country's mint, but there are cases where private companies will also mint them. The term 'bullion' can be a mis-used and confusing one. While it's commonly used to describe gold bars, it also defines the manufacturing process of gold coins. A bullion coin is one which has been minted cost-effectively and aimed at the investment market. This contrasts with proof coins, which are cast twice, increasing production cost, and are more suitable for collectors.
Numismatic Coins: These coins have something called a numismatic value, which can make the coin more valuable than the gold it contains. For example, if the coins are historically relevant or have an unusual error on them. These coins are often very rare, and exist in a market different to gold bullion coins, and should be bought for a different purpose. These very high premium numismatic coins are not to be confused with semi-numismatic coins, which can make a great investment choice. A common example of these would be pre-owned Sovereign coins dating from Elizabeth II back to Victorian versions. They're not old enough to be classed as numismatic, but can create values over and above the gold price due to scarcity and collectability.
Legal Tender Gold Coins: There are gold bullion coins which can also be used as legal tender within a certain country. These include the Gold Britannias and Sovereigns in the UK, the Maple Leaf in Canada and American Eagles in the USA. In the UK, Britannias and Sovereigns are free from capital gains tax due to their legal tender status.
We explore this topic more deeply in our guide to the different types of gold coins
Coin Size/Weight
There are many choices when it comes to gold coin sizes and weights. It's important to understand that these weights refer to the 'pure gold weight' and not the total coin weight. For example, a 1 ounce Krugerrand will contain exactly 1oz of pure gold, but weigh slightly more due to additional alloys.
1oz coins
Many of the world's best known coins are produced in a 1oz weight. The South African Krugerrand was the first coin minted in this convenient size, back in 1967. With its weight matching that of the commonly quoted gold price (one ounce), the coin's value was simple to track. This shrewd marketing led to the first mass-appeal gold bullion coin. Many of the world's leading mints have since followed suit including the Royal Mint's very own 1oz Gold Britannia. You can find more information about some of the best 1oz gold coin investments in 2023, in our detailed guide.
Half, Quarter and Tenth oz coins
Retail interest in smaller versions of these coins has led to fractional varieties of the leading world coins. Minted in smaller quantities, the smaller coins offer a more affordable option for smaller investors, appeal to collectors wishing to own all sizes available and high divisibility for those seeking to own small gold tokens for possible bartering if paper currency fails.
This added flexibility comes at a cost, with premiums higher on the smaller coins due to increased relative production cost.
Sovereign coins
These deserve to be mentioned as they're so popular for investors worldwide and they're one of the best-known gold coins. Sovereign production pre-dates the introduction of convenient ounce based measures so their weight seems more complex in comparison.
A full Sovereign contains 0.2354 ounces of pure gold, or 7.32g. In simple terms it's just slightly smaller than quarter ounce gold coins. This enhances their popularity as they are affordable, tradeable and better value than ¼oz versions of larger coins.
The Sovereign is also produced in Half and Quarter versions to provide further divisibility.
Browse Gold Coins From Our Most Popular Categories
Which Gold Coins Should You Buy?
There are many different types of gold coins on the market, the most popular in the UK being the Britannia and the Sovereign. Both of these coins come with excellent tax benefits for UK residents, and are a great option for small and large investors alike.
Coins With Good Liquidity
For most portfolios, you should be looking to buy bullion coins with a strong secondary market.

This is simply because you will want to sell them at some point in time in order to realise your investment, along with a tidy profit. The best types of coin for this are the usual suspects of Britannias, Sovereigns and Krugerrands, which are renowned and sought across the world.
Numismatic coins are a route some investors also take, but with these coins come problems. They hold a lot of value and so seem a tempting option, but there is little secondary market and selling your numismatic coins can be a long process.
For more detail on the best gold coins for your investment, see our 2023 Best Gold Coins To Buy guide.
Low Cost Versions of Well-Known Coins
Many gold dealers will offer 'best value' versions of some of the most popular gold coins and bars. This term simply refers to pre-owned varieties which haven't perhaps got any real historical value yet. This enables the shrewd investor to pick up some of the best gold coins for investing at a discount to brand new ones.
Best known examples would be;
Prices will be slightly lower than brand new coins, but crucially you'd receive the same price when you come to sell.
Coins With Bigger Potential Upside
Coins that have a limited mintage or are part of a collectable series can increase in value at a far higher rate than standard mass-produced coins. Once a production run ends for a certain coin, supply is inevitably squeezed. If demand remains, the price consequently moves up considerably.
The risk is that these coins tend to cost more to buy than standard coins. If that particular series doesn't prove to be popular, prices won't rise any more than the underlying gold price. So you've spent extra for no more return.
While nothing is guaranteed with coin prices, studying past performance of a particular series can help select the right ones to invest in. Crucially, coins need to be bought while they're still being minted to get in before the supply squeeze pushes up prices.
A good example of this strategy would be investing in the Royal Mint Tudor Beasts coin series, based on the performance of the previous Queen's Beasts coin series.
Need Help Choosing Your Gold Coins? Use Our Portfolio Creator Tool Below To Get Inspired
Coins For Collections
Investing in old, collectable gold coins (also known as numismatic coins) is a popular hobby for many. It is also possible for collectors to make decent profits at any point, should they decide to liquidate their collection.
However, numismatics (rare, gold-bullion coins, which are not quite at the point of being formal collectables) is a professional discipline of study. The market for these is completely secondary to the usual gold market, and there are far more considerations to make.
For the majority of gold investors, it's recommended that you stay with modern gold coins.
How To Buy Gold Coins
Once you're sure on the route to take, there are a number of ways you can buy gold coins for your collection.
A registered and approved gold dealer
A jeweller
An online private seller (using a marketplace such as eBay)
Each of these options can have their own strengths and weaknesses.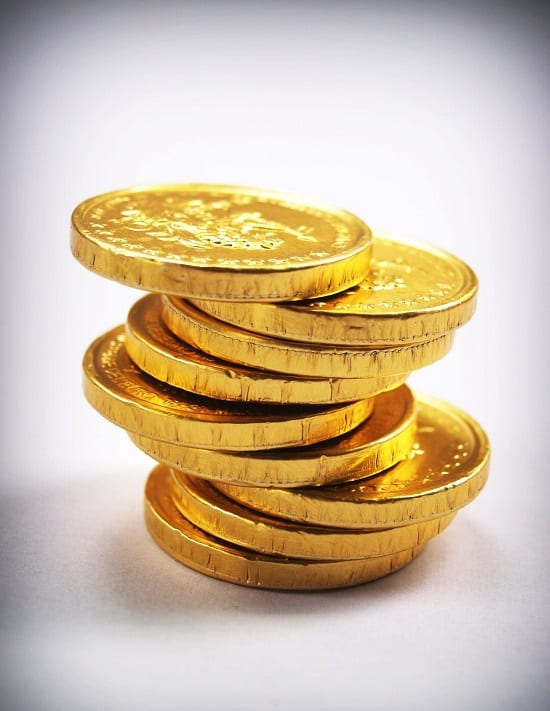 Buying With A Registered Gold Dealer
Buying from registered gold dealer, such as ourselves, brings with it a number of benefits:
Wide selection, guaranteed quality and best prices due to their increased buying power. Many have online stores to browse and research options.
Free insured delivery or insured storage of your gold coins.
Accredited and held to the highest regulatory standards.
Flexibility and advice on your purchase, helping you with markets and diversifying your portfolio.
Liquidity to sell back the coins when the time comes.
Buying With A Jeweller
Some jewellers will often hold small quantities of gold coins, sometimes with the intention of selling, as they would a ring or necklace
Benefits
More likely to be at a physical location closer to you.
Smaller amounts of gold are likely to be stored and available the same day.
The coins from reputed jewellers can be trusted.
Negatives
Not sure to hold the same trading quality (carat and fineness) as gold bought from a dealer.
Margins can be higher due to gold being classed as a gift, rather than investment.
Buying From A Private Seller
Gold collectors, and owners, can sometimes turn to marketplaces such as eBay to sell their gold to the mass market.
Benefits
Potential to get gold at a discount.
Rare numismatic gold coins can surface, giving you the chance to complete your collection.
Negatives
Potential to be sold a fake.
Lack of purchase guidance.
No guarantee of the quality you are buying.
Buying From Physical Gold
If you were to use physical gold, like thousands of others have over the past few years, you get all of the benefits of buying from an accredited gold dealer and the process is simple:
How To Buy Online
Register an account: This takes no longer than a minute.
See our range of physical gold coins and add them to your basket in one click.
Checkout your order.
Choose your payment options. We accept most forms of card payment, though we find bank transfer works best for larger investors.
Receive your gold: We can handle storage, or we will schedule you a secure delivery to your home.
Use Our Buying Tools
You want to be sure that when you buy gold, you do it from somebody you trust. Gold coins are a diverse, vibrant market but do contain pitfalls and so having somebody on hand to provide advice is essential.
How To Store Gold Coins
As they are smaller than gold bars, coins can be stored more easily in your home. You can store gold coins in specialist tubes, a vault or safety deposit box at home or in a specialised insured facility.
Technically, due to the fact that gold coins don't corrode when exposed to the environment, you can store them anywhere you like. The main thing to watch out for is that you don't scrape or scratch them (as you could lose precious micro-ounces of gold). Gold coins should be enjoyed so don't be afraid to handle them.
If you do choose to keep your gold coins at home, ensure they are secure and insured against theft.
We've detailed everything you need to know about storing your bought coins in our gold storage guide.
Insider's Guide to Tax-Efficient Gold & Silver Investment
FREE tips for keen investors
Should I Buy Gold Coins Or Gold Bars?
This question is a little more complicated than it may first appear. On the surface, it would seem to be a purely aesthetic decision. Do you want the commemorative element that comes with fine gold coins or that satisfaction of owning a bigger, more impressive lump of gold?
Gold coins are often made to mark a historical event or to create beautiful collector's items.
Gold coins are also smaller than most gold bars, which means that they are easier to store and offer you flexibility to sell part of your holding. The tax benefits mentioned above means that you can buy and sell gold coins with a better profit margin.
It's also worth noting that gold coins can be bought in smaller denominations, so if you just want to make a smaller investment, they may be a better option for you initially.
There are also several compelling reasons why you may want to buy gold bars instead of gold coins. For example they can be cheaper per Troy ounce for investors, especially when buying at scale. Interestingly, small gold bars of 5 and 10 grams in weight are far more expensive per gram than small gold coins like Sovereigns (7.32g). So the assumption that gold bars are the more cost effective option is only accurate when buying larger sizes.
See more about how gold coins compare to gold bars in our dedicated guide.
Final Thoughts
Every investor will wonder if now is a good time to buy or a good time to sell. When it comes to gold, one of the best things about it as an investment is that the risk to you is always going to be fairly low. The upfront prices may be high when you buy coins, for example, but you know that they are likely to retain their value and give you a good return for your money.
If you have money that you want to convert into something reliable, investing in gold coins makes a lot of sense. To talk to an expert about whether now is a good time to buy gold, to understand more about how the capital gains tax works in relation to the Royal Mint, and to look at the delivery and storage options that are available to you, get in touch with the team at Physical Gold. We are here to help you.