When you invest in gold and other precious metals, you need to know that you can find a storage solution that you can rely on. We have put together a detailed guide to help you store your gold with total confidence, while also allowing you quick delivery in case of a full or partial sale.
Importance Of Secure Storage
There are several different options to consider when it comes to storing bullion. Some people prefer to store their gold at home. This option allows you access to your gold at all times, but you need to take security into account. Even if you have a home safe that costs you a lot of money, your gold and silver will never be as secure in your home as they would be in a specially-designed secure storage facility.
Others decide to store their bullion in a safety deposit box at their bank or 3rd party facility. The clear advantage to this over home storage is the added security, but banks can be a little limiting. You will only be able to access your gold when the bank is open and someone is available to open their vault for you. This could be a risk if you keep one eye on the market and need to be able to sell your assets quickly.
Plus, you should note that you will need to take responsibility for insurance yourself if you have stored bullion in a bank's vaults, as they are not legally allowed to know what stored items are in your safe deposit box.
Looking To Buy More Gold? See Our Best Gold Coin Picks For 2023.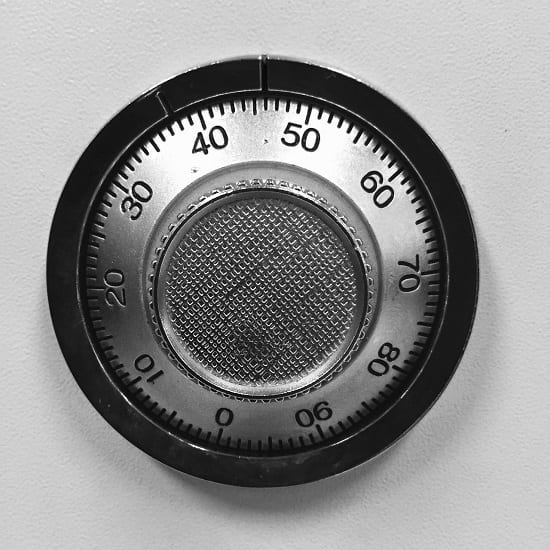 Home Storage
Storing your gold at home is what a lot of smaller gold investors choose to do, especially when choosing to invest in gold coins. There are a number of ways that you can store your gold at home for those looking to keep their gold close at hand:
Hidden around the home: People have been known to store gold in their sock drawer, hidden in cupboards and scattered around in places even they sometimes forget! As gold is less corrosive than silver, there is less worry about damage from exposure to moisture and the elements.
Buried in the garden: This may sound like a chapter from Treasure Island, but we do have a small number of customers who have chosen this route. It certainly removes the risk of theft but we wouldn't recommend this option. Forget exactly where it's buried and it could be lost forever. It's important to provide details of the gold's whereabouts to trusted loved ones in case something happens to the original buyer.
Home Vault: For the more security conscious, you can have a vault installed into your home. This requires more space than those coins tucked away into your cupboard, but will give you peace of mind when it comes to their security when you aren't around your home and easily accessible to criminals.
Advantages Of Storing Your Gold At Home
While we would recommend secure vault storage for most physical gold customers, there are a number of advantages you can obtain from home storage.
Ease of access: When you store your gold at home, you will always have immediate access to it whenever you need. Whether that be in emergencies when you might need to liquidate, or if you like to show off your collection.
Ability to have private wealth: If you want your gold store to be completely out of the financial system, then storing it at home with no records is a way for you to achieve that.
It could cost less than having it stored professionally. Costs of insurance and purchasing the safe need to be factored in.
Disadvantages Of Storing Your Gold At Home
While storing your gold at home definitely scores highly for convenience factor, there are a number of drawbacks.
Requires specialist insurance: You likely invested in gold due to its value over the long term, and you'll want to make sure that you have insurance which covers that value in case something happens to your home or your gold. Regular home content insurance will likely not cover such value, and so this is a separate consideration, and cost, you will need to think about.
Space: As your investment grows, especially if you are buying gold bars, so will the amount of space you will be required to have.
Being responsible for security: The threat of theft and damage is real, and that includes from friends and family members. Gold that's stored in your home will always be accessible to people visiting your house, and there will always be security concerns due to that.While it's tempting to tell the world of your wonderful new gold coins, be selective in who you tell.
It's not quite as convenient to sell as it needs to be transported back to a dealer.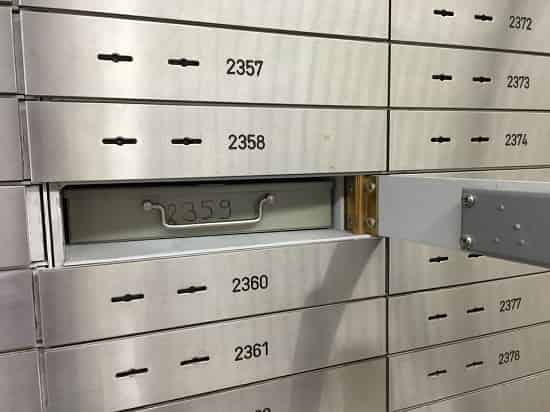 Storing Your Gold In A Safety Deposit Box
There are two types of safety deposit boxes. Those offered for years at high street banks and a select number of private facilities provided near city centres.
Storing your gold at the bank sounds like the safest place you could possibly store gold, and it's true it has great security benefits. There are however a number of considerations you need to have in mind if taking this option:
Being able to access your gold: You will only be able to access your gold during the opening hours of the establishment, and even then only when somebody is available to open your box. Choosing the place with the most flexibility around the times you will need access is vitally important.
A good track record on security: Safety deposit boxes aren't impenetrable, especially when the place in question is frequently targeted. Most people taking this option will go directly to their bank and rent a box from them, due to the enhanced security benefits it provides.
Advantages Of Storing Your Gold In A Safety Deposit Box
Security: The biggest benefit to utilising a safety deposit box over say, home storage, are the security benefits theyprovide. You can usually be sure that your gold will be safe and secure from theft and damage.
Insurance: Usually banks in the UK will offer insurance on the gold stored with them. This is a significant advantage over home storage where you might have to source this yourself, and pay higher premiums.
Privacy: Safety deposit boxes are usually very private and discreet, so you'll be the only person who knows what's in your box. You can also identify people (such as your spouse) to have access too, but nobody without your consent will be informed about your box and its contents. If the box is big enough, you can also use it to store other valuable items or documents.
Disadvantages Of Storing Your Gold In A Safety Deposit Box
Access: You will be limited to the opening hours of your bank or 3rd party facility and these hours often don't include weekends and evenings. If you think you may need to access your gold frequently, or urgently, then this is a consideration you need to take on board. The nearest private safety deposit companies may be some drive away from your home.
Availability: The growing desire for privacy (and gold ownership) over the past decade has led to a significant rise in demand for bank deposit boxes. As a result, it's virtually impossible to obtain a box if you don't already have one at your bank.
Vulnerability: It may seem far-fetched that a bank will collapse, but if the events of 2008 showed us anything, it was that banks can fail. If you hold assets at the bank, and that bank closes or fails, then there may be issues in your ability to reclaim your gold. Security at private safe deposit facilities will not be as stringent as at a professional precious metals vault.
Cost: Whilst a bank safety deposit box is relatively cheap, it does come at a cost. You should evaluate the value of your gold against the storage costs associated over the term of your holding, to find the best value storage option for you. Private facilities can be relatively expensive.
Limited size: Due to their very nature, safety deposit boxes are tiny. They're designed for serving many customers with a very modest space. This may prove sufficient for small gold holdings but wouldn't be appropriate for larger gold ownership or any silver, which takes up considerably more space for its value.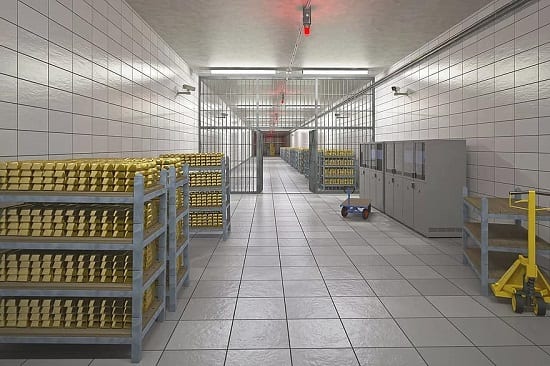 Storing Your Gold In A Vault
Alternatively, if you want the benefits of the added peace of mind that come with a bank, but you want to know that your bullion is fully insured and specially handles, then you should think about taking advantage of vaulted storage. You really can't put a price on peace of mind, especially when it comes to large investments. Many gold dealers provide storage options as part of their services. There are several benefits to vaulted storage for account holders, so let's break them down.
Benefit 1: Security
The main benefit of this type of storage is the security that it offers. Any good dealer will use top-of-the-line facilities that are specifically designed to keep high-value items secure. If you are looking for storage options that you can trust and that will minimise risk, this should be at the top of your list.
You may want to look for dealers that use Loomis vaults, which have a long and storied history that dates back to the gold rush. Their multi-layered security system is world-renowned when it comes to the best ways to protect your gold, silver, and any other precious metal you can name.
Such specialist facilities store gold and silver for many banks and institutions, which is great validation of their service. If it's good enough for the massive organisations, then it's good enough for us!
Benefit 2: Optimal Conditions For Gold Storage
One of the most significant risks of storing bullion at home or in a bank is that you may not always be able to provide the optimal conditions for it. There are a range of factors that you need to consider.
When you store your gold in a vault, you do not have to worry about the materials that you are using to keep it in or what kind of gloves to use when you handle it. You also do not have to worry about dampness or other factors that may affect the pricing of your bullion when you are selling it.
Benefit 3: Fully Allocated & Segregated Storage
You may be worrying that if you agree to storage in a vault, your bullion will be in a pile with other customers' gold. A good gold dealer will ensure that your precious metal is fully allocated in your very own section and that your investments will be ring-fenced, literally and legally. This segregation is one of the most important things to look for if you are looking at accounts with storage options.
Benefit 4: You Have Full Ownership
This point is perhaps most important for those who are thinking of storing their gold at home. You are not giving up the ownership of your gold or precious metals when you store them in a vault.
Even when using a dealer's storage facilities and services and you are paying storage fees, you will retain complete ownership of your gold.
Benefit 5: You Will Have Full Insurance
Unlike a bank, a good gold dealer can guarantee that your investment will be fully insured if you decide to trust them with your storage. Any metals that you secure with them will be insured by them, so you do not need to worry about taking out an additional policy.
Benefit 6: You Can Request Your Gold At Any Time
Understandably, you may wish to withdraw your bullion quickly, for example, if you want to sell all or some of it. The market can change quickly, and stock prices have certainly been prone to turbulence.
So, if you want to withdraw your gold or silver from storage or if you want to sell it, simply get in touch with your bullion dealer. They will arrange physical delivery of your investments for a small handling fee that will depend on the value of the metal if you decide to take possession Selling part or all of your holding is far easier than with home storage as there's no need to move the gold yourself.
See How PhysicalGold.com Can Make Your Gold Storage Easy
How To Maintain Your Gold
One of the biggest reasons why it is so important that you store your gold and maintain it carefully and correctly is that it can have a real impact on the integrity of the metals and that any damage may impact its resale value. Gold is a malleable metal, and it can be melted down and reshaped into coins or bars, but it can also be damaged easily. If you want to ensure that your precious metals keep their value, you need to be storing your gold properly.
How Should I Clean My Gold
Generally speaking, the answer to "should I clean my gold?" is "no". Improper cleaning can have a terrible impact on your gold coins, and that will seriously affect their value. There are still a lot of collectors out there who think that they need to clean their gold on a regular basis. This is absolutely not the case. It will be far better for the value of your gold coins if they have lost a little of their shine but are otherwise in perfect condition.
Of course, cleaning your gold coins and gold bars is one of those topics that sometimes comes down to personal preference, so if you really must clean it, there are some simple rules that you need to follow. The first is that you should never use any kind of cleaning fluid, including hydrochloric acid. These are often corrosive, and they will damage your gold, even if it is a cleaning fluid that has been designed for use on metals.
If you must wash your gold, all you need is warm water with a bit of soap. Then, dry it gently using a soft cloth. You need to ensure that you are not scratching the surface at all because this may have a much bigger impact than you realise. It is all too easy to start removing layers from your gold, which means that it will be lighter the next time someone comes to weigh it.
How Should I Handle My Gold
Now that we've covered cleaning your gold, it's time to talk about how to handle it. There are some collectors and investors out there who prefer to leave their physical gold alone somewhere safe. However, special gold coins and gold coins that are collectable are something that a lot of collectors like to take out and admire every so often. If you are going to do this, it is vital that you handle it with care.
The first thing to note is that you should not use plastic or latex gloves, the kind that you may see being used in hospitals. It may seem like using something sterile is the best idea, but there are chemicals present in these gloves that can damage the gold. Plastic tweezers are also a bad idea in case you scratch the gold while handling it. Soft gloves made of soft materials are the best option, but if you want to handle your gold coins with your bare hands, make sure that you wash them beforehand and that they are dry.
Do not talk over your gold coins, and you should try not to breathe over them too. Saliva can be corrosive and will tarnish the metals. Make sure that you place them on a soft surface and hold them by the edges. Be very careful that you do not accidentally drop them on the floor. Ideally, you should avoid handling your gold if you can, as there is a lot of risk involved.
Interested in Gold or Silver Investment?
Download the FREE Insider's Guide to Tax-Efficient Investing
FAQ
Where is the safest place to store gold?
The most secure storage for your gold is either via a safety deposit box at your bank or secure specialist gold storage, just be sure to research your provider thoroughly.
You can see more information about our secure precious metal storage facilities and delivery to find out everything you need to know.
How Much Does It Cost To Store Gold In The UK?
There are a number of costs to consider when it comes to storing gold:
Home: This is free to store, though if you have a vault installed this could cost under £500 for a lower end safe, and well over £5,000 for a larger fireproof safe.
Private Safety Deposit: Storage costs can vary, but you will be looking in the region of £100 per year for a tiny box measuring 43cm x 11 cm x 4.5cm deep. Medium boxes will cost around £500 per year and have dimensions around 43cm x 26cm x 12.5cm deep. If you require more significant size, the largest deposit boxes can cost more than £2,500 annually and measure 45cm x 61cm x 64cm deep. £10,000 insurance may come as standard with box hire, but additional charges will apply for any value above that. Additional insurance can be bought for £30 for every £10,000 increased value.
Secure Vaulted storage through PhysicalGold.com: Costs can vary, but with our preferential rates on secure storage from our partners at Loomis International, our gold storage rates can be seen below
Total Value Of Gold To Be Stored
Annual Fee (+VAT)
Monthly Equivalent (+VAT)