Gold and Silver Investment
All fans of the old spaghetti-style western movies would remember the film – "The good, the bad, and the ugly". Speculative investors often invest in a typical cowboy style without understanding the dynamics of the market. In a world where online gold dealers are becoming increasingly popular, savvy investors need to be aware of the pitfalls of this market. In this article, we will explore the pros and cons of gold and silver investing and also look at a few novice pitfalls which could leave your investment stranded, if you're not careful.
The pros of investing in gold and silver ('The Good')
While gold and silver has been used as a medium of exchange in the past, coins and bars are now bought and sold as an investment. Buying real physical gold (as opposed to paper or electronic), offers a unique, intrinsically valued asset  which can rise in value and provide balance to a portfolio.
Established market
The Internet and the information age has created transparency across the globe when it comes to gold and silver prices. It doesn't matter whether you're based out of Honolulu or Hokkaido, spot prices of gold and silver are easily available for all investors to browse before buying or selling. There are plenty of reputed online gold dealers who would guarantee your purchases and industry bodies like the LBMA or the BNTA are regulating the market at all times. This creates a level playing field for all investors to be able to invest their money safely.
Verifiable assets
For investors in the UK, the London bullion market has created a system by which all gold bars in their system are verifiable, starting with the manufacturer, the assayer through to storage facilities in which the bars are held in LBMA recognised vaults. Through these best practices, the gold industry has reduced the risk of counterfeit bars entering the system. In a similar manner, the silver industry is also well regulated, providing investors with a transparent market where their money is safe as long as they're dealing with registered, reputed brokers and dealers.
The 7 Crucial Considerations Before You Buy Gold
Download the FREE insider tips to gold investing
Unique hedge against inflation and recession
Precious metals like gold and silver are an excellent hedge against economic turmoil and inflation. The prices of gold and silver have remained relatively stable over the years and are not affected by volatility in the way that other asset classes are. All of this makes investments in gold and silver worthwhile in the long run. Owning gold or silver will likely reduce your overall financial risk as their value tends to rise when mainstream assets fall. In other words, gold and silver investment thrives during times of economic turmoil.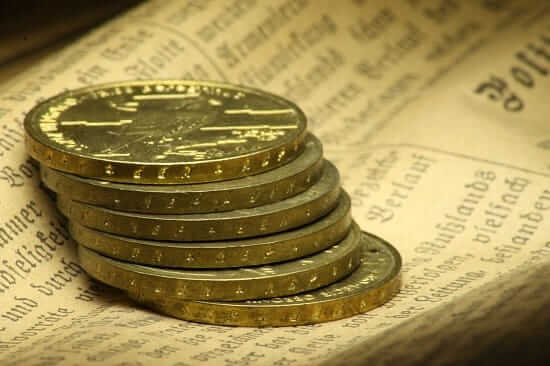 Disadvantages of gold and silver investing ('The Bad')
There are possible downsides to every investment and gold and silver have their possible disadvantages too. It's always important to assess every investment opportunity on it's merits and judge it based on your investment objectives and priorities.
No income from owning coins or bars
Once an investor purchases gold or silver in its physical form, he/she cannot make an income out of this investment unless the asset is sold. Certain investments in gold and silver are tax-free in the UK, however the same does not apply to the rest of the world. Of course, there are ups and downs in the spot prices of gold and these asset classes cannot be used to make quick money. Investors need to remain invested over the long-term in order to reap benefits from their investments.
Don't buy the wrong type of gold
Buying gold and silver jewellery is not ideal as making charges and wasted charges are deducted from the sale price. Since the prices of gold and silver do not rise quickly, these deductions could erode whatever returns you have made on your purchase. Only investment grade gold is VAT-exempt, so ensure you are buying bars and coins of 22 karats and higher only.
Buying gold or silver coins with huge premiums or in expensive packaging can also negatively impact your investment returns, so be sure to research the best coins for investment in your country. A good precious metals dealer should be able to provide guidance.
Costs to buying, selling and storing
The spread between the price you pay when buying and selling is higher when dealing with physical silver and gold than with electronic assets. The cost of manufacturing and distribution means that the market has to move up more with gold and silver investing to make a profit than trading stocks.
Another downside of investing in gold and silver is that you need secure storage. It may not be safe to store precious metals inside your home, especially if you have a large amount.
Professional storage solutions are available, for example, Physical Gold stores their client's purchases in an LBMA approved vault. However, there are costs attached to this and this and needs to be factored into the overall price.
---
Download our FREE Insiders Guide to Tax Efficient Gold and Silver Investing 
---
The downright ugly
Trading in the precious metals markets requires you to be a savvy investor and have good knowledge of the market, especially when it comes to identifying genuine gold and silver. While there are accessories available in the market that can help you do that, you do require experience and specialised knowledge to be able to tell whether a bar or a coin is counterfeit. There are plenty of rogue traders out there and that's the ugly part. Many in investors often fall for the lure of advertising and end up dealing with one of these rogue traders. Needless to say, their purchases are often fake and by the time the end up realising that, the money is all gone.
As a precious metals investor, you need to deal with a reputed online broker at all times. The BNTA website has a full list of registered traders. Physical Gold is proud to be an authorised BNTA trader and has a long track record in the market, with thousands of customers who had a great experience with us.
Don't fall for the bad and the ugly
Talk to our precious metals experts at Physical Gold today and they will advise you on the best way to invest in gold and silver. Our investment experts take into account your investment goals, your personal profile and your investable capital. They use this information to advise you on the best way to build up a precious metals portfolio at the best prices in the market. Call us today on 020 7060 9992 or get in touch with us online to speak to a member of the team.
Image credits: Pixabay