5 Easy Steps to Gold Investment
Whether you're diversifying your existing portfolio, consider taking advantage of the security of gold or simply using gold and silver to save a little for your future, we would like to help you a little with your research. Included below is a link to our '5 steps to gold investment' infographic. You might already know that you're ready to own some gold or silver, but perhaps you're unsure as to how to get started? Where do you go, what type of gold or silver do you purchase and what happens next?
Our simple five steps will provide all the information you need to begin investing. Simply click here or the image below, to view the infographic.


Are you interested in gold investment but uncertain as to how to get started? Our easy-to-follow infographic will give you all the information you need, showing how you can, in just 5 easy steps, diversify your portfolio, increase your investment returns or just put a little aside into the ultimate safe haven.
Talk to an experienced gold dealer
Your best bet for securing your gold investment is to do your research and find an experienced gold dealer who are BNTA accredited, have good reviews and years of experience. Have an initial chat with them about who they are and what they do. Any credible precious metal dealer should be willing to talk through their services, explaining how they operate and your options for investing in gold. They should be able to get you the best possible price for your precious metal purchase and offer other options, such as storage or savings. They should be able to talk you through the benefits of owning gold and how it works as part of your investment portfolio.
What should I know?
Historically, the price of gold has risen steadily and predictions for gold prices in 2018 look good. Not only is gold an important asset class that you can use to diversify your investment portfolio, but it is also often considered to be a safe investment option that helps you reduce your overall exposure to market risk, especially if much of your money is invested in global stocks and bonds. In the last year alone, spot prices of gold have risen from USD 1220 to 1330. Apart from investments in gold bars, several investors enjoy investing in gold coins, which enjoy increases in price, depending on demand from numismatists around the world. Gold coins are often purchased by investors, not just for their value, but for their aesthetic appeal. All of these factors play an important role in your decision to purchase gold and you should consider discussing these with your gold investment broker, prior to purchase.
---
What are the 7 factors to consider before investing in Gold? Find out here
---
Decide what type of gold you want to buy
Your dealer will be able to advise you on the different options of gold investment available, but it's worthwhile having some idea of your objectives before you enter into the conversation.  There are generally three common choices for the type of gold you wish to buy; tax-free (UK) coins, gold bullion or foreign coins. Depending on your situation, and reasons for wanting to purchase gold, the type of coin or bullion that will be most suited to you will be different. But don't worry. An expert broker will be able to analyse all of your requirements and give you some options on which type of gold to purchase.
Decide how you want to buy your gold
Depending on which dealer you choose, there are different options available for gold investments, but it's worth knowing a little about the different options available, before starting the conversation.
Three common options you'll probably come across include;
Regular, monthly gold savings,
Pension gold
A simple one-off gold investment purchase.
Pension gold allows you to add gold as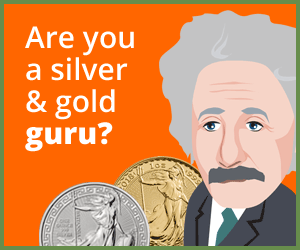 an element of a Self Invested Personal Pension (SIPP), diversifying and protecting your savings for your retirement.
The difference between the other two types is simply whether you just want to purchase one investment in gold or whether you want to save regularly (£250 per month, for example) to boost your gold holdings over time. The latter can often be a good option for those just starting out.
Sort out some safe storage for your new gold
Whichever option you choose, you'll soon be the proud owner of some genuine gold coins or bullion, so you'll need to consider whether you want your gold stored or delivered to your home.
Some gold dealers will offer secure storage options, which is a very effective way of making sure your gold stays safe. But, if you do want to take delivery of your gold then you'll need to think about some safe 'at-home' storage.  There are a number of clever, hidden gold storage options, like a clock or wall socket, that you can use at home. We do recommend somewhere a little more secure than under the mattress and that your home insurance covers the value of your gold investment.
Complete your purchase and relax!
Once you've decided on all of the above, with a little guidance from your dealer if you need it, all you need to do is buy your gold online and your purchase will be complete.   Safe, insured delivery is usually within 24hrs if your gold is in stock.
Gold is one of the most resilient asset classes out there and historically, has often beaten the market benchmark for investment returns.
The most important step!
Perhaps the most important step! is to give us a call here at Physical Gold. We are here to help and can be relied on for impartial advice in all aspects of gold investment. Call us today on 020 7060 9992 or view our contact details here.