Gold Sovereigns have been around for more than two centuries and have an important place in any investor's portfolio. Gold Sovereigns enjoy tremendous liquidity, as it is one of the best-known British coins in the world. Many collectors and investors are keen to invest in this coin. There are also many different years of issue associated with the Sovereign, at different price points. Older Sovereigns may command more value due to their rarity. However, newer Sovereigns are easily available at low premiums. The decision to invest in gold Sovereigns need to be based on certain factors.
Divisibility and balance
Sovereigns are available as a bullion coin, but a unique quality is their gold content. Most bullion coins typically weigh an ounce. However, Gold Sovereigns weigh a quarter of an ounce. Therefore, investors can explore a wonderful opportunity to build a portfolio with a variety of coins. Buying Sovereigns of different denominations can enhance the divisibility of your portfolio. This simply means that you have greater flexibility when selling. This is a better option than selling a 1-ounce bullion coin at a certain price point in the market. Owning Sovereigns of different dimensions and different years of issue can also help create a balance for your portfolio.
Better affordability
The Sovereign is a more affordable coin due to its smaller size. As an investor, the coin allows you access to the gold market with a lower investment. As a mass-produced coin, Sovereigns are a lot cheaper when compared to the Gold Britannia. Therefore, a great investment strategy is to buy Gold Sovereigns every month. Sovereign bullion coins, present an opportunity to acquire gold at a cheaper price per gram, due to their lower manufacturing costs.
Creating variety for your portfolio
So far, we have covered some important points that will help you select the right gold Sovereign. We have established that gold bullion coins are better for investment. Since the Sovereign is available in smaller denominations, we have also discussed that having a variety of sizes can create an advantage for your gold portfolio.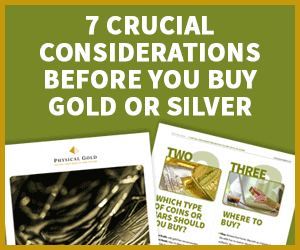 When buying a Sovereign bullion coin, always look for the current year of issue. These are available in plentiful, at rock bottom prices and low premiums. Apart from new coins, what else should you look for? Gold Sovereigns enjoy a strong supply pipeline and many modern Sovereigns from the past 10 years are easily available. You may be able to obtain some of these coins at better prices than the new ones. Spreading your investment over a variety of modern Sovereigns can be a sensible approach towards creating variety for your portfolio and making it stronger.
Buying old Sovereigns
The best old Sovereign to buy based on price is the current year of issue. Sovereign prices are based more on gold content. If seeking a combination of value and history, the George V and Elizabeth II coins provide the optimum all-round solution. If buying many Sovereigns, a combination with older Victoria coins is best.
The Sovereigns from the reign of King George V are still available at affordable prices, due to their availability. However, these coins do offer enough numismatic value and interest, making them worth collecting. Edward VII Sovereigns are more expensive to buy but worth acquiring if you can get a good deal on them. Queen Victoria have three different Sovereigns that were issued during her reign. These are called the Young Head, Jubilee Head and the Old Head. These are the most expensive coins among the modern Sovereigns, but investing in them can fetch good returns, as their value continues to rise due to rarity.
Our gold experts can advise you on the right Sovereigns to buy
Physical Gold is one of the most reputed gold dealers in the UK. We have a team of gold experts who can help you purchase the best Sovereigns for your investment portfolio. Call us today on (020) 7060 9992, or get in touch online through our website.
Image credits: Public.Resource.Org, Wikimedia Commons