Investing in gold isn't just about buying a few gold bars or picking up some gold coins at an auction. A serious investor who wants to build a robust gold portfolio should have an investment plan. Lack of planning is likely to result in wrong investments and you will end up getting stuck with gold bars and coins that have no liquidity and add no value to your portfolio. A good investor will first study the subject and understand the fundamentals before investing a penny.
Understanding the types of gold to buy may not be enough. One needs to find out where to buy them from. Many gold investors who have built lucrative portfolios have years of experience trading in the precious metals market and have the right connections to source their gold. Let us take a quick look at the fundamentals of gold investing that every beginner should know.
Planning your objectives
It is always important to first understand why you want to buy gold. You need to decide the right investment horizon for you. If you want to make short-term investments, the choice of gold products may be different. Investors who want to build wealth and acquire gold at the cheapest price per gram would often choose to buy gold bars. Gold bars have lower production costs than coins and offer investors the opportunity to acquire gold at a cheaper price. The time horizon is important – gold investments can be volatile over the short-term but generate steady and healthy returns over the longer term.
Gold investing follows the common rules of buying the investment at a low price and selling at a higher price. There is no interest received for holding gold, so profits are only made on capital appreciation. The gold price tends to rise when the economy takes a downturn and other investments fall in value. In that way, it offers protection to an investor who owns many assets. The gold price can move down as well as up, so it is advised to hold the gold over the medium to long term.
Identifying a reliable gold broker
Once you have your objectives in place, the next step is to identify a reputed and reliable gold broker. This is relatively easy to do. Most reputed brokers are registered with the British Numismatic Trade Association (BNTA). A quick visit to the association's website can help you shortlist the best brokers near you. It is important to initially approach more than one broker and try to build a relationship.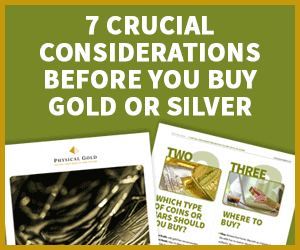 Once you do this, you will be able to share your objectives with your broker and he/she would know what kind of gold you are after. So, when it comes to the market, you can be the first to know. A good broker will always be willing to answer your questions and will also issue a certificate of authenticity for all the products. They would also have a buyback scheme. You should always check online reviews of the broker and find out how long the company has been in business.
Tax planning
It's also important to do your tax planning at the time of planning your investments. All investment-grade gold is VAT free in the UK, however, if you want to capture the benefits of Capital Gains Tax exemption, you can invest in gold coins that have a face value and are legal tender in the UK.
Our experts at Physical Gold can guide you on your investments
If you are a beginner investor who wants to start building a gold portfolio, speak to one of our advisors. Physical Gold is one of the most reputed gold dealers in the UK. You can reach us on (020) 7060 9992 or send us an email to get in touch.
Image credits: QuoteInspector.com and Wikimedia Commons