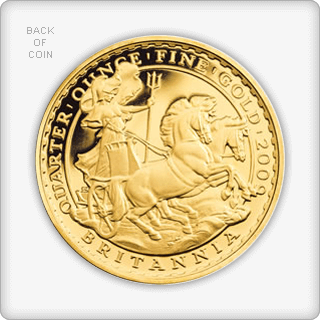 Britannia coins are the one-ounce British Bullion coins issued by the Royal Mint since 1987. Both proof and bullion versions have been issued every year to date and fractional versions are commonly available.  The Britannia coin is available in either silver or gold and since 2013 has a purity value of 999.9. It is currently the largest, purest British legal tender coin available on the market.
Britannia coin
County: Great Britain
Face Value: £100 GBP
Gold Content: 1 ounce (31.104g) – Alloyed with copper or silver depending on year (pure from 2013)
Purity: 917 / 1000 (22 karat) (1987-2012) or 999.9/1000 (24 karat) (2013-)
Gross Weight: 34.0500 g (1987-2012) or 31.104g (2013-)
Coin Diameter: 32.69 mm (1987-2012) or 38.61mm (2013-)
First Year of issue: 1987
British coinage history
Britain has a long history of coinage. The first coins that were minted in Britain were Celtic ones around 80 BC. The first gold coins and silver coins in Britain were introduced by the Romans. The gold one was called 'Aureus' and the silver 'Denarius'.
---
Sell your Gold Britannias at the highest possible price. Find out how with our 10 simple rules
---
Why Britannia?
The 'Britannia' first appeared on the coins of the Roman Emperor Hadrian in AD119.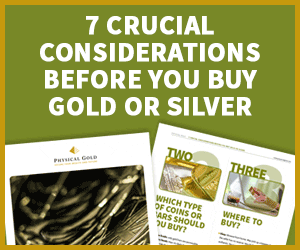 Britannia represents the strength of the British Isles in female form and she has been depicted as a goddess since the 2nd century. Over the years she has appeared on many coins including every penny issued from 1797 up until decimalisation and all 50p coins issued before 2008. Over the years the image of Britannia has changed with more of an emphasis being placed on her maritime links (She is often referred to as the Queen of the Seas) and images of her brandishing a spear have been replaced by those portraying her with a trident.
Bullion coin market growth
After the 80s saw significant growth in the global bullion market, the Royal Mint introduced Britannia coins to their bullion portfolio. Designed by Philip Nathan, the coin featured a new interpretation of Britannia that was powerful, yet elegant and it caught the imagination of the entire nation. Introduced in 1987, the coin made a worldwide impact and became a classic. Today, 30 years later, the classic design still remains the same – with a small addition. The new design displays a radial sunburst on her back.
The Britannia – Europe's premier modern coin
The Britannia coin is fast becoming Europe's premier modern coin and is regarded as one of the world's most beautiful coins. This coin is admired by collectors, dealers and investors from around the world, and is, therefore, one of the World's most liquid coins.
With the face value of £100 UK Britannia coin is considered legal tender in Great Britain and it is therefore not subject to Capital Gains Tax when sold for a profit by UK residents. As the law currently stands you are required to pay CGT for any personal goods you have sold or made a profit on over the tax-free allowance rate of £11,300. As gold and silver Britannia's are CGT exempt, however, you can sell as many as you want over the tax year without having to pay CGT.
Design features
The classic design featured on the 2018 1oz Britannia coin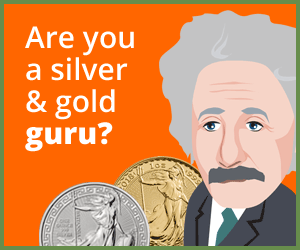 displays a stroking image of a standing Britannia who is portrayed as a beautiful young woman, wearing a centurion's helmet and holding her trident aloft. The reverse side of the coin features the most recent portrait of Queen Elizabeth II which was designed by Jody Clark of the Royal Mint and first introduced in 2015. Like previous editions of the Britannia coin, it has a purity of 999.9 and is created in 24 karat gold.
Britannia gold coins originally had a fineness of 91.7% or (22 karats) gold with the alloy being copper until 1989 and silver from 1990. The Royal Mint increased purity to 24 karats from 2013 to appeal to the ever-growing Asian market.
Collectable and with solid investment potential
These lovely 24 karat coins are an amazing investment for any numismatist or an investor. They are worth their weight in gold and have a purity of 999.9 since 2013. The 2018 edition is an excellent value for money and fitting addition to any coin collection. Investors on the other hand, who want to invest serious money in these coins as an investment in gold, would benefit from purchasing a large number of the coins. This is because it works out considerably cheaper to buy gold bullion in bulk rather than individual coins. The advantage of purchasing gold in small denominations such as a coin also gives the investor an advantage in terms of liquidity. At a later point in time, when the investor wishes to exit gold as an investment strategy, he need not dilute all his investments. He can simply sell the ones he wishes to and transfers a part of that investment to another asset class.

Britannia coins are also currently available in a range of different weights and denominations depending on the amount you wish to invest. These include 1/2, 1/4 and 1/10th troy ounce coins which have face values of £50, £25, and £10 respectively. Since 2013 two additional sizes of Britannia coin have been introduced – a 5-ounce coin and 1/20th ounce-coin. These have face values of £500 and £5.
Another reason to invest in Britannia Coins is that they present European and UK investors with the opportunity to purchase physical gold totally exempt from VAT.  All of our Britannia coins are available to purchase VAT free and CGT exempt.
The Britannia is a prestigious coin, famous all over the world and makes an excellent companion to gold sovereign coins. It would make an excellent Christmas gift item for someone in the family or a loved one. So, as we can see, investing in a Britannia isn't just about parking money and hedging risks. The coin is a true work of art and would make a fitting family heirloom to be passed down from one generation to the other. The coins come with their own case and are suitable for display as an outstanding work of art and a great symbol of British history. Call us on 020 7060 9992 to discuss how Physical Gold Limited may help you invest in the Britannia 2017.