Investing in Britannia Gold coins
The gold Britannia is perhaps the most famous UK gold coin. The coin is well-known all over the world for its popularity and liquidity. Gold experts believe that it is a flagship coin that every investor needs to start with when building a portfolio. The coin has only been around since 1987, and therefore, does not command high premiums based on age and rarity. It is available with every gold dealer as a bullion coin.
The Britannias track the gold spot price and can appreciate or depreciate with that price. It's arguably the most popular gold investment in the UK as the coins are very good value due to mass production and their larger size. They're completely tax-free due to their legal tender status, and their Royal Mint heritage enhances their global appeal.
The spot price plays a critical role in determining the value of a gold Britannia. Of course, supply and demand for particular coins can vary in the market. Although the coin has only been around for four decades, specific years of issue can be hard to find. These coins may carry premiums up to 5% due to their scarcity. In general, the 1-ounce gold Britannia has been known to command, approximately 98% of the current spot price of gold.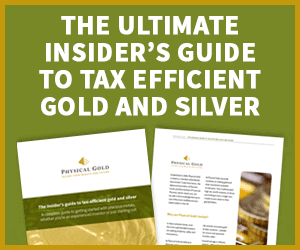 What are the factors that can affect the investment value of a gold Britannia?
Apart from the spot price, there are a few other factors that may impact the value of a gold Britannia. To start with, it is a bigger coin and provides investors with more gold content. This makes it very attractive as an investable coin. Larger gold coins provide investors with the opportunity to acquire more gold at a lesser price per gram, due to lower production costs. The gold Britannia falls under this category and is considered to be a lucrative coin to invest in. As discussed earlier, scarcity of specific issues and special commemorative issues can escalate the price of those specific coins.
Tax efficiency makes it a lucrative investment
The gold Britannia is a highly tax-efficient coin, making it attractive to investors. Since the coin is minted with investment-grade gold, it can be bought VAT free. Similarly to the Gold Sovereign, the Britannia is legal tender in the UK and therefore qualifies for CGT exemption. This is an added fillip for investors, as any profits accrued from the sale of the coin up to £12,000 per tax year can be had without paying any Capital Gains Tax.
Fineness of gold
Since 2013, the gold Britannia is being minted using 24-carat gold with a fineness of 0.999. This is a very powerful reason for investors to acquire the coin. The coins released before 2012 contained 22-carat gold with a fineness of 0.917. Since 1990, the gold alloy used to construct the coin contained silver, instead of copper.
Different dimensions
Another reason for the gold Britannia to be the backbone of every gold portfolio is the variety factor. The coin was initially released in four sizes – 1 ounce, half-ounce, quarter-ounce and one-tenth. However, since 2013, a 5-ounce coin is available, which is very lucrative for investors. Additionally, a fractional coin that is one 20th of an ounce is also available in the market. This has improved, divisibility, as well as variety, making the gold Britannia an excellent investment.
Call Physical Gold to discuss your gold Britannia purchases
Our gold experts are adept in acquiring the best deals for the gold Britannia coin as well as the silver Britannia coin. We can advise you on the right investments in gold and silver coins to strengthen your portfolio. Call our team today on (020) 7060 9992 or drop us an email and a member of our team will reach out to you right away.
Image credit: Eric Golub and Wikimedia Commons