Venturing into the world of buying silver online can be an enriching experience, offering a distinct avenue for portfolio diversification and a safeguard against economic turbulence.
Yet, for the uninitiated, the process might appear intimidating. Our comprehensive guide aims to unscramble this labyrinth, bestowing upon you the insights and practical tips needed to confidently buy silver online.
Whether you're pondering silver coins, bullion, ETFs, or futures contracts, we have you covered with all the essential knowledge for your investment journey.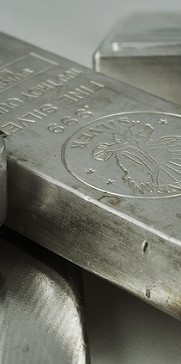 How To Buy Silver Online: Coins And Bullion
Opting for silver in the form of silver coins or silver bars provides a tangible, direct way to invest in this precious metal. Here's a streamlined, step-by-step guide to illuminate the path:
Identify a reputable dealer: Start your venture by pinpointing a dealer renowned for their credibility in the market. Trustworthy online platforms such as Physical Gold, lauded for their longstanding industry presence and reliability, could be your springboard.
Register on the dealer's website: Spot the 'Register' or 'Sign Up' button on most dealer websites. Clicking on this will prompt you to fill out your details – name, email, address, and a secure password.
Explore products: Deploy the search bar or category menu to navigate towards silver coins or bullion. Refine your search utilising filters like weight, brand, or price to discover a product that dovetails with your investment aspirations. The best silver dealers will be able to offer you guidance if you're unsure which products to focus on. They'll be able to explain the price differences, advantages and disadvantages of each and suggest which ones are best suited to your objectives.
Basket your choices: After singling out a product of interest, click 'Buy for Delivery' or 'Buy for Storage' to append the item to your basket.
Checkout: Inspect your order meticulously in your basket, then proceed to 'Checkout' to lock your order at the live price. Subsequently, an email confirmation of your order, complete with payment instructions, will wing its way to your inbox.
Execute payment: Abide by the email instructions to complete your payment.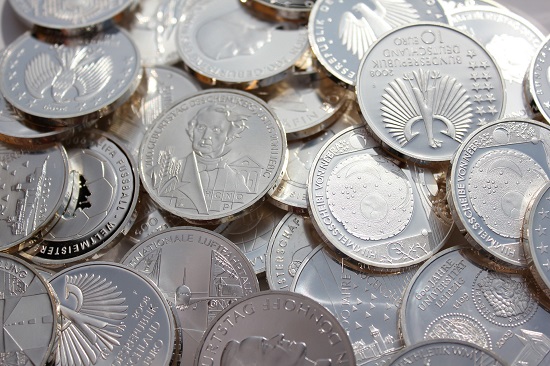 Advantages of Buying Silver
Silver presents a unique allure to the discerning investor with its distinct advantages. Its appeal starts with its ability to diversify a portfolio. Unlike traditional assets such as stocks and bonds, silver often marches to its own beat, stabilising your portfolio by retaining or even appreciating in value when other assets falter. It's also a renowned hedge against inflation.
In an economic climate where inflation dilutes currency value, tangible assets like silver typically rise in value, thereby acting as a sturdy shield for your wealth. Moreover, compared to other precious metals like gold, silver is considerably more affordable.
This price difference allows you to accumulate more silver, expanding your potential for profit if silver prices surge. Lastly, silver's broad industrial utility—from electronics to medicine to renewable energy—ensures consistent demand. This unwavering demand underpins the price of silver, further bolstering its resilience as an investment.
Silver ETFs
Investing in silver through ETFs is a more indirect method, as you're buying shares in a fund that tracks the price of silver rather than the physical metal itself. Here's how you can invest in silver ETFs:
Open a brokerage account: To buy ETFs, you'll need a brokerage account. There are many online brokers to choose from, each with their own fee structures and platform features.
Research silver ETFs: Not all silver ETFs are created equal. Some track the price of silver directly, while others invest in silver mining companies. Research the different options and choose an ETF that aligns with your investment goals.
Place an order: Once you've chosen, you can place an order through your broker's platform. You'll need to decide how many shares you want to buy and what type of order you want to place (e.g., market order, limit order).
Monitor your investment: After purchasing your shares, it's important to monitor your investment regularly. Keep an eye on silver prices and any news that could impact the value of your ETF.
7 Crucial Considerations before you buy silver or gold
Insider tips to investing in precious metals
Advantages Of Buying Silver Coins Or Bullion
Investing specifically in silver coins or bullion brings several unique advantages to the table. The first and most tangible of these is the very physicality of these assets. Unlike stocks or bonds, which exist mainly as intangible digital or paper representations, silver coins and bullion are physical items.
This provides a very concrete sense of ownership and security, an aspect that many investors find appealing. If you believe that fiat currency will continue to devalue to the point of being virtually worthless, then owning small silver coins could provide a more reliable means of buying goods and services than paper money.
Moreover, these forms of silver hold a universal appeal as they are not tied to any specific country or economy. Unlike some assets, they stand alone from the particular economic conditions of a given nation, thereby reducing exposure to localised risks. This gives silver coins and bullion the status of a truly global investment, which can be particularly attractive for those with a broad investment outlook.
Another appealing aspect is the privacy afforded by transactions involving silver coins and bullion. They allow for a high level of discretion in financial dealings, something that certain investors value highly.
Finally, their high liquidity – the ease with which they can be bought or sold – adds to their attractiveness, ensuring investors have flexible and ready access to their investments when required. This blend of physicality, global orientation, privacy, and liquidity makes silver coins and bullion an enticing option in the eyes of many investors.
Buy Silver Today - Browse Our Range
Disadvantages Of Buying Silver
Risks of Investing in Silver
Every opportunity comes with its own set of risks, and silver is no exception. Here's what you need to bear in mind:
Price Volatility: Silver prices can fluctuate rapidly, influenced by factors such as supply and demand changes, market sentiment, geopolitical events, and economic data. This can lead to potential losses if prices swing unfavourably. Silver should be seen as a long term investment for this reason.
Storage and Insurance: If you opt for physical silver, you'll need a safe place to store it. This may involve buying a safe or renting a deposit box, along with insurance coverage. These costs can add up over time and eat into your returns.
Lack of Yield: Unlike stocks and bonds, silver does not pay dividends or interest. Your potential for profit solely relies on the appreciation of the asset's price.
Market Liquidity: While silver is generally a liquid market, certain forms like rare coins may be more difficult to sell quickly and could fetch prices below the metal's spot value.
Risks of Investing in Silver ETFs
Silver ETFs offer a different way to invest in this precious metal, but they come with their own set of risks:
Counterparty Risk: When you invest in a silver ETF, you're relying on the fund's manager to purchase and store the silver. If the manager fails to fulfil their obligations, you could lose your investment.
Tracking Errors: While an ETF aims to track the price of silver, discrepancies known as "tracking errors" can occur, causing the ETF's performance to deviate from the price of silver.
Management Fees: ETFs come with management fees that can erode your returns over time. It's important to consider these costs when calculating your potential return on investment.
Risks of Investing in Silver Futures
Silver futures are an advanced investment vehicle with unique risks:
Leverage Risks: While leverage can amplify profits, it can also magnify losses. If the market moves against your position, you could lose more than your initial investment.
Complexity: Futures are complex financial instruments that require a sound understanding of financial markets. If you're not careful, you could make costly mistakes.
Margin Calls: If the market moves against your futures position, you may be required to deposit additional funds to maintain your position. Failure to do so can result in the liquidation of your position at a loss.
While these risks may seem intimidating, being aware of them is the first step towards managing them. Make sure to assess your risk tolerance and investment objectives before venturing into silver investments.
Is Now A Good Time To Buy Silver
In the world of investments, silver stands out as a bit of a unique character. As CBS News puts it, this shiny metal has one foot in the past and another in the future. It's been a reliable store of value and a form of currency for over 4,000 years. But it's not just a thing of the past. Silver's also playing a big role in today's high-tech industries, so its demand changes with the global economy's fortunes.
If we peek into the crystal ball, things are looking pretty bright for silver. Investing Haven has a pretty bullish view for 2023, predicting that silver could even hit $30. And what's fuelling this optimism? Increasing demand for silver in a whole bunch of industries like solar energy and electronics, and potential supply shortages. Coin Price Forecast is on the same wavelength, predicting silver prices will keep climbing steadily over the next decade.
The gold:silver ratio is also something which should be paid attention to when thinking about timing. Currently it is double the historical average of 47:1, which could well suggest that the time is right to invest in silver before any corrections occur.
But let's not get too carried away. Silver isn't just a hedge against inflation. It's more than that. It's becoming a key player in our shift towards green energy. Its applications in the renewable energy sector are a game-changer.
Think about it: silver is a critical component in solar panels. So, as we move more towards renewable energy, we're going to need a lot more silver.
Plus, we're seeing more and more silver being used in tech applications, from electronics to electric vehicles. This is something you just don't see with other precious metals like gold, which don't have the same level of industrial demand.
Now, let's not forget: with any investment comes risk. Silver prices can swing up and down, influenced by so many things from supply and demand to market sentiment and the global economy's health. So, if you're thinking of jumping into the silver market, make sure to do your research and consider your own risk tolerance and investment goals.
In a nutshell, silver's unique position as both a traditional store of value and a crucial component in modern industries might make now a pretty good time to invest in it. But as with all investments, careful consideration and due diligence should be your guiding stars.
Build Your Precious Metals Portfolio Today
Our portfolio Creator shows you the best precious metal investment for your budget.
Factors To Consider When Buying Silver
Investing in silver isn't something you do on a whim. It requires careful thought and a good understanding of various influencing factors:
Spot Price vs Market Price of Silver: A critical factor to weigh is the spot price – the current price for immediate delivery – and the market price of silver, which can fluctuate due to supply and demand dynamics. Keep a keen eye on both to determine the optimal timing for your investment. There's a larger spread between buy and sell prices of silver than gold, so this margin needs to be overcome before profits are achieved.
Hedging Against Inflation with Physical Silver Bullion: Consider silver's performance as a hedge against inflation. Physical silver bullion has historically held its ground during high inflation periods, safeguarding its value while other assets falter. Whether it's silver bars or coins, each form has unique benefits and drawbacks worth exploring.
Reputable Dealers & Retailers: Not all that glitters is gold – or silver, for that matter. When buying silver, it's paramount to choose a reputable dealer. Long-standing entities like The Royal Mint in the UK provide reliable, trustworthy options for silver investors. Some large silver dealers like ourselves at PhysicalGold.com can actually offer discounted prices on Royal Mint silver products, saving money compared to going direct.
Tax Implications: Various silver investments, such as physical silver and silver-based securities, can have different tax treatments. Understand these potential impacts and factor them into your strategy. Buying silver coins or bars will incur 20% VAT, which won't be recouped when selling. However, certain silver coins are free from Capital Gains Tax (CGT) which can boost profits.
Explore Silver Investments with PhysicalGold.com
If you're leaning towards silver, we at Physical Gold stand ready to guide your journey. We pride ourselves on offering competitive value with low premiums, a focus on profit-maximising coins and bars, and excellent customer service. We offer a Buyback Guarantee on any silver products you buy from ourselves, providing certainty for a future exit strategy. We've earned our stripes as the UK's top pick for precious metal investments.
Our investment solutions are as diverse as our clients. From lump-sum purchases to our Monthly Saver plan and Pension Gold, we cater to all needs and preferences.
At Physical Gold, we know that everyone is unique. Some prefer to delve into research, while others value the wisdom of our seasoned team. That's why we offer as much or as little guidance as you require. We're here to empower you to make the most informed decisions.
We provide secure storage options and free insured delivery within the UK. So, whether you're an experienced investor or a beginner, we invite you to browse our range of silver products and understand the perks of investing in this precious metal. Hop onto our website or give us a call to embark on your journey.
Remember, as with all investments, silver comes with its share of risks. Conduct your research, assess your risk tolerance and investment objectives, and seek advice from a financial advisor if needed. Here's to a prosperous investment journey!