Gold is an attractive asset class for most investors, especially for those wanting to hedge their risk during turmoil in the international markets. In recent years, ETFs (exchange-traded funds) or ETCs (exchange-traded commodities) have become a popular choice for those willing to invest in gold as a commodity but don't necessarily want to take physical delivery of gold and store it. In this article, we'll look at the merits and demerits of investing in gold through these funds, and also discuss pitfalls to avoid when putting your money into these investment vehicles.
---
If you're interested in all things gold, make sure you download the Ultimate Insiders Guide to Gold
---
ETFs
Exchange-traded funds that are backed by physical gold are a simple solution for those buying ETFs. An ETF of this type usually means that the physical gold is held in storage in a secure vault, at a secure location. The fund managers track the international price of gold on a daily basis. These investment vehicles are listed on the international stock markets and can be bought and sold online. It is a preferred investment avenue for some investors since the bid-ask spread is a lot lower than a direct trade in gold bullion. There are other types of ETFs as well, which are not backed by physical gold. The index of these funds track financial derivatives, such as gold futures, and are considered to be riskier due to the inherent volatility associated with the derivatives markets.
The bid-ask spread
The term bid-ask spread refers to the difference in buying and selling prices. When international markets are live, there are always two price points. There is a maximum price at which a trader is willing to buy a particular stock, commodity or ETF. At the same time, there is a seller who has a rock bottom price at which he/she is willing to sell. The term 'spread' refers to the difference between these two price points. Gold ETFs, which are exchange-traded have a far lesser difference between these two price points, due to the nature of the regulated trading environment they operate in. This reduces the spread. On the other hand, buying and selling of physical gold are done over a much larger and wider market, resulting in a wider disparity between these two price points. Some of the most popular gold ETFs include the SPDR Gold Trust (GLD), the iShares COMEX Gold Trust (IAU). In addition to these, the physical Swiss and Asian gold shares funds (SGOL and AGOL) are also very popular in Europe.
Counterparty risks in gold ETFs
While it is convenient for many investors to buy gold ETFs,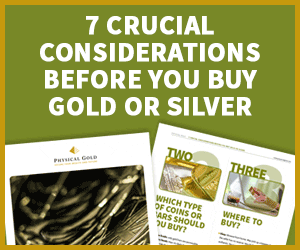 these investments typically come with a set of inherent risks. While physical gold is a real asset that you can hold, ETFs or paper gold is actually just paper that represents a financial instrument. Therefore, it carries a counterparty risk that comes with any financial instrument. Counterparty risk simply means that as an investor, you are dependent on another party to fulfil their promise. This is not the case with physical gold, which has no counterparty risk.
How does this work in the real world?
For example, when you invest in a gold ETF, there could be a number of factors that may affect your investment. These include regulatory risk, custody of actual assets, the structure of the fund, the skill of the management in making sound investment decisions, etc. If anything goes wrong, the investment you made in the gold ETF could be at risk. An example could be GLD, which uses HSBC as its custodian bank. In recent years, HSBC has been under the scanner for a number of non-compliant and irregular actions. The subsequent action taken against the bank and the fines imposed on the bank has had an impact on gold investments that investors made through GLD.
Opening an ETF trading account
In order to buy gold ETFs, an investor needs to open a brokerage account online with an online investment platform. It is important to ensure that the platform actually trades in ETFs. Smaller investors benefit from opening an execution-only account. Most platforms will charge a percentage fee, such as 0.35% 0r 0.40%. The brokerage account can be funded through a debit card or directly from a bank account. Larger investors can benefit by opting for a flat fee rate, which is charged on a quarterly or annual basis, irrespective of the size of the account.

Call us today for the right advice on buying gold
Call us on 020 7060 9992 for the best advice, when it comes to investing in physical gold (e.g. coins) or ETFs. In many cases, purchasing physical gold (such as Sovereigns) can be a better option than an ETF. Our expert investment advisors can take into account your personal investment goals and guide you on how to make the best investment choices in precious metals. You can also contact us online and a member of our investment team will be in touch to discuss your investment options.
Image credits: Sprott Money and Ken Teegardin