Investing in silver coins
Silver coins are a great investment choice if you're seeking potential capital growth and also want a hedge against falling stock markets and banks. The value of coins tends to rise over time, especially when there's political and economic instability. Silver coins are also exempt from Capital Gains tax. The modest price of the coins enable accessibility to the market for many compared to gold coins (such as Sovereigns and Britannias), and divisibility to sell part of your holding. The silver price can also rise when demand for industrial silver rises, with its predominant use in electronics.
The industrial demand for silver is rising
The white metal is used extensively in the electronics industry, IT, solar panel manufacturing and a host of other industrial processes. On the other hand, the production of silver from mines has greatly reduced over the years. Rising demand and dwindling supplies have fuelled speculations that there may be a huge price in the spot price of silver in the years to come. Many investors have started buying up silver early with an expectation of making profits, once the prices go up.
Silver to gold price ratio looks enticing
Today, silver is almost a hundred times cheaper than gold. Therefore, it provides investors with easy access to the precious metals market. If you are planning to invest in silver, there could be no better time than the present to take a calculated risk and purchase the white metal. Silver bars and coins can provide you with good investment options if you plan to get in early and wait for the long term to generate good returns. While silver bars allow you to acquire more silver at a cheaper price per gram, silver coins have several distinct advantages.
Variety and purity
Firstly, they are available in a wide variety of sizes. 1-ounce coins are quite common, but now there are larger silver coins of 10 ounces and even up to 1KG. These large coins also offer you the same advantages as buying a silver bar. Secondly, purity is an important consideration. Silver coins with a purity of 95.8% are easily available. However, better options can be found like the Canadian Silver Maple Leaf, which is a coin with 99.9% purity.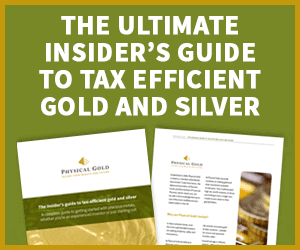 A vibrant secondary market
Liquidity is also an important consideration when building a precious metals portfolio. Always buy silver coins that are popular and enjoy a strong secondary market. Obscure and rare coins can be difficult to sell later on. Well-known coins with a vibrant resale market include 1-ounce silver coins like the Krugerrand and the silver Britannia.
Tax efficiency
Any investment portfolio needs to be tax-friendly. While coins like the Canadian Maple Leaf are a great buy, the profits you make from their sale are taxable. UK silver coins like the silver Britannia, on the other hand, are CGT free, due to their status as legal tender in the country. The silver Britannia, in particular, is a bullion coin and is available in plenty. Therefore, premiums are low, they are CGT exempt and available with good discounts on bulk orders from reputed silver dealers.
Get in touch with Physical Gold to plan your silver portfolio
Physical Gold is one of the most reputed gold and silver dealers in the UK. Our investment experts can help you identify the right silver coins to buy. Give us a call on (020) 7060 9992 or drop us an email and a member of our team will get in touch with you right away.
Image credits: Pikist and Wikimedia Commons