Minted during the reign of Queen Victoria, from 1837 to 1901, Queen Victoria Sovereigns hold a unique place in British coinage and the global gold market.
These gold coins are not only a symbol of a significant period in British history but also a valuable asset for investors and collectors alike. Understanding the value of these sovereign coins, their gold content, and the factors that influence their worth is crucial for anyone interested in gold investment.
In this guide, we delve into the world of Queen Victoria's Sovereigns, exploring their history, design, and significance in the gold market.
Whether you're a seasoned investor or a beginner, this guide will give you the knowledge you need to make informed decisions about investing in these precious metal items.
How Much Is A Queen Victoria Sovereign Worth
The value of a Queen Victoria sovereign can vary from each type of coin and is of course influenced by the current market climate. Below you'll see how much you can sell your Queen Victoria gold sovereign to us for today.
Victoria Coin Type
Price To Sell
Understanding The Value Of Victoria Gold Sovereigns
When it comes to understanding how much a gold sovereign is worth, several factors come into play. The value of a Queen Victoria Sovereign is influenced by its gold content, rarity, condition, and current gold price.
One of the critical factors that affect these coins' value is the gold market's supply-demand dynamics.
When equity and property markets perform well, and political news is quiet, the gold price tends to fall. Many investors sell their gold during these times, thinking the bad times are over. However, there are better strategies than this, as they sell cheaply.
On the other hand, when there are stories of impending banking crises or other disasters, retail investors buy gold sovereigns as a safe haven, often when the price is already high.
Understanding these dynamics can help you buy gold sovereigns at the right time and sell them when the market is high, thus maximising your investment.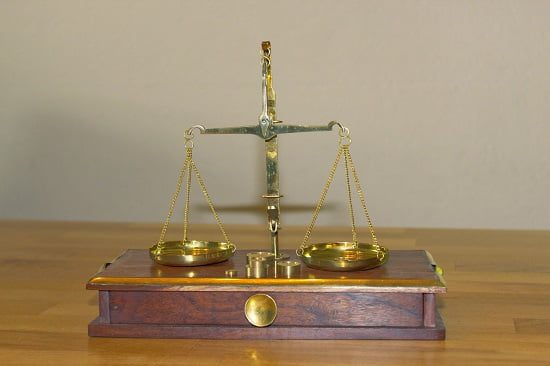 How Much Gold Is In A Queen Victoria Sovereign
Queen Victoria Sovereigns contain 91.67% pure gold, equivalent to 22 carats, with a fineness of 916.7. The standard weight of gold in these coins is 0.2354 troy ounces or 7.3224 grams. The remaining composition includes copper to enhance durability.
The gold used in these coins is typically 22-carat gold. Carat is a measure of purity, with 24 carats being pure gold.
Therefore, 22-carat gold is 91.67% pure, with the remaining 8.33% made up of other metals, usually copper, to provide additional strength and durability.
This combination of gold and copper gives Victorian Sovereigns their distinctive warm, rich colour and makes the coins far more durable than pure gold coins.
Which Queen Victoria Sovereign Is The Rarest
The 1839 Queen Victoria Sovereign is among the rarest sovereigns minted by the Royal Mint, with only 503,695 struck at Tower Hill, London. Notably, it has a significantly lower mintage compared to the 1838 issue, which saw 2,718,694 coins minted.
Another highly sought-after rarity is the 1841 Victoria Young Head Sovereign, distinguished by its shield design and historical significance.
While it's true that the 1839 and 1841 Victoria Young Head Sovereigns are the rarest, and therefore often considered the gold sovereign that is the most valuable, from the era.
Investors should consider their individual investment goals and budget. For some, the historical significance and potential future value of this rare coin might make it an attractive option.
For others, investing in more readily available and affordable sovereigns might be a more suitable strategy.
The Different Types Of Queen Victoria Sovereigns
Victoria Sovereigns feature three main obverse designs: Young Head (also known as "bun" head), Jubilee Head, and Old Head (or Widow Head). The reverse designs include the classic St. George and the Dragon, and the Shield design.
The Young Head was the first design, minted from 1838 to 1887, followed by the Jubilee Head from 1887 to 1893, and finally the Old Head from 1893 to 1901. The Shield design is rarer and highly valued by collectors.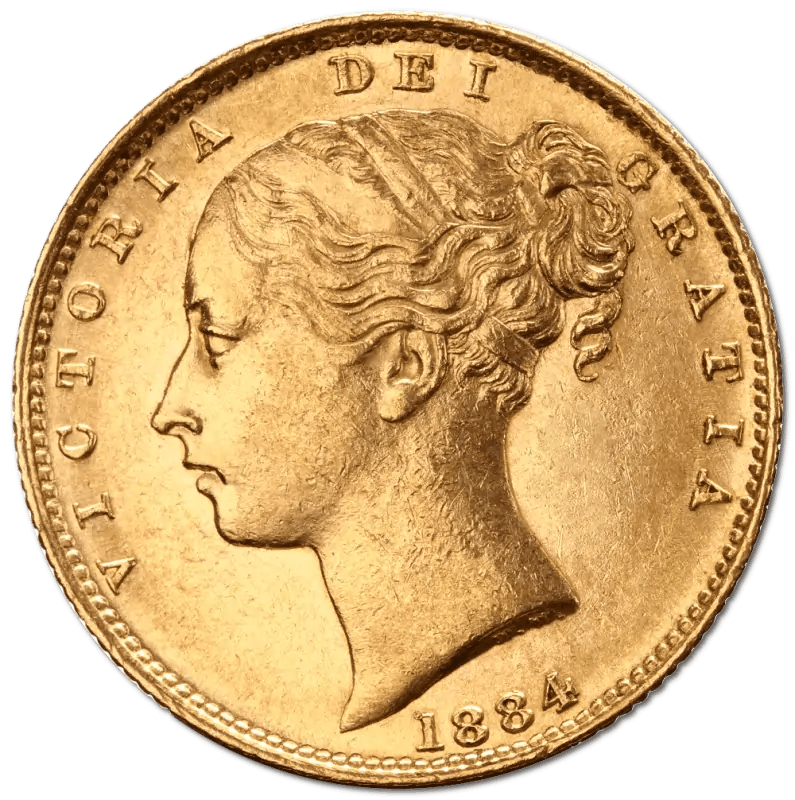 The Young Head Queen Victoria Sovereign
The Young Head Victoria Sovereigns (AKA Victoria Bun Head) were the first to be minted during Queen Victoria's reign, starting from 1838. They feature a portrait of a young Queen Victoria on the obverse side.
The reverse design of the coins varies between the classic George & Dragon design and the rarer shield back design, depending on the year of issue. Generally, coins minted up until 1871 will be shield-backs, while those created between 1871 and 1887 are more likely to depict St.George slaying the mythical dragon. William Wyon, the chief engraver at the Royal Mint, created the Young Head design, which was used until 1887.
The Young Head Sovereigns are highly sought after by collectors and investors due to their historical significance and beautiful design. The shield-backs trade at a premium to the standard St.George reverse.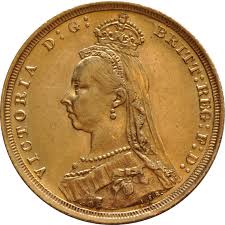 Queen Victoria Jubilee Head Gold Sovereign
The Jubilee Head Victoria Sovereigns were minted from 1887 to 1893 to commemorate Queen Victoria's Golden Jubilee. The obverse side of these coins features a portrait of Queen Victoria wearing a small crown and veil, while the reverse side continues with the George & Dragon design.
The Jubilee Head design was created by Sir Joseph Edgar Boehm and is known for its intricate details and artistic merit.
Interestingly the Victoria Jubilee Head Half Sovereign versions feature the prestigious shield-back emblem as opposed to the St.George reverse image on the full Sovereign.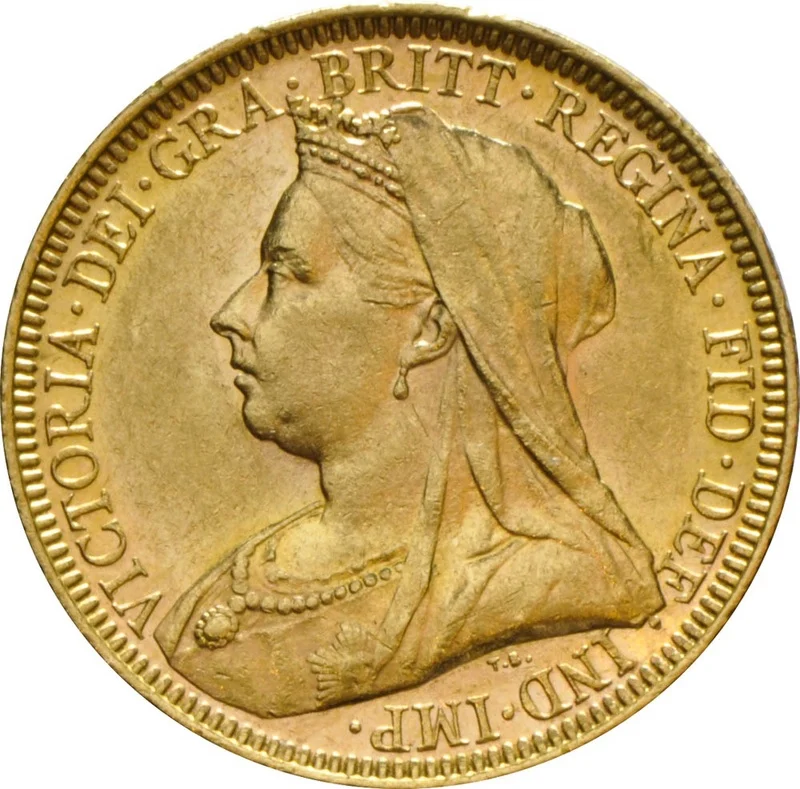 Queen Victoria Old Head Gold Sovereign
The Old Head Victoria Sovereigns, also known as the Veiled Head or Widow Head Sovereigns, were minted from 1893 to 1901.
They feature a mature portrait of Queen Victoria wearing a veil on the obverse side and the traditional George & Dragon design on the reverse side.
The Old Head design was created by Sir Thomas Brock and marked the final series of sovereigns minted during Queen Victoria's reign.
Mint Information For Queen Victoria Sovereigns
When it comes to the value of Victorian Sovereigns, it's often the minor details that make the most significant difference. One such detail is the mint mark.
These tiny letters, often overlooked, can significantly impact a coin's worth and tell a fascinating story about Britain's expanding empire during Queen Victoria's reign.
Mint marks are small letters that indicate where a coin was minted. For Victorian Sovereigns, these marks reveal that the coins were produced in more than just London.
For example, the Young Head and Jubilee Sovereigns were also minted in Melbourne and Sydney. With the introduction of the Old Head coin, Perth Mint was added to the list.
These mint marks are more than just letters; they reflect Britain's growing empire during the Victorian era.
As the empire expanded, so did the production of Sovereigns, with coins in the Edwardian and Georgian eras minted as far afield as Canada, South Africa, and India.
Spotting The Mint Marks
Mint marks can be challenging to spot, but they're worth looking for. Depending on the mint where the coin was produced, certain coins can be worth more due to the quantity each mint produced.
For instance, while the Australian mints produced Sovereign coins for between 30 and 50 years, Ottawa and Pretoria mints produced them for around a decade, with Bombay only minting during 1918!
Here are the mint marks to look out for:

How Does This Benefit You?
Understanding mint marks and their significance can give you an edge when investing in Queen Victoria Sovereigns.
Knowing which coins are rarer due to their mint mark, you can make more informed decisions and potentially find undervalued coins.
It's another layer of knowledge that can enhance your investment strategy and increase your returns. But be aware that most large gold dealers will not alter prices for various mint marks and instead provide one price for all coins of a certain portrait. Therefore to truly maximise the sale price of a rarer mint mark Sovereign, it's always best to sell privately to a keen collector willing to pay an additional premium for rarity. Albeit, selling coins one-by-one can be time consuming if you need to sell a large quantity.
7 Crucial Considerations before you buy gold or silver
Insider tips to investing in precious metals
Investing In Queen Victoria Sovereigns
Investing in Queen Victoria Sovereigns is more than just a financial decision; it's an opportunity to own a piece of history. These coins, minted during Queen Victoria's reign, are a unique blend of historical significance and solid investment potential.
They are highly sought after by collectors and investors alike, making them one of the best gold sovereigns to buy.
Buying Victorian Sovereigns from a reputable gold dealer is usually the most profitable and safest route to market for a number of reasons.
If the dealer is a member of the British Numismatic Trade Association (BNTA), has a long track record and excellent customer reviews, then you can rest assured of the authenticity and good condition of their Victoria Sovereign stock.This negates the risk of a forgery and will feature a more secure buying process.
Gold dealers are likely to offer a vast stock and variety of Victoria Sovereigns, meaning you should have your choice of coin-type and quantity.
Most dealer websites will offer transparent pricing for each Victoria Sovereign, including quantity discounts. This way you can achieve a lower buying price for buying more than one coin at a time.
If the website offers a price alert function, you can even set an alert so you can buy the coin when it hits your target price.
It's likely that rarer and more expensive mint marked Sovereigns can be bought from dealers at the same price as more common versions. It can be a lucky dip when buying Victorian Sovereigns from dealers. You may get lucky and pay a standard price for a premium year or mintmark.
Delivery of your coins will be fully insured and professionally packaged.
The better gold dealers will offer you advice, guidance and even let you know when certain opportunities arise for discounted or hard-to-source Sovereigns
It's easy to sell back Victorian Sovereigns to dealers.
Build Your Precious Metals Portfolio Today
Our portfolio Creator shows you the best precious metal investment for your budget.
What Sets Queen Victoria Sovereigns Apart?
Firstly, these coins are considered legal tender in the UK, which means they are exempt from Capital Gains Tax. This tax efficiency means any profit you make when you sell these coins is yours to keep.
Secondly, their global recognition makes them easier to buy and sell, providing the liquidity that's essential for any investment. Their small size also makes them easy to store and transport, adding to their convenience.
However, it's important to remember that investing in gold sovereigns should be part of a diversified investment portfolio.
While Queen Victoria Sovereigns have unique advantages, other sovereigns, such as those from Edward VII's or Elizabeth II's reigns, can also be a good buy, depending on your investment goals and risk tolerance.
Timing Is Everything
The golden rule of investing is to buy low and sell high. However, many investors tend to buy gold when the price is rising or already high, seeking a safe haven during times of economic uncertainty.
Conversely, many sell their gold when the price falls, believing the bad times are over. This timing could be better, as they're often buying at high prices and selling at low ones.
Buyers react to supply-demand dynamics, further amplifying the movement of the market. When everyone is selling, buyers will pay lower premiums for Victorian coins due to a spike in supply and fewer buyers in the market.
When everyone is buying, and very few are offloading Victorian Sovereigns, premiums go up to reflect the difficulty in sourcing the coins.
Just like the smart money – think hedge funds and central banks Try to buy your gold sovereigns when the price is low, and everyone else is selling. If you can, sell them when the market is high, and everyone else is helping push up premiums.
10 Commandments to selling your Sovereigns at the best price
Which Price Point To Take
If you want to sell your Victorian gold Sovereign, agree with the buyer if the price is fixed or set on either the live gold spot price or the LBMA gold fixing.
The gold price can fluctuate considerably on a volatile day with lots of economic news releases. The difference between fixing a price on the morning fix, afternoon fix or live spot price can significantly impact the value of your Sovereign.
Why Buy Queen Victoria Sovereigns from Physical Gold?
Choosing the right dealer is just as important as choosing the right coin when investing in Queen Victoria Sovereigns.
At Physical Gold, we offer a flexible and personal approach to each customer's needs, understanding that everyone is unique.
Whether you're a seasoned investor wanting to do your own research or a beginner overwhelmed by the vast choice of coins and bars, we're here to help. Our expert team is trained to suggest solutions based on each customer's priorities rather than generic blanket guidance.
We offer as much or as little guidance as you need. Some customers appreciate using our portfolio creator to choose their investment, while others find value in running through questions with us on the phone to ensure they make the most informed choices.
Our commitment is to help our customers surpass their investment objectives, knowing that their success is ours. We believe that if our customers achieve their investment goals, we'll get more repeat business and recommendations.
Our website offers transparent live pricing for each type of Victoria Sovereign, updated every 30 seconds. We provide discounts for buying more than one coin and a price alert function if you want to try and achieve a certain price.
In conclusion, investing in Queen Victoria Sovereigns with Physical Gold offers a unique opportunity to own a piece of history and the assurance of personalised service and expert guidance.
Browse And Buy Gold Sovereign Coins From Our Extensive Stock