Silver or gold
One of the keys to great investment is timing and staying ahead of the pack. I receive many enquiries from keen investors asking about the prospects for silver.  Everyone has seen how well gold has performed over the years and many commentators feel that silver has huge upside potential.
I always describe gold as 'reducing the risk in your life', while silver is about 'taking risk'. Obviously with higher risk, comes higher potential reward. Nearly half our customers buy silver, compared to a minority of around 10% a decade ago. These customers feel silver has vast profit potential, so are willing to take the additional risk.
As a purely speculative punt, buying silver may be worth a bet but only as part of a well balanced portfolio. You'd certainly need nerves of steel to put significant funds into silver.  However, dig a little deeper and silver may not live up to being the new gold investment at all.
Here are 7 reasons why buying physical gold is still the best precious metals investment;
There is much less research and analysis available on the silver market as it's  less developed as an investment market. The more research available, the better chance you have of assessing an asset's prospect
If you buy gold there is no VAT to pay on the purchase. However, silver is not VAT exempt so you're 20% down before you've even started
The gold market has evolved into a highly competitive and efficient arena. So the bid/offer spread (or difference where a dealer will buy and sell a piece of gold) is relatively tight (perhaps 5-10%). However, with less competition silver spreads can be 3 or 4 times those of gold, so silver needs to rise significantly in price before you break even
Silver is less 'precious' than gold as there's more of it in existence! The lack of supply and difficulty in extracting gold provides a huge support to its price. If you have an asset who's supply could increase significantly, the price of that asset is always exposed to a sharp fall
Due to silver's lower price per kilo you will literally get more product for your money than with gold. This means that a £50k gold investment can be shipped cheaply and discreetly whereas the equivalent in silver would be heavy and expensive to deliver
Storing silver is also more problematic to gold due to its cheapness. £50k of gold can fit into a tiny safe at home. But £50k of silver needs 70-80 times more space (that's alot of silver coins!)
With the global economy at its most unstable in history, and the expectation of inflation and a huge post-Covid recession – the Safe Haven tag of gold provides one of the most compelling reasons to buy gold. Silver quite simply is not known as the ultimate safe haven so is less relevant as a portfolio insurance in today's climate.
So if you want exposure to the silver market it may be better seeking a more efficient method such as mining shares or ETCs. If you still seek the comfort of owning the physical metal itself, then buy gold coins or bullion.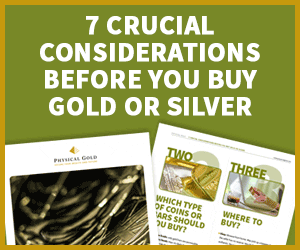 DANIEL FISHER
Daniel Fisher formed physical Gold in 2008, after working in the financial industry for 20 years. He spent much of that time working within the new issue fixed income business at a top tier US bank. In this role, he traded a large book of fixed income securities, raised capital for some of the largest government, financial, and corporate institutions in the world and advised the leading global institutional investors. Daniel is CeFA registered and is a member of the Institute of Financial Planning.