Before investing in any physical commodity, whether it's gold, silver or any other precious metal, it is always worth carrying out your own research beforehand. The internet is a great source of information and can tell you everything you need to know about beating the spread, spot prices and future price forecasts. If you're looking for further information, iTunes is also a great place to check out. There is a great range of podcasts available giving you expert tips and advice. Best of all they are completely free.  Here are 7 of the best podcasts currently available on iTunes.
Precious Metals Market Update
This Podcast is sadly no longer releasing new episodes however with over 100 episodes already amassed, it can provide you with a comprehensive overview of the gold and silver market. With expert advice from precious metals expert Tom Cloud, the podcast covers everything from global issues affecting the gold and silver price, storage advice and how gold and silver ratios can affect investors. Click here https://podcasts.apple.com/us/podcast/precious-metals-market-update/id903415429.
---
If you prefer reading to listening, download our FREE Insiders Guide to Gold and Silver Investment
---
Silver Doctors
The doc has been dishing out his expert advice on finance and economics for over a year and has so far released 100 episodes of his popular podcast in which he seeks to educate people on the benefits of investing in gold and silver. The podcast features a number of guests and experts each week who together address many important issues affecting gold and silver investments. Highlights include an interview with David Morgan of "The Morgan Report" who gives his predictions for the gold and silver market in 2018. Click here.
The Morgan Report
The Morgan Report is a vehicle for esteemed precious metals analyst David Morgan's to talk about his perspectives and opinions on the precious metal market. Each week he gives his weekly perspective on the current state of the economy and how this could affect gold and silver investments. His podcasts are around 20 mins long and are perfect listening material when you're on your lunch break at work or find yourself with a spare half an hour. Click here.
Money Metals' Weekly Market Wrap on iTunes
The granddaddy of all precious metals podcasts, Money Metals' weekly wrap has been running since 2014 and in that time, they've released nearly 200 episodes of their popular podcast. Each episode clocks in at around 30 mins and focuses on how current affairs in the US are affecting the precious metal market. Industry experts including renowned precious metals expert Tom Cloud are also regularly invited onto the show. Click here.

"Gold & silver investment jargon explained" – a YouTube video we have published.
SchiffGold Friday Gold Wrap Podcast
A relatively new up and coming podcast released each Friday by US precious metal dealers SchiffGold. This quick and handy 10-minute podcast is a perfect soundbite and summary of the week's precious metal news including some thoughtful commentary and opinions from the company themselves. Click here.

Precious Metals Investing
A short but informative podcast (some episodes are only 5 min long) that provides tips & advice on investing in the precious metals market. The podcast features Ted Sudol from PreciousMetalsInvesting.org and a weekly guest expert. Highlight episodes include "Gold futures – reading the charts" and "Bitcoin and Gold".  Click here.
The Daily Gold Podcast
A fascinating podcast hosted by Jordan Roy-Byrne,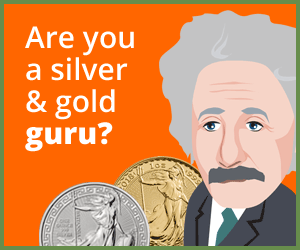 editor and publisher of TheDailyGold.com and TheDailyGold Premium. This Podcast features regular guests from the gold industry and expert insight into where the gold industry is headed. Highlight episodes include an interview with Greg Weldon, one of the world's premier independent macro analysts, who gives his opinions on the current state of the gold market and an update from gold exploration company Novo Resources. Click here.
Visit Physical Gold for more information
Physical Gold is one of the UK's leading specialists in gold and silver investments. If you've been inspired by any of the podcasts mentioned in this article, you can find out more information on how to invest in gold and silver by checking out our website. You can also speak to one of our experts by giving us a call on 020 7060 9992.