Youre already sold on the benefits of buying some physical gold to hedge yourself against market turbulence and hopefully receive some great profits. But should you invest in gold coins or bars
Best physical gold investment channel
Firstly, its important to realise that there are two channels to the best physical gold investment. One is through your UK pension and if this is the route you're considering, then the gold choice is already answered for you. HMRC regulations stipulate that all pension gold has to be in the form of gold bars. The added benefits are that you will receive a discount off the gold price when buying pension gold through tax relief. So that could be a massive 40% off the gold price depending on your tax level. Additionally, we store your gold in a specialist facility which ensures the gold remains in perfect condition.
---
Thinking of investing in gold Download our free Insiders Guide to gold investment here
---
But what if you want to simply invest in physical gold outside of your pension In this instance, gold coins are the best physical gold investment. This is for several reasons;
Economies of scale the more gold coins you buy, the better price per coin you should receive. This is not the same with gold bars. You have to actually buy much larger bars to start receiving discounts.
Divisibility Whether you buy 1 coin or 1,000 coins, you have the flexibility to sell any part of that portfolio at any time. Conversely, if you've bought gold bars they may well be larger than a coin and you cant break the bar in half if you need some money but don't wish to sell all your holdings!
Liquidity As long as you stick with well recognised coins (something we ate Physical Gold can help you with), you will always be able to sell them at any time. If you want to sell 100 gold coins to a dealer, that dealer will be able to sell various amounts of that batch to different customers. If you look to sell a 1KG gold bar, for example, the dealer may have fewer buyers and may reflect that in their price if they bid at all. This may sound obvious, but one of the most important aspects when investing in a physical asset (like a house) is that you know you'll be able to sell that asset easily.
Tax-efficient While both gold coins and gold bars are VAT exempt, UK gold coins have the added benefit of being Capital Gains Tax-free. After all, who wants to pay nearly a third of your profits back to the Treasury in tax.
Interest and satisfaction Unless you're buying a gold bar of 5oz or 250g or more, most new investors can be disappointed with quite how small a gold bar within their means can be. Visions of James Bond-style gold bricks somewhat raise expectations of what you'll receive for your money but a 1oz gold bar could more closely be compared to the size of your little finger! A 1oz gold coin such as a Krugerrand or Britannia is far more satisfying as they will generally be larger and heavier than any other coin you've held. Additionally, the design of the coins are beautiful – The Chinese Panda, for instance, is famous for featuring a new design each year. If older Sovereigns interest you, then the different Sovereign heads and designs can provide a great talking point and historical interest, while not compromising value and liquidity.
So if you're looking to invest in gold then bars are the only option for a pension, and coins provide more benefits if you buy gold with cash.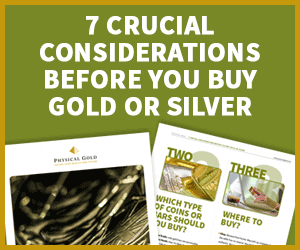 DANIEL FISHER
Daniel Fisher formed physical Gold in 2008, after working in the financial industry for 20 years. He spent much of that time working within the new issue fixed income business at a top tier US bank. In this role, he traded a large book of fixed income securities, raised capital for some of the largest government, financial, and corporate institutions in the world and advised the leading global institutional investors. Daniel is CeFA registered and is a member of the Institute of Financial Planning.