Different gold alloys
The chemistry of gold makes it a unique element in the world, such that there is none like it that can be found. Many of us learnt during high school chemistry lessons that the chemical symbol of gold is Au. Gold has an atomic number of 79, which simply means that each atom of the precious metal contains 79 protons within its nucleus. The unique colour of gold, however, is not dependent on the atoms, as the colour of a metal is dependent on how electrons behave between energy bands. In the case of gold, its unique colour is based on these transitions which give the metal an unmistakable, alluring, warm lustre that humans have found irresistible for centuries.
The unique properties of gold
The purity of gold is indicated by the carat number the metal possesses. When gold is fused into an alloy with other metals, its purity decreases, as does its carat number. So, 14 carat gold has a far greater proportion of base metals than 24 carat gold, which has a purity of 999.9. Now, that leads us to an interesting question. Why is gold formed into an alloy with other metals? In reality, this has a lot to do with its usage. Gold is commonly used in making jewellery. In order to use gold to carefully craft the intricate designs of jewels, the metal needs to undergo certain changes that make the substance easier to work with.
For example, we know that pure gold is extremely soft and malleable. This means that if we manufacture jewellery using 24 carats pure gold, the products would never retain their shapes. On the other hand, pure gold is also ductile. Believe it or not, one ounce of gold can be pulled into 80 km of gold wire with a thickness of 5 microns. So, in order to make it more usable and durable, certain base metals need to be added to gold to harden it. So, as a savvy gold investor, you need to know and understand the different types of gold. Understanding its composition gives us greater insight into its characteristics and industrial usage.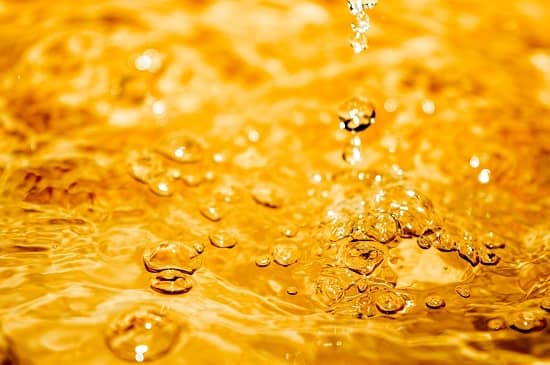 The different faces of gold
The creation of gold alloys greatly affects the properties of the precious metal, which is why it's a useful technique that has been around for years. Important properties like the colour, melting point, ductility or malleability of gold can be altered by simply adding other metals into the mix. When we add base metals like zinc, cadmium or tin, the melting point of gold is reduced substantially.
Gold has a melting point of 1063 degrees Celsius. Due to the reduction of the melting point, savings in energy costs are achieved. On the other hand, adding platinum or nickel increases the hardness of the alloy. This is essential for jewellery manufacturers, as pure gold is too soft to work with. By hardening the surface, the jewellery also becomes scratch-resistant, which is an added advantage.
The Ultimate Insider's Guide to Gold Investment
Download our comprehensive free gold investing guide
Different gold colours
Gold jewellery now comes in a range of fantastic colours. These colour effects are created by adding copper, palladium, silver or nickel in accurate proportions. Since these metals each have their own properties, they are able to create different hues when fused with gold. Popular gold shades like green, grey or white gold are created in this manner. An interesting example is white gold. This is created by adding rhodium.
The combination not only creates a white lustre, it also makes the surface much harder, making it scratch proof. The gold-titanium alloy is another example of an innovative alloy used to make wedding rings. In this alloy, only 1% of titanium is introduced, which is enough to make it really strong and creates a lovely shimmer, along with a grey tone.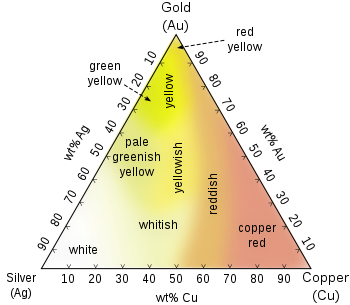 The colour of common gold coins and gold bars
We regularly get asked why two different gold coins vary in colour. The most obvious answer is due to their purity.
Common 22 carat coins such as Sovereigns and Krugerrands will typically be slightly more reddish in colour due to the use of alloys such as copper. It's also possible that the colour even varies between different 22 carat coins as the exact percentage mix of each alloy varies between mints. It's even possible that Sovereigns from different years may be slightly different in colour as mixes are experimented with.
These world-renowned coins are produced with these alloys to make the coins more resilient to scratches. Historically, the use of Sovereigns as day-to-day currency meant that they'd suffer from alot of possible wear and tear. Due to gold's natural softness, a 22-carat alloy mix was deemed to be the optimum balance between resilience and maintaining a relatively high gold content. In today's gold investment world, buyers and sellers trade on the 'pure gold weight' of 22 carat coins – so essentially the alloys are free.
Gold bars and 24 carat coins are far more yellow in colour due to the asset being 99.9% or greater pure gold. Gold bullion is 24 carat gold as it's never been intended for use as common currency and instead it's value needs to be based as near as possible to it's weight.
Interestingly the Royal Mint's 1oz gold Britannia coins were initially produced as 22 carat coins before being switched in 2013 to a new 24 carat version. As such the coins from 2013 onwards are slightly smaller than their predecessor as both versions contain 31.103g of pure gold, with the earlier coins, also possessing 2-3 grams of alloy. This change in purity was simply an attempt by Royal Mint to appeal to the growing Asian market who desire 24 carat coins more than 22 carat ones.
Call our gold experts to find out about different types of gold