Multi-tasking Tesco
Tesco have recently announced that they are entering the lucrative and sometimes unscrupulous scrap gold market. You will now be able to take your unwanted gold jewellery into selected stores and be able to sell that gold for cash.
Of course the practise of pawn brokers and more recently the multitude of cash for gold companies is nothing new. However, Tesco are the first big name retail brand and certainly supermarket to become involved.
But what can we derive from this unusual foray into the gold market Well, undoubtedly Tesco are one of the most respected and powerful companies in the UK. They have diversified into clothes, electricals, financial products and many other areas. It's right to assume that anything Tesco turns its hand to is an area of huge potential profits.
So the very fact that Tesco is very keen to buy your gold should indicate that unless you have to sell, you too should be buying gold. Most market analysts see the price of gold continuing its march upwards over the medium term.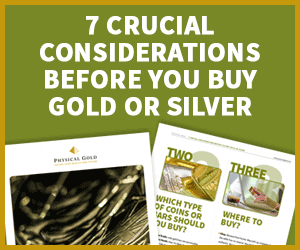 If you have scrap gold to sell then Tesco may be a good option. They've promised to beat their main rivals with the price they'll pay for your old earings. But that's not saying much as I've heard reports of the 'Cash for Gold' type companies offering 10-30% of the true value of your gold.
Your best bet is to shop around and even take your gold into a local jewellers for their price. If its gold coins or bars you're looking to sell then avoid these companies altogether. You will receive far better value from gold dealers such as ourselves where you'll achieve nearer the actual gold value for your gold rather than a third or quarter of the value offered by scrap merchants.
Overall though, unless you have to sell, keep hold of that gold as the price is set to soar this year and beyond.
DANIEL FISHER
Daniel Fisher formed physical Gold in 2008, after working in the financial industry for 20 years. He spent much of that time working within the new issue fixed income business at a top tier US bank. In this role, he traded a large book of fixed income securities, raised capital for some of the largest government, financial, and corporate institutions in the world and advised the leading global institutional investors. Daniel is CeFA registered and is a member of the Institute of Financial Planning.