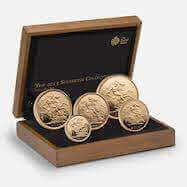 Coin sets usually consist of proof coins. A proof coin is a coin struck using a special, high-quality minting process. These coins were historically produced for checking the production dies and for archival purposes, however nowadays these higher quality coins are often produced in greater numbers especially for coin collectors / numismatists.
Proof production usually involves polishing of the production dies and often uses chemicals to make certain parts of the design take a matt appearance, with the polished fields displaying a mirror finish. They can often be distinguished from bullion coins by their sharper rims and more defined design. An easy way to understand the different look between proof and bullion is to imagine the enhanced sharpness an HD television offers over standard definition.
Proof coins are sometimes sold in encapsulated tamper-proof plastic casing straight from the mint. The casing maintains their pristine condition, and integrity. Others may simply be presented in a wooden presentation box.
These coins are often produced in limited issue, often adding to their collectable appeal. Commonly proof coins will come in a set of several proof coins, perhaps including all fractional denominations of a certain coin. These sets are usually beautifully packaged and can make great presents.
---
Sell your gold coins at the maximum price. Find out the 10 secrets..
---
The cost of proof coins is generally 10-25% higher than their bullion version, even though they have the same gold content and are of the same purity. When you come to sell a proof coin it is unlikely you will receive the full premium back, and for this reason these coins are not the best form of gold to purchase for investment purposes.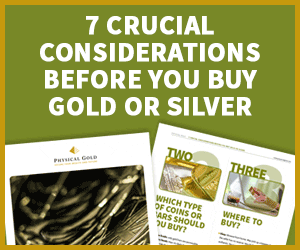 Coin Sets
Originally, gold proof coins were intended as pre-production samples. Traditionally the mint would produce a small range of proof copies ready to be approved by the monarch- going some way to explain why they are produced to such a superior standard of finish. Several techniques are undertaken in order to achieve an appearance that is close to flawless, with the resulting proof coins then individually inspected and packaged.
As such these types of coins are perfect for the more sentimental collector. Those with a keen interest in the history of their investments often opt for gold proof coins.
Proof Coins
Sold individually or in sets, proof coins are purchased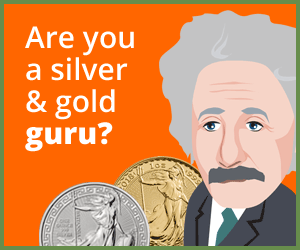 for a variety of purposes. Whilst they are sometimes bought as an investment, those with a keen eye for profit are morely likely to opt for bullion coins. On the other hand, coin sets are ideal as presents, keepsakes or historical artefacts. The exquisite detail of proof coins coupled with their aesthetic appeal
has made them something of a must amongst numismatists.
As a keen numismatist, it's important to know more about proof coins. These coins are usually struck with special dies. Each coin is struck twice at the minimum and finished with special polishes. While they do not enter circulation, their look and feel are quite different from standard coinage that is not circulated. They possess an aura and lustre of their own, that makes it attractive to collectors.
Reason for proof sets
Of course, the purpose of the proof sets is to finalise the production run. The proofs are reviewed and approvals procured by the mint to ensure that the coin is suited for release. 1936 saw the first proof sets being minted and this tradition continues even today. Proof sets are popular amongst collectors, for their look as well as affordability as a type of gold investment. Numismatists prefer investing in collectable coins instead of bullion bars. These coins may be cheaper in certain cases, simply because they never entered circulation. Proof sets often come in their original packaging, which is left undisturbed by the collectors in order to enhance their value. Mints across the world have picked up on the numismatic trend of collecting proof sets and they often release a collection of proof sets aimed at the collectors.
Mint sets
Many people confuse proof sets with mint sets. They are actually two different things altogether. Unlike proof sets, there are no special dies or finishing polishes used to make these coins. Mint sets, however, do mean exactly what the name implies – that the coins are in mint condition, untouched and uncirculated. The principle is the same as mint condition vinyl LPs or collectable books that have never been taken out of their original packaging, untouched by the hands of man. This is the intrinsic value that it commands amongst collectors.
Untouched and uncirculated
Of course, they come with their original packaging intact and un-tampered. For example, the US releases complete mint sets for collectors on a yearly basis. This means that each set contains uncirculated coins struck by every US mint for that year. Currently, the US has four mints that are active. These are San Francisco, Denver Colorado, Philadelphia and West Point. Now, each set will have one mint condition, untouched and uncirculated coin of every denomination released for that particular year. Mint sets may also have old and rare coins, which makes them even more valuable and desirable to collectors. The 1996 Roosevelt Dime is a classic example of a rare coin that was never circulated and its untouched mint set commands considerable value among avid collectors and numismatists alike.
Gold Proof Coins
Experiencing a boom in collector popularity during the 1930s, minting methods have actually improved through the decades, resulting in superior proof finishes. Despite this it is not unusual to notice toning, spotting or discolouration, however they will be free from signs of wear and tear, due to not having been in circulation.
Talk to our gold experts before investing in coin sets
At Physical Gold, our gold experts can advise you on the best deals when it comes to coin sets. Given that there is a wide variety of choice among these collectable sets, its best to have an expert advise you on the best buy for your portfolio. If you are buying a coin set from us, you can rest assured that every item we trade comes with a certificate of authenticity and a complete buyback guarantee.
Physical Gold is proud to be one of the most reputed online gold and precious metals dealers. Our numismatic experts are second to none in the quality of service and knowledge. We love speaking to customers just like you every day and our team of experts can advise you on how to build a robust and lasting gold portfolio that will truly stand the test of time. Call us now on 020 7060 9992 or contact us online by sending us an email through this link. Once a member of our team receives your message, we will be in touch right away.
Image credits: Wikimedia Commons and Wikimedia Commons
[gap]
[block id="cta-guides"]