While the proverbial 'high street gold shop' is not completely obsolete just yet, a large percentage of the gold trade has moved online. Buying gold through a reputed online trader gives you access to a range of different products that you probably won't get in your high street shop anyway. Moreover, large online traders are able to offer better prices by cutting out the middleman. If you think about it, the high street gold seller who operates from a small shop is really just a middleman.
Mistrust of buying gold online
In spite of that, there are investors who do not trust the online trade in precious metals. They still hold on to the notion that the best way to buy gold is to see, touch and feel it. This sentiment is perhaps one of the reasons they go to a store nearby to buy their gold and end up paying a lot more.
The cons of buying 'nearby' gold
You'd think it's a no-brainer. Let's quickly review the advantages of buying online as opposed to buying from a local shop.
By buying online you have access to a much greater collection of gold products and pay less at the same time.
Your trade remains anonymous and remains under wraps. One of the biggest disadvantages of buying gold 'nearby' at a store is that you can become an easy target for theft.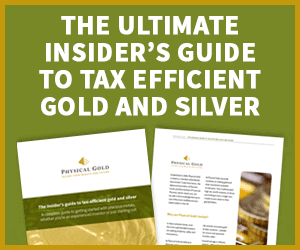 Since your transaction takes place through a digital medium, there is an online record of your payment. In all probabilities, you would pay for your purchase using a debit or credit card or maybe a bank transfer. In any event, a record of this transaction is created at both your bank as well as the dealer's bank. Once this online trail is created, it cannot be deleted and this protects you in the event something goes wrong. Many credit cards also offer buyer protection up to a certain amount.
Often local gold shops ply their trade based on word of mouth and footfall. However, this is not necessarily a good thing. If you're new to buying gold and don't know about all the dos and don'ts, you're likely to make a mistake when buying at the shop. Online traders, on the other hand, have limited human contact with you as a customer and would always try to display professionalism.
Benefits of buying from an online gold trader
Online brokers like Physical Gold, today source gold in the form of bars and bullion direct from global manufacturers and due to the large volumes, they get preferential rates. You can gain from this, as online brokers are more likely to pass on their savings to you. This is simply due to the fact that they do not have an expensive high street showroom to run and pay out utility bills, rent, salaries, etc.
Call our team of professionals to get helpful tips on buying gold online
At Physical Gold, we pride ourselves on our professionalism and commitment to customer satisfaction. We ensure that all our products are genuine and what's more, we also offer our customers a buyback guarantee. Our experts are happy to advise you on the best way to buy gold online. Call us on 020 7060 9992 or simply send us a message online to connect with our team of experts.
Image credits: Wikimedia Commons