Buying Gold and Silver Bullion
Gold and silver bullion commonly refer to bars rather than bullion finish coins. Precious metals merchants generally buy and sell both metals so it's possible to buy gold and silver from the same place. There are certain distinct advantages to buying bullion. The most important advantage is the elimination of counterparty risk and taking control of one's wealth. Counterparty risk refers to the risk associated with the promise of delivery from a third party. If you invest in gold company stocks, paper gold or other gold instruments, you open yourself up to these risks. Therefore, buying gold and silver bullion can be an excellent strategy to minimise risks and maximise returns.
---
Click here to download the FREE Insider's Guide to Buying Gold and Silver Bullion
---
Knowing the spot price of gold and silver
The first step in purchasing gold and silver bullion is to know the spot price and how it works. Nowadays, it's very easy to find out the prevailing spot prices of these precious metals. Most reputed online dealers and regulatory bodies like the LBMA display the spot price on their website. Since the spot price is a dynamically changing number, it will be displayed as a ticker. It's important to understand that you will never buy gold or silver bullion at the exact spot price. When buying, you would likely pay a small premium, over and above the spot price. Similarly, when selling, the price you achieve will be slightly below the spot price. Researching the spot prices and knowing about the market is an essential first step to buy gold and silver bullion.
Getting to know a reputed dealer
Another important step in making the right investments in gold and silver is to go through a reputed dealer. Firstly, a high-street gold seller will not have a wide choice of products available to purchase. Secondly, making high-value purchases on the high street is usually a risky business. Check out the company's track record and reviews before placing an order online. It may be worth calling them first to check their customer service. Larger bullion will be better value, but divisibility should also be a consideration.
At Physical Gold, every product we sell comes with a buyback guarantee. This assures customers that the gold bullion they buy from us is certified and genuine. This also makes a difference to buyers, as they can sell off their investments easily through the same dealer. It's important to do your own research when selecting a dealer so that you can pick the right one.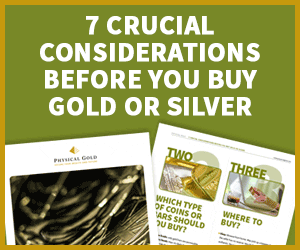 Dangers of buying from Mints
Another way to buy gold and silver coins is to buy it directly from the Royal Mint. If you choose to buy non-UK bullion, there are other reputed mints in the world, like the Perth Mint in Australia, from where you may be able to purchase your bullion online through their websites. However, you may end up paying more for packaging and processing costs. Many reputed mints will also try to sell you proof coins. These are more polished and better looking and attract higher prices due to their finish. However, you must bear in mind that the gold and silver content remains the same. So, you are unlikely to receive a higher price at the time of selling, simply because they are proof coins. If your objective is to maximise your gains, you may be better off picking the right bargains from the secondary market through a dealer.
Get in touch with us to plan your gold and silver bullion investments
The economic crisis of the post-pandemic era has already started unfolding through the first half of 2020. Many investors are moving to precious metals in order to hedge their risks. If you are thinking of buying bullion, call us directly on (020) 7060 9992, to discuss your investments. We are certain you can benefit from the right advice. You may also reach our investment team through our website.
Image Credits: Tony Media and Pxfuel