Property ownership has always been the holy grail of most UK residents. As a country, we are seen as a nation of property owners. In many ways, this makes sense. After all, why should you rent a property to provide an income for a landlord, if you can acquire your own? Over the last three decades, this sentiment has been targeted by mortgage providers and banks.
Easy property acquisition
The late 80s, 90s and early 2000s were a time when mortgages could be acquired for next to nothing. Banks were willing to fund up to 95% of the value of the property, with easy terms of payback. Many people re-mortgaged their properties after paying back the loan, to simply acquire capital based on the equity value that the property had accrued. However, the 2008 financial crisis and the decade that followed has made property acquisition more difficult. Now, the property that you bought and you're living in cannot be considered an investment. An investment property is usually a second property that you have purchased to rent out and make profits on its equity value, as property prices rise. Of course, the increments in value would vary on the location and size of the property.
Comparing gold investments with properties
Both are asset classes worth considering when constructing a portfolio. Due to the physical nature of the assets, both are tangible investments that do not carry counterparty risks. However, the two asset classes behave quite differently. Property markets are subject to volatility depending on the economic situation in the country. The 2008 financial crisis was triggered off in the US when large numbers of people defaulted on their sub-prime mortgages. Banks and mortgage providers are not in the core business of buying and selling property. Therefore, when a large number of foreclosures happen, the bank is stuck with all these properties and the value plummets fast.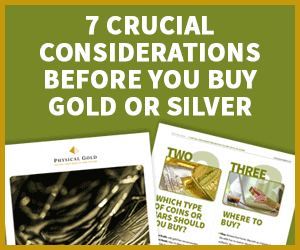 Property investments also carry additional costs like council tax, if not rented and maintenance costs. However, gold investments do not have any counterparty risks or maintenance costs. Also, the sale of a property may take a substantial amount of time, while gold enjoys far greater liquidity and the returns are immediate. Both investments tend to appeal to the same people as they share their tangible nature and appeal to those worried about the true value of paper assets. Both perform extremely well over the long term but can be volatile. This volatility can provide buying opportunities in both gold and property investment. The UK property market has taken a significant hit recently.
Property markets react adversely to an economic crisis
Property markets are prone to devaluation when the country's economy is plunged into crisis. Gold, on the other hand, has an inverse relationship with poorly performing stock markets, money markets and the economy. When the world goes into crisis, investors move to gold. This is evident from the gold peaks that we witnessed during 2011 and 2020. Therefore, we can surmise that investments in an immovable asset class like real estate carry greater disadvantages than gold investments.
Discuss your investment strategy with Physical Gold
Physical Gold is one of the most reputed UK gold dealers, and the company's investment team offers free advice to investors on the right asset classes to invest in. Call us today on (020) 7060 9992. Alternatively, you can also reach our investment team by getting in touch online via our website. We look forward to hearing from you.
Image credits: ChrisGoldNY and Pixnio