What is Gold?
Gold bullion refers to physical gold that is valued by its weight, purity, and the current market price of gold. This term encompasses a broad range of products, including gold bars, gold coins, and gold ingots. Unlike jewellery or numismatic coins, gold bullion is primarily an investment asset and is traded globally based on the intrinsic value of the gold itself.
Bullion coins like the South African Krugerrand or the American Gold Eagle are popular choices for individual investors due to their small sizes, making them easy to buy, sell, store, and transport. Gold bars or ingots, which are often larger and usually purer, are more often the choice of large-scale investors or institutions.
The purity of gold bullion products can vary, but they are usually 91.66% to 99.99% for bullion coins and 99.5% to 99.99% pure gold for bars. The weight of gold bullion is typically measured in troy ounces, grams, or kilograms.
Investing in gold bullion can serve as a hedge against inflation and currency fluctuations, a diversifier for an investment portfolio, and a tangible asset that has intrinsic value and has been a store of wealth for thousands of years.
To gain an even deeper understanding of gold bullion, its types, its significance, and how to invest in it, check out our detailed guide on What is Gold Bullion?.
Why Buy Gold?
Gold holds a unique position in the global economy. During times of economic uncertainty, gold often serves as a 'safe haven' asset. Its value doesn't depreciate with over-supply like paper currencies can, making it a reliable store of wealth. Here are some key reasons to buy gold:
Hedge Against Inflation and Currency Fluctuations: Gold maintains its value not just in times of financial uncertainty, but also in times of geopolitical instability. It is often called the "crisis commodity" as people flock to its relative safety when world tensions rise.
Diversification: Gold has a negative correlation to stocks and other financial instruments, which means its value often increases when these assets decrease. This makes it an excellent choice for portfolio diversification, helping you to reduce risk and stabilise your investment portfolio.
Long-Term Reliability: Gold has consistently proven to be a reliable investment over the long term. While the price of gold can certainly fluctuate in the short term, it has always maintained its value over the long term, providing investors with assurance of its stability.
Insurance: Consider gold as an insurance policy. Unlike insurance premiums you pay for that may never return value, gold is an asset you can sell when times get tough. It can also be a practical investment option that can balance losses in other parts of your portfolio.
So, knowing the benefits, the next question is how to buy gold coins and other forms of gold? There are several methods available, each with their own benefits and considerations.
How Can You Buy Gold
1. Physical Stores
Physical stores are traditional places to buy gold. These could range from local dealers specialising in precious metals to pawn shops. When buying from physical stores, it's crucial to research the seller's reputation. Check resources such as the Better Business Bureau and Ripoff Report to avoid potential scams. Especially during economic recessions, scams become more prevalent. Remember, buying gold isn't just about acquiring the metal, it's also about building a trusting relationship with the dealer.
Gold-to-go ATM machines have even cropped up in some middle eastern airports and high-end shopping centres. These are an exciting gimmick, but be aware that prices are highly inflated for the convenience and novelty factor.
2. Online Vendors
The advent of the digital era has opened up new channels for buying gold. Online gold retailersand auction sites like eBay offer convenient ways to purchase gold.
Specialist gold bullion dealers now offer the obvious alternative to generalist shopping and auction sites. Online vendors often offer lower prices and discounts compared to physical stores. However, be prepared to do extensive research to find reputable dealers.
If you choose to buy from an online retailer, such as our own service at PhysicalGold.com, the process can be summarised in five simple steps.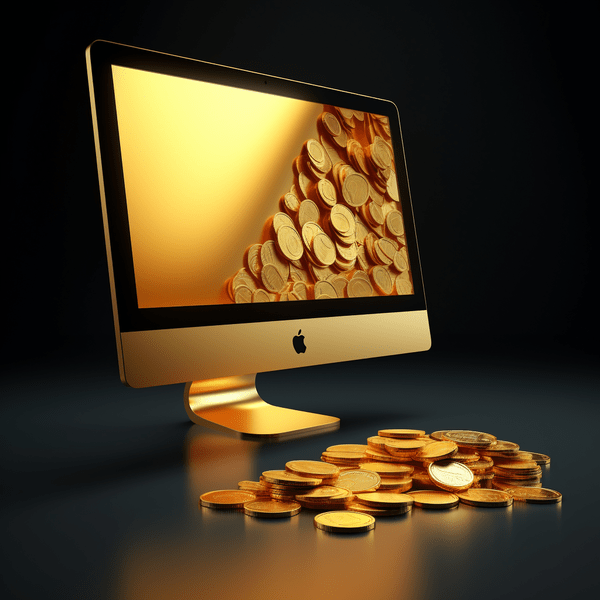 Register an account or login. Even if you're not yet ready to purchase physical gold, you can sign up for a free account. We provide expert tips and updates on how to buy gold coins, keeping you informed of market movements, special offers, and relevant insights.
Select a product category or type a specific product in the search bar. PhysicalGold.com offers variousproduct categories: From gold bars to Sovereign coins, collectable coins to brand new releases. You can either browse products within each category or go straight to a specific coin or bar.. Guidance is available on each category page, including simple videos to help you make your decision.
Add your gold to your basket. Add the quantity of your chosen gold products to your basket.
Pay using bank transfer, debit, or credit card. We accept bank transfers and several types of debit and credit cards. We use the 3D secure payment method, giving you extra protection and peace of mind.
Receive your metals or use our secure storage option. If you've chosen to take delivery of your metals, we'll send them to you using fast, secure and discreet delivery. If you've chosen to use our secure storage facility, we'll send you storage documentation proving your legal ownership and detailing your gold's insured segregated storage at our accredited vault.
Keep in mind that when choosing an online vendor, consider factors such as pricing, shipping methods, warranties, and customer reviews. For more insight into online buying, here's all you need to know about bullion coins.
3. Auctions and Antique Shops
For those who have a keen eye for value, auctions and antique shops can be exciting places to find gold coins. Collectors' coins might fetch a high price at public auctions, but for new entrants, it could be challenging to ascertain the value of these coins.
While auctions and antique shops can provide unique finds, they may lack the same level of transparency as reputable online gold dealers.
This lack of transparency could leave purchasers vulnerable to fraud or scams. Hence, caution is advised when purchasing from these sources.
The Ultimate Guide to Tax Efficient Gold & Silver Investing
Get free insider tips to ensure you achieve the best investment returns
When Should You Buy Gold?
When it comes to buying gold, there isn't a universally perfect time that applies to everyone. The best time to buy gold depends on various factors, including your financial goals, market conditions, and personal circumstances.
Market conditions: It's worth keeping an eye on gold prices and market trends. Generally, people buy gold as a hedge against inflation and economic instability. During economic downturns, gold prices often rise as investors seek safe-haven investments.
Personal finances: Before investing in gold, ensure your personal finances are in order. It's recommended to clear any high-interest debt, have a steady income, and maintain an emergency fund before you start investing.
Diversification: If your investment portfolio mainly consists of traditional assets like stocks and bonds, it may be a good time to buy gold for diversification purposes. Gold often maintains its value even when other investments falter, providing a safety net during market volatility.
Long-term investment: Gold is considered a long-term investment. While prices can fluctuate in the short term, gold has consistently held its value over the long term.
Remember, buying gold isn't about trying to time the market perfectly. Instead, consider it a way to preserve wealth and hedge against potential financial risk. As always, it's advisable to seek professional financial advice that considers your individual circumstances and investment goals.
Types of Gold to Invest In
Diversifying your investment portfolio with gold can be an effective strategy, especially given the various forms of gold available for investment. The key lies in understanding these different types and determining which aligns best with your financial goals.
Gold Coins
Gold coins are a popular form of investment due to their aesthetic appeal and tangible value. These coins come in various forms, with different face values and premium costs. The 'spot price' of gold significantly affects the price of gold coins, making them subject to fluctuations in the global market.
At Physical Gold, we offer an extensive range of gold bullion coins, from tiny tenth ounce coins up to 1oz coins and larger.. To know more about the types of gold coins available for investment, you can visit our dedicated page on types of gold coins.
Gold Bullion Bars
For larger investments, gold bullion bars might be the way to go. Gold bars can be bought in many sizes from tiny 1 gram ingots, right up to 12.5 KG gold bars.
These are essentially specific quantities of pure gold, typically marked with a serial number and assay information for identification and authenticity. Gold bars can provide cost savings due to lower fabrication costs per ounce if investors focus on bars of an ounce or larger.
The tiny bars (1g to 20g) make lovely presents but are far less cost effective. If you're considering bullion bars, you might find our guide on gold bullion vs silver helpful.
Exchange-Traded Funds (ETFs)
Exchange-Traded Funds (ETFs) are a popular alternative to direct purchase of gold bullion. ETFs represent a specific amount of gold and can be easily purchased or sold like stocks through a reputable gold company or stock broker.
Top gold mutual funds and ETFs include iShares Gold Trust (IAU), Invesco DB Gold Fund (DGL), and Franklin Gold and Precious Metals Fund (FKRCX).
Gold Mining Stocks and Companies
Another avenue for gold investment is through gold mining stocks and companies. While potentially profitable, these investments come with their own set of risks, including geopolitical risks associated with mining operations and the correlation between the share price and gold price.
It's essential to thoroughly research any company before investing.
Build Your Precious Metals Portfolio Today
Our portfolio Creator shows you the best precious metal investment for your budget.
Choosing the Right Gold Coins for Your Portfolio
Gold Britannias vs Gold Sovereigns
Investing in gold coins isn't a one-size-fits-all endeavour. Each coin has unique features that might appeal to different investors.
For instance, Gold Britannias are made of 24 karat, 1-ounce gold, appealing to investors seeking a larger quantity of pure gold per coin.
On the other hand, Gold Sovereigns are smaller, made of 22 karat gold and have a rich history, making them highly collectible and adding a numismatic value to them.
This makes Sovereigns appealing to collectors and history enthusiasts who value the story behind their gold and perhaps seek smaller denominations.
Gold Coins vs Gold Bars
The decision between gold coins or bars should depend on your investment goals and personal circumstances. Gold coins offer the benefits of being easy to handle, sell in small quantities, and carry potential numismatic value.
In contrast, gold bars typically come with lower premiums over the spot price of gold, making them more cost-effective for large-scale investors.
You'll also find that bars are easier to store in large quantities, though they lack the collectors' value of coins UK investors can also benefit from UK legal tender gold coins being exempt from Capital Gains Tax (CGT).
A huge possible saving when compared to taking profits on gold bars.
Sovereigns vs Krugerrands
The choice between Sovereigns or Krugerrands can hinge on several factors.
Sovereigns, with their rich history and numismatic value, are excellent for investors who want more than just gold content.
Krugerrands, meanwhile, are 1oz coins that are ideal for investors looking for a larger coin and wide recognition.
Both are highly liquid and globally recognized, making them a safe bet for most gold investors.
Building a Diversified Gold Portfolio
Buying Gold Sovereigns
Buying gold sovereigns can be an excellent choice for those seeking portfolio diversification and a hedge against economic instability. These coins offer an attractive blend of affordability, recognizability, and historical value. Their smaller size also makes them an excellent choice for investors looking to sell small amounts of gold over time.
Investing in Gold Bullion Bars
Investing in gold bullion bars is a straightforward way to add a substantial amount of gold to your portfolio. These bars offer a simple, cost-effective investment in gold, with prices often closer to the spot price than gold coins. Bullion bars are best suited for largerinvestments as the smaller bars can actually be more costly per gram than gold coins..
The Best Gold Coins for Investment
When considering the best gold coins for investment, it's essential to consider factors such as purity, recognition, liquidity and cost. The American Eagle, Canadian Maple Leaf, Gold Britannia and Gold Sovereign are all popular choices due to their high gold content, global renown and liquidity. Each coin has its unique advantages and disadvantages, so your final decision should align with your individual investment goals.
Browse and Buy Gold Coins and Bars From Our Extensive Stock
Understanding the Gold Spot Price
The gold spot price is a crucial concept for every gold investor. It represents the current price at which gold can be bought or sold for immediate delivery.
Monitoring the spot price can help you make timely investment decisions and maximise your potential returns.
Buy From A Trusted UK Gold Dealer
Investing in gold can be a strategic move to diversify your portfolio and secure your financial future, and at Physical Gold, we make this process as simple and rewarding as possible.
There are several compelling reasons why you should choose PhysicalGold.com for your gold purchasing needs. Firstly, we offer great value and low premiums, thanks to our focus on only the coins and bars best suited for customers looking to maximise their profits. This approach ensures our prices remain competitive, as we continually check rates across the industry to give you the best deals.
In addition, our commitment to customer satisfaction is reflected in our over 1,000 5-star reviews across platforms like reviews.io, Google, and Trust Pilot. These reviews aretestament to our dedication to provide excellent service, guidance and prices.
When it comes to selling, our Buyback Guarantee gives you peace of mind. We're buyers as much as sellers, and our emphasis on the best-known coins and bars means our buyback prices are among the highest in the industry.
We believe in a flexible and personal approach to each customer's needs. Whether you're a self-driven investor keen on doing your own research, or you appreciate expert advice to navigate the vast choice of coins and bars available, we have you covered. Our trained customer service team is equipped to offer bespoke solutions based on each customer's individual investment objectives.
At Physical Gold, we offer a wide range of investment solutions. From lump-sum purchases and monthly savers to Pension Gold, we have flexible options to suit your investment goals.
Our accreditations from respected bodies like the British Numismatic Trade Association (BNTA), National Association of Pension Funds (NAPF), Chartered Institute for Securities & Investment (CISI), British Numismatic Society, and the Royal Numismatic Society further underscore our commitment to quality and ethical business practices.
Kickstart your gold investment journey with Physical Gold today. With our expertise, competitive prices, and commitment to exceptional service, we make buying gold a rewarding experience.