Considerations Before You Buy Gold
Should you buy physical, electronic or paper gold?
This very much depends on your own personal, financial objectives and your own desired level of risk and returns.  Each option comes with its own level of risk, some higher than others.  Read about the Risk Pyramid below, where the highest risk options sit at the top, with the lower risk gold options at the bottom of the risk pyramid.
Derivatives (CFD, futures, spread betting) These suit short-term speculation but they can be very complicated and very high risk.   These sit at the top of the risk pyramid, as they are considered to be the highest risk.
Mining Co shares – These have the potential for higher returns if the mining company does well. Though they very high counterparty risk and any returns on the investment may take years
Precious metals fund – Well regulated and generally invested into a mix of mining shares. Annual management charges do apply and these funds tend to be mid-risk on the pyramid, as there's no investment into physical metals
Fully Allocated ETFs – Slightly lower risk are ETFs. These are cheap, fast and easy to buy and sell, but they do come with counterparty risk.  It's possible to leverage ETFs, but then the risks become higher.  Because there's no actual gold, you cannot take delivery of these plus annual management charges will apply.
Physical coins and bars – These are the lowest risks on the pyramid because you buy and receive your own physical gold.  There's no counterparty risk involved, as they're solid, tangible assets, which you personally and fully own. You can store your gold at home and it can also be TAX-FREE if you purchase UK gold coins. Depending on which type of gold you buy, the costs can vary, but you can take delivery of any type of gold.
For more information on this please visit our page 'Physical Gold versus Paper Gold.

Which type of physical coins or bars should you buy?
Within a UK pension fund, only gold bars are permissible.
If you buy with non-pension funds, then almost always UK legal tender coins will provide the best option.  Their advantages are;
Tax efficiency; Legal tender coins have no Capital Gains Tax to pay if you earn a profit. Bars and foreign coins are taxable.
Liquidity; Gold is easy to buy and sell due to its desirability and track record. Don't buy obscure precious metals, as your sale price will reflect their limited appeal.
Divisibility; Owning one huge bar may appeal to your ego but it means that you have to sell all, or none, of your holding. Opting for coins means you have the flexibility to sell as little or much as you like when you like.
Value; You can benefit from economies of scale without compromising on your divisibility. When the time comes for you to sell, UK legal tender coins can fetch amongst some of the best prices in the market.
Where should you buy from?
A Jeweller; This may be convenient for you to get to & pick up from, but they usually have a very limited supply of coins or bars. There should be no paperwork involved but they will pay you a vastly lower price when you wish to sell back to them.
eBay; You can browse from home and you may pick up a bargain if the seller has no reserve. This is a very high-risk option as the coins or bars may not be authentic and there's no paperwork or recourse.
Auction; You may find some auctions have decent quantities, but these are few and far between. It's quite a time consuming to attend an auction and can be more expensive, in the end, than you anticipate. There is also a high risk of buying illiquid gold, especially if you're not experienced in this area.
Gold Dealer; More choice and higher quantities are available through a reputable dealer. They can provide expertise and guidance if required. And because they regularly buy and sell, dealers are in a position to offer good prices and should also offer a buyback guarantee. You should always receive certificates of authenticity, & the correct paperwork, to ensure you are in the best position to sell when the time comes.
Do your research when selecting a Dealer as not all are equal. Ensure they are members of The British Numismatic Trade Association (BNTA), do your research and read the customer reviews.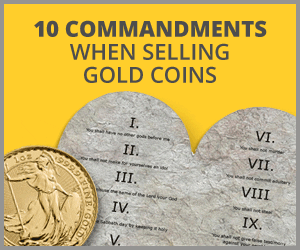 How do you know it's real and of high quality?
Buy from a reliable source
Obtain a certificate of authenticity
Only buy from BNTA members who must adhere to a code of ethics and standards
Otherwise, have it tested
Is the timing right?
Gold is still 30% lower than its peak so offers value and experts are predicting a massive dollar crash is imminent!
The Global economic outlook is bleak, suggesting mainstream markets may suffer and gold thrive.
Terrorism and political turmoil is continuing, which generally affects the price of gold, as investors turn to the yellow metal as a safe haven.
Gold is a medium to long term investment, so exact timing isn't crucial
You can cost average your buying, with a Monthly Saver account
Where can you keep it?
Hide it at home, in a safe, under the bed or in some cleverly disguised secret storage; like a clock, or plug socket. But do ensure your home insurers will cover the value of your gold.
Keep it at your bank in a deposit box. But if you haven't already got one, they're extremely difficult to get these days as many facilities are closing down.
In a 3rd party safe deposit facility. This may cost around £150/year but you will be able to access it 24/7.
Use your gold dealer's professional vaulting facility. This is the best option for peace of mind as it will be fully insured and kept in pristine condition. However, you can't touch it (and fondly run it through your fingers)!
How will you sell it?
To obtain the highest possible price for yourself, you can sell your coins one at a time to collectors, as and when there is a demand for them. But this may take time, so you'll need to be patient.
You can sell to a jeweller for ease, but you might not receive the best value, as they are likely to melt down the gold.
Sell on eBay to potentially secure a very high price. But beware of additional Paypal charges and unscrupulous buyers. Don't forget your reserve price!
Sell back to your dealer for an optimum mix of convenience, instant liquidity and the best price. You should ask if they offer a Buyback Guarantee when you originally purchase from them.