Coinex 2018 is scheduled to kick off in London at the end of September, marking four decades since the first event was held. Organisers at the British Numismatic Trade Association (BNTA) are opening up the event to more dealers than ever, promising excellent choices for collectors and investors alike.
Who are the BNTA?
The BNTA was first formed all the way back in 1973 in order to help the nation's community of coin dealers engage with the government on tax issues impacting their industry, while also attempting to stamp out forgery and counterfeit coin operations.
Just five years after its formation it launched the first Coinex event, traditionally hosted in the heart of the capital at hotels and event centres near Mayfair.
---
Interested in buying gold or silver? Download our FREE 7 step Investment cheatsheet here
---
Plans for Coinex 2019
Coinex 2019 will be moving back to its usual venue at the Millennium Hotel, London, Mayfair. The old Millennium Hotel has now been rebranded as the Biltmore, Mayfair. The hotel has now been upgraded to a five-star status following an extensive renovation and facelift. Today, the prestigious hotel at 44, Grosvenor Square, Mayfair is part of the Hilton group. The hotel has been renovated at a cost of £50 million through 2018 and will celebrate its brand-new opening in September 2019. The BNTA believes that it will be an ideal location for Coinex 2019. The luxurious new conference halls will mean that a larger line-up of coin dealers and attendees can be accommodated. With excellent public transport links, secure delivery access and the perfect positioning for people who want to explore London as well as buying gold coins, the Biltmore, Mayfair should be an ideal setting for Coinex 2019.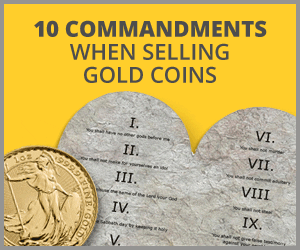 Why attend this event?
Quite simply the BNTA's size and influence mean that this annual get-together of dealers is one of the best places to find valuable coins of every conceivable age and quality.
The involvement of the BNTA also gives buyers peace of mind about the provenance of what they are buying. Every dealer this year will either be a member of the association or have been invited specifically to set up shop because they are known to be reputable.
It's worth noting that over the year Coinex has expanded to include more than just rare coins. Everything from banknotes and medals to bonds and shares will be on sale, so even people with a passing interest in rarities and collectables should make an effort to attend.
With the event increasing in size for its 41st anniversary, you can also expect to see antiques of other types mixed in amongst the stalls, ensuring there's something for everyone. On Friday, 27th September 2019 a special VIP preview will be held from 10 am to 12 noon. This session has an entry fee of £30. The regular event will commence from noon on that day till 6 pm, with the entry closing at 5:30 pm. The event will continue on Saturday, March 28. September 2019, from 10 am to 4 pm. The final entry is scheduled at 3:30 pm.
Why buy gold and silver coins?
Some people buying precious coins just for the thrill of collecting rare, historic objects. Others do so to make an investment in a physical commodity that will appreciate in value. Whichever category you fall into, Coinex 2019 should pique your interest. Gold coins have historically kindled the interest of numismatists and investors alike. As a stable asset class, gold coins add balance to an investment portfolio. Silver coins, on the other hand, have gained popularity over the years, as investors see the white metal as a promising investment vehicle that could provide rich returns in the foreseeable future.
Invest in precious coins with Physical Gold
If you are interested in buying rare gold coins and collectable silver coins, you don't have to head all the way to an event in London and haggle with dealers. Contact Physical Gold by calling 020 7060 9992 or using our contact form for advice, quotes and assistance.
Image Credit: Burst