There are many ways to get into gold investments, each with their purpose and benefit for gold investors.
They aren't always strictly the very cheapest methods of gold ownership, though. When you're new to the world of gold investments, it might be rather confusing. You might even think that you can't afford it. However, that doesn't have to be true.
In this guide, we'll help you understand what you can do to make your gold investments more affordable and ensure you're paying the right price.
What Are The Ways To Buy Affordable Gold?
Gold is a popular investment, and there are many ways to add this precious metal to your portfolio. These include direct ownership of gold, betting on gold to perform well in the future, or backing the companies that mine the gold.
Each of these comes with risks and benefits. But in the end, owning gold is still your most secure, non-volatile long-term investment.
Let's take a look at four of these options in more detail:
1. Physical Gold
Physical gold is most often available in gold bars or bullion coins. You can buy physical gold in several ways and sizes directly from government mints or through online precious metal dealers like ourselves (often at better prices).
Gold Bars and Bullion Coins: These are the most common forms of gold investment. On a cost-per-ounce basis, large gold bars are cheaper than gold coins as the premiums are lower. That being said, gold bars cost most than gold coins due to being significantly larger in weight. Smaller gold bars are available but their relative cost is higher. Before you proceed with the investment, take your time to decide which option would be right for you.
Buying Process: Choose a reputable dealer or government mint, pick your product, and complete the transaction. Gold buying has never been more convenient, and transactions online can now take minutes.
Tax-Free: A significant benefit of buying physical gold is that you'll often pay no VAT or capital gains tax. CGT-exemption applies to purchasing legal tender gold coins (our pro tip)!
Considerations: There are several things to consider when considering the cost of physical gold. Storage, insurance and delivery are all extra costs for the buyer. However, using an online broker will usually bring you reduced rates on storage, and insured delivery can be free via us.
When you're only entering the waters of gold investments, it's important that you do your homework and don't rush into making decisions. Ensure that the investment can be done safely and will be truly beneficial to your portfolio.
2. Exchange-Traded Funds (ETFs): A Cost-Effective Option
ETFs are a cost-effective way to invest in gold; you don't have to own the metal physically.
But they do come with potential risks.
What are ETFs?: They're investment funds traded on stock exchanges, just like stocks. Gold ETFs track the price of gold, so you can get exposure to gold price movements without owning the physical metal.
Cost-Effectiveness and Risks: ETFs can be cheaper than buying, storing, and insuring physical gold. However, there's a risk. What if the ETF provider doesn't back the ETF with enough physical gold?
One of the main benefits of ETFs is that you don't need to worry about storing the gold. However, you should still make sure that you're ready to face any potential risks.
3. Mutual Funds: Diversify Your Gold Investments
Mutual funds allow you to spread your gold investments across multiple gold mining companies. They represent a more stable asset.
Gold Mutual Funds: These funds invest in various gold-related assets, which includes mining company stocks. This diversification can provide more stability compared to investing in individual gold stocks.
Popular Gold ETFs and Mutual Funds: The iShares Gold Trust is popular. Others include the VanEck Vectors Junior Gold Miners ETF (GDXJ).
Just like with any other investment, you should weigh the positives against any possible negatives to ensure that you're taking a step in the right direction.
4. Futures Contracts: A More Speculative Investment
Gold futures contracts are a more speculative and leveraged way to invest in gold. You'll need a brokerage account to get started with this investment.
They're contracts to buy or sell a certain amount of gold at a set price on a future date. They offer the potential for high returns with a relatively low upfront investment. However, they also come with significant risks because of their leveraged nature.
Overall, each method has its merits. But at Physical Gold, we see gold as the most tangible and secure form of investment. It's a real asset you can hold, store, and eventually sell when right.
Download Our FREE Ultimate Insiders Guide to Tax Efficient Gold Investment.
Three Cheap Methods of Buying Physical Gold
Buying gold in bulk and buying coins to avoid capital gains tax are some of the most affordable ways to buy physical gold. Opting for pre-owned gold coins can also provide a slight discount compared to buying brand new minted coins.
However, it can be confusing when deciding which option suits you and your investment portfolio.
Here we break down the elements you should consider to get the lowest entry point into physical gold ownership.
1. Buying Gold in Bulk
Buying gold in bulk quantities will get you the most gold for your money due to the economies of scale it offers. However, it will require a more significant initial outlay.
Economies of Scale: When buying gold in bulk, you'll reduce your cost per unit. This is because the premiums, delivery, and other associated fees will all be lower per unit. A recommended order to achieve this at the lowest cost would be £20,000 and upwards. But even purchases of £5,000 will benefit from some quantity discounts.
Dealer Discounts: Dealers often offer discounts for bulk purchases, reducing the cost per unit.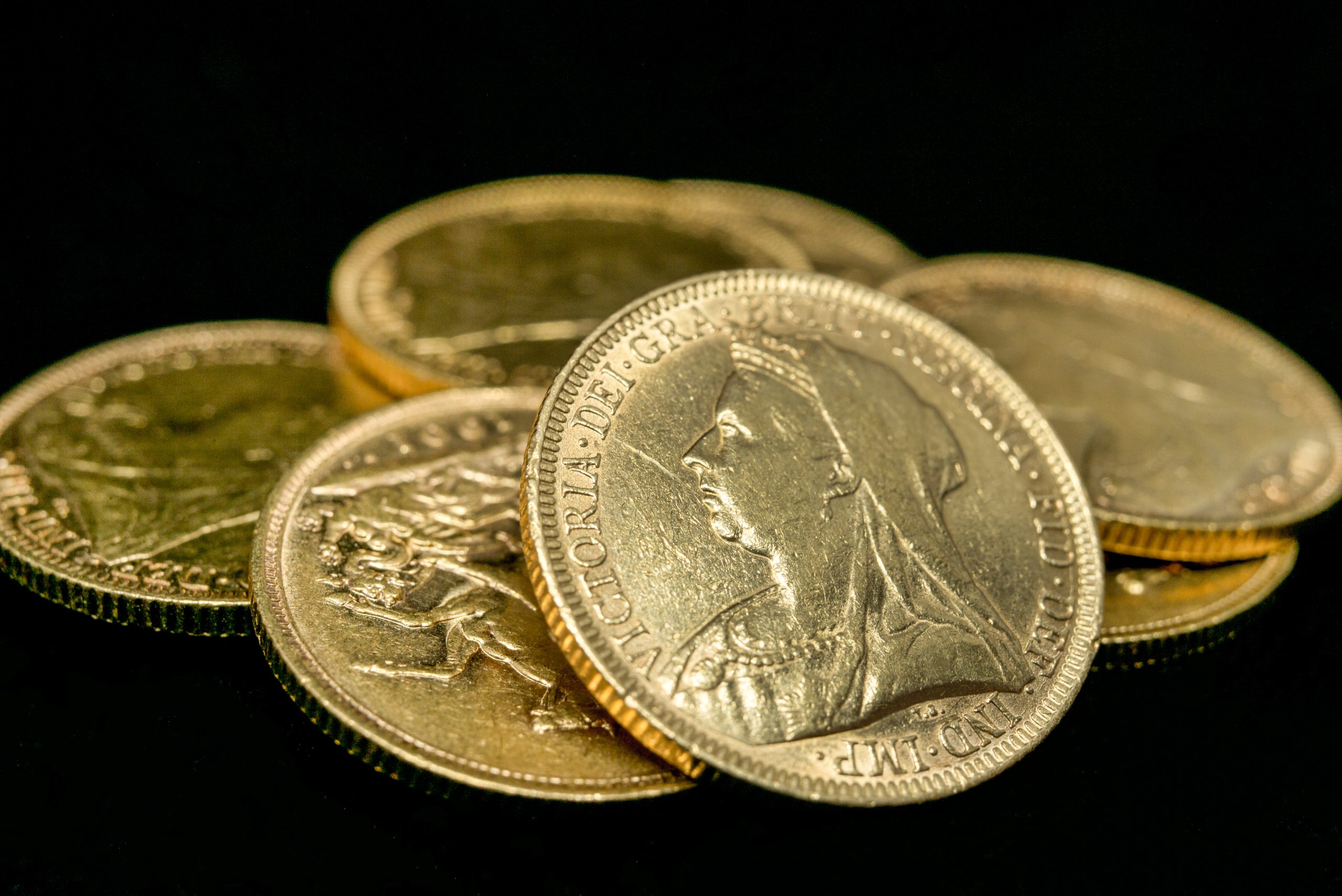 2. Buying Pre-Owned Gold
In a similar way to purchasing a car, nearly-new options can sometimes be the most cost effective. A common term for pre-owned gold on broker websites is 'best value', which can be applied to both gold coins and gold bars. Most of the time, you'll pay up to a percent less for the second-hand version, but be able to sell back at the same price. Here are some insider tips on both.
Best-Value Gold Coins
Buying second-hand Sovereigns, for example, can provide the opportunity to reduce your cost of purchase when compared to the latest year's issue. Be careful not to assume that all pre-owned coins are cheaper.
Coins of significant age or limited issue can sometimes actually cost far more than newly-minted versions. Victorian Sovereigns will cost a hefty premium due to their historical appeal. The sweet spot tends to be coins issued in the last decade or two.
Best-Value Gold Bars
Similar savings can be made if buying pre-owned gold bars. Availability will depend on how many customers have sold back older bars to the dealer. When selling dominates the market, options can be available in most sizes of bars.
In more balanced markets, gold dealers may only be able to offer best-value gold bars in the most common sizes like 1oz. You may not be able to select a particular brand, but the bar will still be 999.9 purity.
3. Buying Coins To Avoid Capital Gains Tax
The real charm of gold coins lies in their ability to help you sidestep Capital Gains Tax (CGT) and VAT. This makes them one of the most cost-effective ways to invest in gold.
Under the Taxation of Chargeable Gains Act 1992, Sovereigns dated after 1837 and Britannia are exempt from CGT. This is because of their legal tender status. Older Sovereigns dated pre-1837 also qualify for exemption under a separate rule of being a chattel (personal possession).
Many other Royal Mint coins with a face value also qualify. These coins include Queen's Beasts, Tudor Beasts, and Myths and Legends. They are eligible as they meet the same technical specifications as the Britannia.
In regards to the lowest cost tax-free gold coins, you will want to look at the following:
These gold coins will give you the most bang for your buck. There is no upper limit either, which is why so many customers focus on these coins as a tax-free store of wealth.
Moreover, we have a Pension Gold product that has also proved to be a popular way of benefiting from rising gold prices without paying tax. Any profits from gold bullion held within your Self Invested Personal Pension (SIPP) are sheltered from CGT.
If you're ready to start your investment journey with gold coins, make sure that you have a browse through our selection of the best value Sovereigns.
Browse Our Range of Gold Britannias and Sovereigns
Most Cost-Effective Forms Of Physical Gold
Regarding the cheapest type of gold investments, gold bars often emerge as the frontrunners. However, certain types of gold coins also offer a competitive edge. Here's why:
Gold Bars: Best For Cost Per Ounce
Simplified Production: Gold bars are a straightforward design. This means they are less complex to produce than coins. This simplicity translates into lower manufacturing costs that ultimately benefit the buyer. Bars of an ounce or larger tend to offer savings, but be aware that more diminutive bars can actually cost more per gram than equivalent weight coins.
Easy Storage: Gold bars are a breeze because of their uniform shape and size. This eliminates the need for special protective packaging that coins often require.
Gold Coins: Best For Accessibility
All things being equal, per ounce, you will be paying more for your gold in gold coins than you would in a gold bar.
However, this is usually a moot point, as investors buying gold coins will do so in significantly lower weights than a gold bar carries. Most gold dealers will offer quantity discounts on gold coins. Buying increasingly larger amounts of coins at any one time will achieve lower prices than buying single coins.
Gold coins offer you a significantly cheaper route to gold ownership than would be available through gold bar investment.
Shop Gold Bars and Gold Coins
Things To Consider When Buying Affordable Gold
When diving into the world of gold investment, it's essential that you're equipped with the right knowledge. Making an informed decision can be the difference between a profitable investment and a costly mistake. Here are some key considerations to keep in mind:
When diving into the world of gold investment, it's essential that you're equipped with the right knowledge. Making an informed decision can be the difference between a profitable investment and a costly mistake. Here are some key considerations to keep in mind:
Research and Reputation: Always research the dealer or platform you're considering. Look for independent customer reviews, testimonials, and any potential red flags. A reputable dealer will have a history of satisfied customers and transparent business practices. Live prices for each gold product should be clearly stated on the website. Beware of sites which do not display prices.
Spot Price Awareness: The spot price of gold fluctuates daily. Being aware of the current spot price can help you determine if you're getting a good deal or if a dealer's markup is too high.
Hidden Fees: Some dealers might offer gold at a price that seems too good to be true. Always check for hidden fees, such as delivery charges or administrative costs that might increase the overall cost of your purchase.
Liquidity: Consider how easy it will be to sell the gold in the future. Some forms of gold, like popular bullion coins, are more liquid than others.
Purity and Weight: Ensure that the gold you're buying is of the purity advertised. Also, be aware of the weight you're purchasing; some dealers might use troy ounces while others use regular ounces.
Certification: For gold bar purchases, ensure that the gold comes with certification of its purity and authenticity.
Storage: Think about where you'll store your gold. Professional vaults or safety deposit boxes offer added security, but there might be associated costs.
Making the right choice requires a balance of knowledge, research, and intuition. Always prioritise your comfort and security when investing in gold.
How To Buy Affordable Gold Safely
Safety should be your top priority when purchasing gold. The market is vast, and while there are many reputable dealers, there are also those looking to take advantage of uninformed buyers. Here's how to ensure your gold buying experience is both affordable and safe:
Secure Websites: If buying online, ensure the website is secure. Look for "https://" in the URL and other security certifications.
Independent Customer Reviews: Before making a purchase, check independent customer reviews. These can provide insights into the dealer's reputation and reliability.
Real-Time Pricing: Opt for dealers who offer real-time pricing. This ensures you're getting the most up-to-date price for your gold.
Physical Inspection: If possible, inspect the gold physically before purchasing. This can help you verify its authenticity and quality.
Payment Methods: Use secure payment methods. Avoid wire transfers or other methods that don't offer buyer protection.
Insurance: If having the gold delivered, ensure it's insured. This protects your investment during transit.
Storage: If you're investing in physical gold, consider how you'll store your investment. Professional vaults or safety deposit boxes offer added security against theft.
Avoid Pressure Tactics: Reputable dealers won't pressure you into making a purchase. If you feel rushed, it's a red flag.
Documentation: Ensure you receive proper documentation for your purchase, including receipts and certifications.
By following these guidelines and staying informed, you can confidently navigate the gold market, ensuring your investments are both safe and sound.
Need Help Choosing The Best Gold Coins or Bars?
Use our automated portfolio builder to get suggestions based on various investment objectives.
How To Determine if You're Overpaying for Gold
There are many ways you can end up overpaying for gold. First is buying coins with an additional numismatic premium.
This is where the coin's value isn't just due to its gold content, rarity, and collectability. There is a vibrant market for such coins, but it would be something to avoid for those starting off or looking for the cheapest option.
To get the best rates, calculate the per-unit cost of the gold item's weight (per gram, per ounce).
Calculating Cost: You can calculate the cost by dividing the cost of the gold item by its weight, whether in grams or troy ounces. Now you have the price per unit of weight, which you can compare across different products to find the cheapest option. You can benchmark this against the current live gold price to see how it compares.
You'll find that gold dealers who have been in the business a long time, like ourselves, will give you honesty on what would be a good or bad deal for you.
So, Where Should I Buy The Best Value Gold?
The cheapest way to buy gold is by making your investment online. But what makes it the best option?
Online Gold Purchases: The Winning Choice
Purchasing gold online often emerges as the most affordable option, thanks to lower overhead costs for online dealers. However, it's essential to make sure that your purchase is safe. Buying gold online is safe if you purchase from a reputable seller.
Online dealers such as Physical Gold offer gold much closer to the spot price, allowing you to buy and sell in whatever quantity you fancy. The transaction process is fast, allowing almost instant buying and selling once you're signed up.
On top of this, the gold can be sent straight to secure vaults, ensuring your investment is safe.
You'll also likely get preferential rates on overheads, such as the storage and delivery of the gold, something to bear in mind when looking for the most cost-effective option to buy.