Are you looking for a unique and special gift to give a loved one this Easter? Easter is now the second biggest holiday of the year for gifting presents, after Christmas. It is no longer enough to simply buy someone chocolate. Gift giving at Easter is becoming increasingly popular. Here at Physical Gold, we specialise in a wide range of one-off gold investments including bullion coins and gold bars, the perfect gifts this Easter.
Easter 2023 Dates
The dates for Easter 2023 are:
Good Friday – April 7th, 2023
Easter Sunday – April 9th, 2023
Easter Bank Holiday Monday – April 10th, 2023
Gold's association with Easter
There are many traditions that are typically associated with the Easter holidays. Bunny's, cards, chocolate eggs, and hot cross buns to name but a few. Gold's association with Easter, however, goes a long way back and it has often been a common practice to paint an egg gold or decorate it in gold leaf at Easter.
This practice was partly influenced by King Edward 1 who once ordered 450 eggs to be gold leaved and coloured to give as gifts to the royal household. Gold is widely recognised as one of the official colours of Easter, along with purple (colour of lent), white (colour of Easter Sunday) and red (the blood of Jesus).
Before this though, graves in Egypt have found ostrich eggs decorated in gold and silver which were dated to five thousand years ago, so the link between gold and eggs actually far pre-dates Easter.
---
Read the FREE Gold Insider's Guide PDF to ensure you buy the best gold
---
In 2009 Selfridges made headlines when they advertised a gold themed Easter egg for the incredible sum of £1000. The Easter egg contained a particularly rare one-ounce gold Britannia coin no longer produced by the Royal Mint and was advertised as the ultimate luxury gift.
Why gold coins are the perfect gift this Easter
During the 13th century, the British royal family gave gifts of food, clothes and coins to the poor on the Thursday before Easter. By the time Charles II came to the throne in 1630, special coins known as Maundy money were produced specifically for the occasion. In the US, one of their long-standing Easter traditions is to fill Easter eggs with chocolate coins or sometimes even real coins can be used.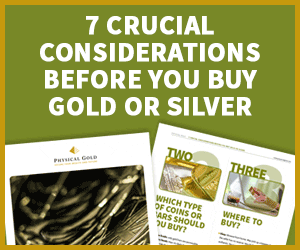 Gold coins such as Sovereigns and Britannias make very special and unique Easter gifts. Gold is seen as an excellent store of wealth and has continually held its value over long periods. The gift of gold is one that will last a lifetime as opposed to just the 15 minutes it takes to eat an Easter egg. Gold coins that are classed as British legal tender also benefit from being Vat and Capital gains tax-free in the UK providing, they are over 22 karats.
Here are three specific gold investments you may want to make this Easter, which suit a variety of budgets:
Gift the gift of gold this Easter
Gold represents the perfect gift for either a loved one or special family member this Easter. Not only is it something they can cherish and look after, with a view to possibly handing it down to future generations, it also introduces them to the world of investing.
Physical Gold has one of the largest selections of gold available in the UK. Whether you're looking to purchase gold sovereigns or gold bars, we have the ideal gift for you this Easter. For more information on any of our product or services, please give us a call on 020 7060 9992.
Image Sources: Postapo