The day following Thanksgiving in the US is, of course, Black Friday and typically kicks off the official Christmas shopping season. If you thought that people only shopped for clothes, shoes and electronics, you're wrong. It's the festive season and a great time of the year to bring cheer to your loved one by buying precious metals. Historically, Black Friday has featured great sales of jewellery with discounts of up to 78.75% in past years.
Prices of gold and silver through 2018
The spot price of silver has fallen around 17% in the last year from around $17 per ounce to its current price of around $14.15. This makes silver an enticing purchase with many analysts believing that silver is now at its bottom price and will rise sharply in the future.
---
Thinking of buying gold or silver? Download the FREE 7 step cheatsheet to ensure you buy at the best prices
---
The spot price of gold has stayed in a much narrower range, being $1210 per ounce now, starting last November at $1275, rising to a peak of $1362 and a low of $1177. So, there's been a 5% fall in prices over the year, which makes it also a good time to buy gold.
With 2018 drawing to a close, the focus is now on 2018 with the pundits coming out with their precious metals forecasts for the coming year
Black Friday gold and silver deals in 2018
A number of high street retailers as well as specialist dealers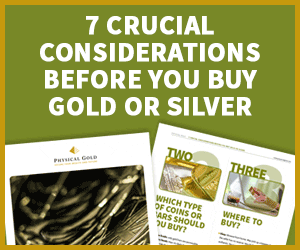 in gold and silver are expected to come forward with great offers for Black Friday – November 23rd, 2018. Goldsmiths have a great range of jewellery that they typically bring out with special offers for Black Friday. Jewellers, Ernest Jones have a range of offers on watches and jewellery on offer.
A trend that is likely to dominate Black Friday 2018 is mobile commerce. Shoppers in the UK are likely to spend more than £1.54billion on 23rd November 2018 – a growth of 13% year on year. Gold and silver retailers like John Greed Jewellery or  The Jewel Hut will also join the action to get a share of your wallet during this event.
Ensure you know more before getting a Black Friday deal
Before you rush off and splurge on that Black Friday deal, convinced that it's a no brainer, stop and think a while. If you don't have prior experience in buying gold, perhaps you could benefit from our gold buying guide. If it's silver, you're after, not a problem.
As a leading gold and silver investment broker in the country, it'll be our pleasure to give you certain market insights, that can help you make an informed choice. There's loads of information available on our website as well. We are active in the media, and we have put links to recent press releases on our website for you to go through. Call us on 020 7060 9992 or you can even mail us through this link.  We would be delighted to assist you.
Physical Gold's 2018 Black Friday Offer
Here at Physical Gold, we call our pre-festive sale 'Gold Friday', to reflect all the golden bargains we offer for a few days. In 2018, our Gold Friday sale runs from 7pm Thursday 22nd November to midnight Monday 26th November. Like last year we'll be offering discounts off gold and silver coins and bars. Discounts will range from 1% on current year bullion products Best Value 100g Gold Bar, Best Value Sovereigns and Best Value Krugerrands, to up to 3% off Gold bars and up to 10% off more numismatic coins such as the Young Head Victoria Sovereign.
But please don't wait until Monday night to pick up a bargain. All offers are subject to availability, and we anticipate some of the newly issued coins, and the biggest discounted coins and bars to go quickly. Also, don't forget our buyback guarantee, which guarantees your right to sell gold and silver to Physical Gold.
Contacting Physical Gold
Whether you are reading this page during Black Friday 2018 or not, Physical Gold provide great prices for gold and silver bars and coins. Why not call us today on 020 7060 9992 or complete our contact form.
Image Credit:  Pixabay