This year marks the 50th anniversary of the 1968 gold sovereign. The last gold sovereign to portray a young Queen Elizabeth II and the last sovereign to be issued before decimalisation (in 1971).
Elizabeth II young head sovereigns were issued between 1957 and 1968 and are considered highly collectable due to the fact they were the last sovereign to depict a younger-looking Queen Elizabeth II. Although gold sovereigns were no longer issued for circulation after 1932, the production of gold sovereigns has continued in order to meet the growing demand for gold coins. There were no proofs minted of the 1968 gold sovereign and a total of 4,203,000 sovereigns were produced that year.
---
Want to learn how to profit from Gold Sovereigns? Download the 10 Commandments now
---
A history of the gold sovereign
The first gold sovereign was minted in 1489 on the orders of King Henry VII. The idea was to make a statement in order to symbolise the countries strength and unity after years of civil war and turmoil. At the time it was the largest gold coin ever minted in Britain.
Following the King Henry VII sovereign, succeeding monarchs each chose to strike a new version of the gold sovereign as a way of displaying their own power and strength, however, this practice died out after the reign of Elizabeth I. It wasn't until George III decided to replace the guinea with a new gold sovereign 214 years later that the coin was reintroduced into circulation. Since then the sovereign has gone on to become one of the UK's most prized, most sought-after coins and it is still highly valued by many coin collectors today.
Why gold sovereigns make great investments
Gold sovereigns are one of Britain's most striking and beautiful coins,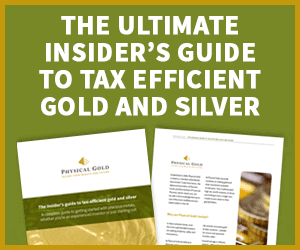 reflecting a time when the country was still at the height of its strength. Collectors who value gold sovereigns typically appreciate the incredible wealth of history behind them as well as their stunning designs. For some investors, gold sovereigns represent a way to invest in physical gold without the requirement of having to pay Capital Gains Tax, as all British legal tender is tax-exempt. Other investors look to capitalize on the scarcity value of certain rare gold sovereigns and will often pay particular attention to rare dates and issues.
Due to the fact that gold sovereigns are classed as semi-numismatics, (coins whose value is based on their numismatic value as well their bullion value) they often trade above the gold value, making them attractive investments for collectors. Gold sovereigns are also fairly liquid should you need to raise funds quickly and investors from all over the world are interested in purchasing them which means that you won't have any trouble finding a buyer.

To learn more watch our related video – "5 Reasons to buy gold sovereigns"
Purchase gold sovereigns through physical gold
We stock a huge selection of gold sovereigns including those produced from 1957-1968. Click here to browse our complete collection.  Whatever your requirements, whether you're looking for single investment opportunities or help to select a mixed portfolio of gold bullion coins, we can assist. Why not give us a call on 020 7060 9992?