Best gold and silver apps
The all penetrating world of apps has ensured that today there's an app for almost anything. Sure enough, it's no different for investors and enthusiasts of gold and silver. From price trends to authenticity testing, there's a range of apps out there for precious metals. Let's take a quick look at some of the best smartphone apps related to gold and silver.
1.  Gold and metal detector
The app is targeted at users who want to look for their gold or silver jewellery lost inside the home. The app actually works for most metals, however, users tend to use it to mainly look for their lost gold rings or silver bracelets and the like. Basically, the app uses a magnetic sensor built into most mobile phones to look for metals. Like most metal detector apps, the app measures magnetic field values and detects metals by identifying them when they are within range.
2.  Gold price live
Gold price live is an app created by goldprice.org. It provides investors with silver and prices in the form of charts and graphs on a real-time basis. Investors can also view historical data, which helps them track the value of their investments over time. These are available to view through charts that display data on a monthly, half-yearly and yearly basis. Data is also available for 5 and 16 year periods in most national currencies. The prices are available to view in most fiat currencies across the world. The app updates global prices of precious metals every ten seconds, so it's pretty current when it comes to accurate pricing. The app is available free for both Android and iOS platforms.
---
Download our FREE Cheatsheet to Investing in Gold and Silver HERE
---
3.  Moneycontrol market
Another snazzy app for you, if you're a blackberry user is money control market. Although aimed primarily at Blackberry users, which is a bit out of date, the app posts real-time updates on commodities like gold and silver, as well as global stock markets. The app is downloadable from the blackberry app world and gives investors a complete bird's eye view, not just on gold and silver, but debt and equity investments as well.
4.  The CoinTrust app
The CoinTrust app is an app that detects counterfeit gold coins and silver coins. It does this by cleverly using a bit of science. Basically, the app records a sonic signal that comes from your gold/silver coin. In order to do this, a user needs to find the relevant coin on the app, switch on the recording and then spin the coin. The app records the sound spectrum of the coin as it clatters against a hard surface and then analyses and compares the sound spectrum with the original recording of the coin stored within the app. Currently, the app has free patterns for the Gold Krugerrand and the Silver Maple Leaf. More patterns are being released soon.
5.  Auracle
Yet another gold and platinum tester on the market is Auracle.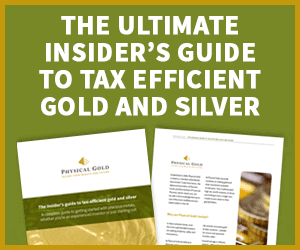 The app is more advanced as it uses pen probe technology to detect the purity of gold and platinum. It also displays the karat value of the metal on the screen, with a range between 6 to 24 karats.
Call us for advice regarding your gold investment plans
Apps may be a handy tool to have when detecting a fake at home, but to get real expert advice about buying gold or checking genuine coinage, talk to our team of precious metals and numismatics experts. Call Physical Gold now on 020 7060 9992 or email us to get in touch with a member of the team. We'd love to hear from you and our experts can give you some great tips on gold and silver investing. Call us now.
Image credit: Pxhere