It may feel like gold has always been around, after all the Aztecs and the Egyptians produced a fair amount of gold supply for a very long time and it's said that the first gold coins were minted around 550BC. However, Gold artefacts like the Bronze Age Ringlemere Cup, dated around 1600 BC, were discovered in Kent in 2001 – suggesting a thriving gold industry throughout ancient Britain.For thousands of years, gold has been globally cherished as the most precious of metals but gold is a finite resource. In fact, Warren Buffett, one of the world's most renowned investors, estimates that the total amount of gold mined in the world so far could fit into a cube with sides of just 20m (67ft).
---
With the world's gold supply so limited, click here to download our FREE pdf listing the 7 considerations before you buy gold
---
With an increase in demand, a downward trend in new gold discoveries and an increasing number of years for them to become operational, is there a real possibility that demand may, one day, outstrip supply?
No physical gold supply
Recently, we saw headlines of, 'lines around the block to buy gold in London' and, 'banks placing unusually large orders for physical gold', as institutional investors were seen to be rushing to buy it again, fearing the world was on the brink of another financial crash. This was especially true in light of some central banks moving toward negative interest rates, the US dollar weakening and the lack of alternative investments.
Central bank demand, as well as Chinese investors (seeking protection from their own weakening currency), contributed towards the increased demand for gold – exacerbating the likelihood of a shortage.
One such example of this happened in Germany recently, with a very real lack of physical gold. Xetra-Gold, a bond on the Deutsche Borse commodities market, claims that every virtual gram of gold is backed by the same amount of physical gold, yet clients were recently refused the precious metal, due to 'business policy.'
Similarly, Deutsche Bank experienced troubles with delivering even small amounts of gold to retail clients, all of which could be signals indicating that a global physical gold shortage is possible. The way to avoid such a risk is to consider physical gold versus electronic gold.
Dwindling new gold supply
Mining.com gives supporting figures for the low gold supply; looking at the past twenty years, exploration spending for gold peaked in 2012 when mining companies spent a total of US$6.05 billion. This yielded only four major gold deposits being discovered, compared to an average of ten per year leading up to 2012.
Whilst any major gold discovery could be heralded as significant, the time it takes to bring a deposit into production is increasing significantly. Such discoveries are now expected to take an average of 19.5 years from discovery to production, due to increased legalities and more socially acceptable infrastructures.
At the same time, China, Russia and India are currently buying tons of gold as it becomes increasingly attractive as an alternative to reserve currencies. According to the IMF, China bought monthly amounts of around 11 tons in January to April 2016 and Russia registered 14 tons a month, between January and June 2016. And for the trading week ending on 6th November last year, 45 tons of gold was withdrawn out of the Shanghai Gold Exchange (SGE) vaults – which is the equivalent of the total wholesale gold demand in China.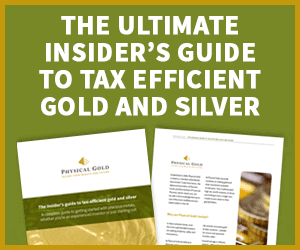 A US Geological Survey estimated there to be around 52,000 tonnes of mineable gold still in the ground, but when you factor in the lack of recent discoveries and the increased production time; for the individual, private buyer of gold, the above situation is largely good news. For many, the potential lack of supply may suggest similarities between gold investment and buying property.
In summary, the natural mechanics of supply and demand mean only one thing when you consider the points mentioned above. Physical gold maintains its value over the long term and this tangible commodity would, therefore, seem to be a valuable, long-term investment. Especially when it appears demand may outstrip supply in the coming years.

"Buying gold – 5 reasons to invest" a YouTube video from Physical Gold Ltd.