What is the gold price?
This is a generic question that many precious metal buyers ask. However, it is important to clarify certain key concepts when it comes to discussing the gold price today. Firstly, it is important to not confuse the concept of 'value of gold items' with today's gold price. Investors are often confused when faced with this dilemma. A layperson would be led to believe that the value of a gold item, whatever it may be, can simply be calculated by weighing the gold and multiplying it by today's gold spot price. However, this is not true.
The value of gold items
Well, it all depends on the gold item that you own. Is it a gold bar? If it is, then we need to check the purity of the gold by looking at the refiner stamp on the bar. The gold price today relates to pure gold, also known as 22-carat gold. If the refiner stamp on your gold bar states that it is 22 carat gold with a purity of 999.9, then today's price for gold will apply. If, however, the item you own is a piece of jewellery, an artefact or something else, then the gold price today may not apply.
This is simply because of design and making charges for jewellery or other items cannot be recovered. It is also highly likely that the purity of the gold may have been diluted to harden it. This is usually done with the addition of base metals like copper or nickel so that the jewellery can be manufactured without breakages. The malleability of pure gold does not allow it to be fabricated into such items easily.
Today's gold price
The price of gold today isn't really a fixed-price. It is a dynamic price that changes every second, whenever the markets are open. The gold market is a global one, and today's price keeps fluctuating if the gold markets are operational anywhere in the world. So, Asian markets operate at different times when compared to the New York London markets and the price of gold today keeps moving on. Apart from this, the gold markets do not operate during weekends and major international holidays like New Year's Day.
Finding out the gold price today
Today's gold price is stated in USD per Troy ounce. Most reputed dealers will have this price published on their websites. You can also find out the gold price today by searching on a search engine. The current gold price is known as the spot price. Currently as I write, the spot price of gold is $1843 per Troy ounce. The Troy ounce is a unit of measure used to weigh precious metals. It is slightly different from the regular ounce. A Troy ounce equals 31.10g, according to the metric system. The regular ounce equals 28.34 g. So, now we understand that today's gold price is the price in US dollars for 31.10 g of gold.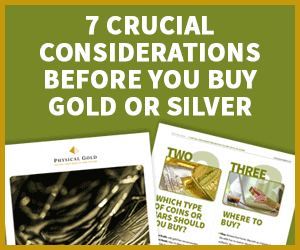 Premiums over today's gold price
When buying or selling, another key concept to be aware of is that investors cannot sell or buy exactly at the gold price today. When buying, a small premium needs to be paid over and above the gold price today. When selling, you lose this premium. The premium accounts for dealer margins, manufacturing and designing costs and other logistics.
Find out more about gold prices from Physical Gold
Our gold experts are best placed to advise you on the right price to buy or sell your gold. To benefit from this advice, please call (020) 7060 9992 or drop us a line via our website and we will be in touch with you.
Image credits: Wikimedia Commons and Pixabay