Research by Digital Ethos and Physical Gold – the UK's leading provider of gold and silver coins and bars – has found that online searches for the investment in gold have surged since 24th February 2022, the day Russia launched a large-scale invasion on Ukraine.
We have witnessed a 400% increase in search interest compared to the last three months – with peak interest on the day of invasion. Search interest peaked at 100 on the day of the invasion, a huge increase on the 20-25 average of the past three months.
There has also been an 80% increase in gold price searches in the UK and across Europe over the past week. 
Here, we have analysed how gold searches increased throughout Europe in the days leading up to the invasion and shortly after. 
Daily search demand for gold over the last three months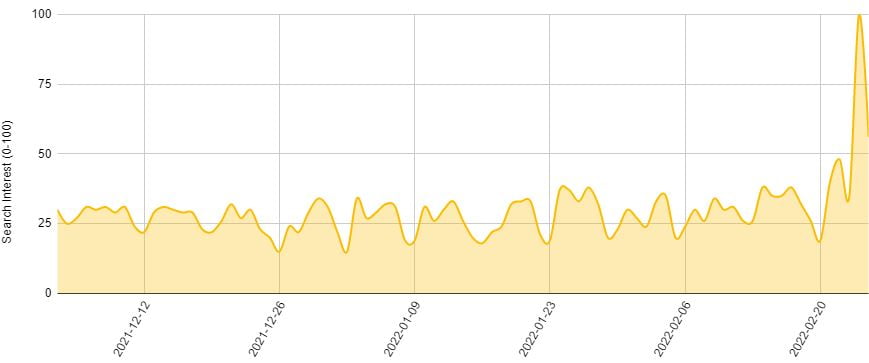 The UK saw a 40% increase in search interest around investing in gold and where to buy gold over the last five days, as well as a huge increase in searches for mining company shares.
Daily search demand vs gold price
Last week, Daniel Fisher, CEO, Physical Gold said that demand had "gone crazy" since the Ukraine crisis escalated. As more investors pile into gold investing, the market broke past £1,404 an ounce last week and has now surged to around £1,450/oz, with Mr Fisher explaining people didn't want to be left out now the price was moving quickly.

With the invasion of Ukraine, the biggest assault on a European state since World War Two, spot gold prices jumped around 2% to $1928 at Monday's opening in Asian trade.
The UK is Europe's fifth most gold-hungry nation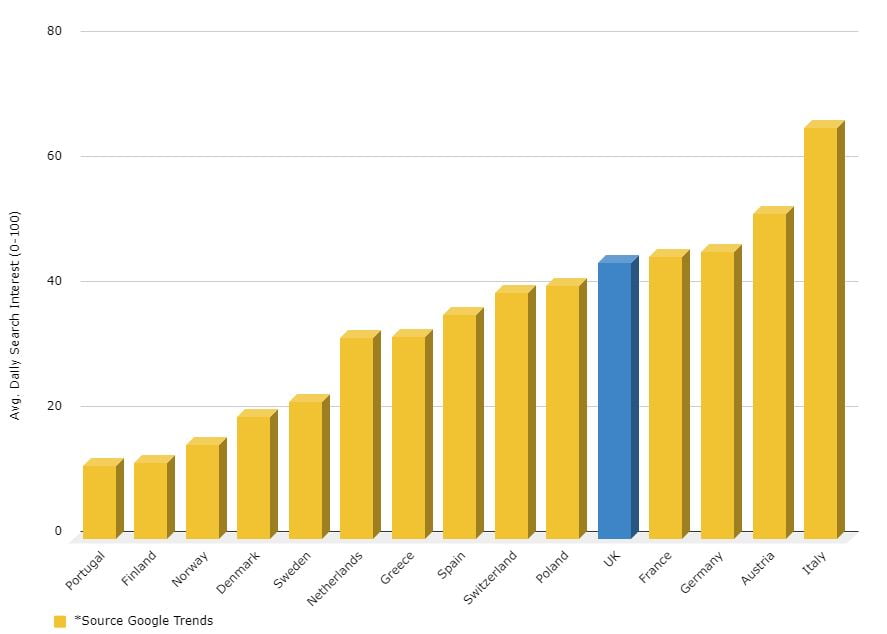 During the last week leading up to the invasion the UK had the fifth highest search interest in "buy gold" phrases. Italy led the way with the most interest, followed by Austria, Germany and France.
Portugal, Finland and Norway were the least concerned with "buy gold" phrases in the lead up to the invasion of Ukraine.
Physical Gold has seen a particular rise in investors new to gold looking for a safe investment option. Markets are facing a turbulent time from the economic fallout with investors scrambling for safe havens such as gold and this can be reflected in the huge increase in search volume.