*Updated Nov 2021
More than a decade on from observing a gradual move towards gold as a savings vehicle, we're seeing the theme become more mainstream.
Interest rates have remained at record lows, meaning bank savings for UK savers yields near to zero.
With supply chains deeply impacted by Covid and Brexit, supply-push inflation is increasing rapidly. Combined with the catalyst of global Quantitative Easing, inflation is mounting a charge upwards.
In reality, this means that leaving money in the bank in 2021 and 2022, returns far less in interest than the current inflation rate.
Add in the very real fear of a global banking crash, and many more people are looking to diversify their savings into precious metals, in order to protect the buying power of their money. We expect to see this theme continue as the world suffers the economic consequences of the pandemic.
Bank savers switching to gold
London, October 14 – Physical Gold Limited, a gold bullion dealer based in the City of London, today reported a massive rise in the number of investors switching out of bank deposits and into solid gold.
With UK interest rates at an all time low, returns on deposit accounts and cash savings are significantly below the rates achieved in the past. In fact many bank savers report interest rates below 1%, even before savings tax is applied.
Traditionally a safe haven to park cash during economic or political turmoil, deposit accounts are now deemed to offer less preservation and protection to savers' money. The credit crunch has seen banks widening the gap between where they are willing to lend money and pay bank savers. For the latter group, this has meant record low returns.
These poor returns are further threatened by the looming possibility of high inflation. With the framework of record low interest rates, relentless public spending, and the unprecedented move by the Bank of England to print £175bn of new money with Quantitative Easing, the eventual emergence from recession could see the onset of inflation. This would further erode the value of savings, whereby people could see their money able to buy less and less as time goes on.
---
Download our Ultimate Insider's Guide to gold investment here
---
In an interview today, Dan Fisher, CEO of Physical Gold Limited said: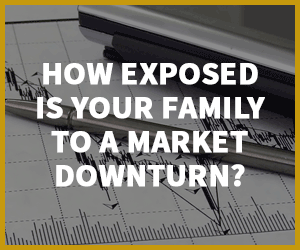 "There is a growing concern about a currency crash, both in Dollars and Sterling.  Gold has protected against the scourge of inflation throughout history and has proved to be the ultimate safe haven asset."
A new, but very real risk associated with bank savings is that of Counterparty Risk.  With many of the High Street banks everyone has grown up with now being bailed out by the UK Government, and examples of overstretching such as Northern Rock, it now means savers have to worry if their money is safe at all. With only £50,000 protected in the UK, any money above this is exposed to the underlying bank's Counterparty Risk.
Switching money into physical gold coins and bars eradicates any such exposure altogether. The precious metal is independent of any corporate or Government policy, and by its very nature as a physical asset, its value cannot fall to zero. In fact the underlying $ gold price has soared over 200% in the past 5 years alone.
Unlike with bank savings, investment into certain gold coins is totally free from tax, so any gains made on the investment can be kept rather than shared with The Treasury.
Physical Gold Limited has seen many everyday people switching some of their savings into gold and reaping the benefits of the comfort and returns it can provide.  Many savers are even contributing regularly as a savings scheme, to gradually build up a golden nest egg.