With continuing worldwide economic uncertainty and troubled markets, eyes are starting towards silver as a secure investment for their wealth.
With its industrial use, silver is one of the most utilised precious metals. It also remains an ever-popular investment vehicle.
But what is the outlook for 2024? Here we break this down along with other industry experts.
What's the Current Price of Silver and How Did It Do in 2022?
As of July 31, 2023, silver was priced at £19.14 per ounce, as seen on our live silver price tracker, which equates to around $24.50/oz.
Silver plotted a turbulent path in 2022, with prices swinging between $22 and $26 per ounce for most of the year. Several factors played a part in this, including:
A weaker US dollar made silver more appealing to overseas buyers, who used the local currency to buy.
Rising inflation caused investors to utilise the precious metal market. Silver's known qualities as an inflation hedge increased its demand.
Growing demand for green energy increased the need for silver in things like solar panels and electric cars. This, of course, pushes up demand for the metal.
Increased physical demand from retail investors who bought silver coins and bars to save expanded the market for silver.
But silver also faced some challenges in 2022:
Rising interest rates made non-yielding assets like silver less attractive.
Reduced industrial demand due to the ongoing effects of the COVID-19 pandemic cut the need for silver.
These factors provide us with the history needed to understand current prices. Using this, let's move onto the 2024 forecast.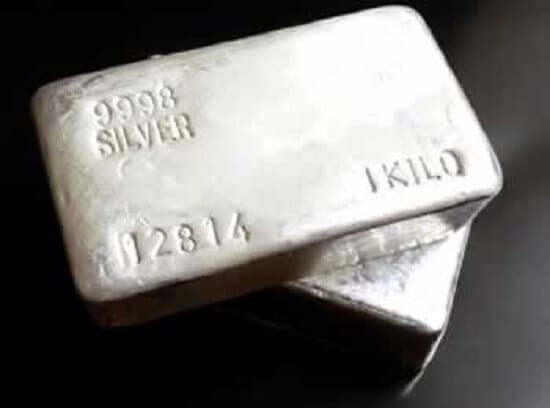 What Are The Silver Price Forecasts For 2024, Based On Expert Opinions?
There are many variables that come with silver forecasts. After all a forecast is an opinion, and it's expected that different experts use different methods.
For that reason, we've included a variety of forecasts along with our own. This provides the balanced perspective that's essential when planning your investment.
Reuters
In a poll byReutersin July 2023, traders and analysts gave predictions for the silver market. While the survey primarily focused on Gold, the implications for silver were clear.
Their silver price prediction is that the precious metal will cost $25 per ounce in 2024.
The feeling amongst those surveyed is that silver's growth may be slow without an interest rate cut from the Federal Reserve.
So, whilst they expect growth, it won't be substantial without specific market conditions.
Capital Economics
In December 2021, Capital Economics published itsoutlook for precious metals in 2022 and beyond. It projected that silver prices would average $25 per ounce in 2022, $26 in 2023, and $27 in 2024.
They cite strong industrial demand as the main catalyst for silver growth. Secondary factors are low mine supply growth.
Much of the industrial growth for this model is in green technologies, such as solar and EV.
It's worth noting that this was a very long-term forecast, and extra caution should apply. To use this, be sure to pay attention to industry growth in line with their model.
BTCC
In May 2021, leading cryptocurrency exchangeBTCC,published its silver price predictions.
Amongst its 5-year predictions, it forecasted that silver prices could range from $18 to $50 in 2024. This depends on the level of inflation, interest rates, US dollar strength, industrial demand, and investor sentiment.
It also noted that silver prices tend to follow a 7-year arc pattern, which suggests a potential peak in 2024. Their wide-ranging forecast reflects the uncertainty in predicting silver prices.

Physical Gold
Physical Gold, are a leading UK-based dealer in precious metals. We regularly provide insight and sensible advice on gold and silver investment.
We predict that the silver prices will reach around $27 per ounce in 2024, though we'll continually monitor the market closely and provide valuable guidance for investors. Silver has risen more than gold so far this year due to investors emerging from pandemic-driven safe-haven buying. We expect the Gold:Silver ratio to continue narrowing in 2024 as technology drives demand for industrial silver.
Our analysis considers supply and demand dynamics, macroeconomic trends, and geopolitical events. We also take into account other expert forecasts in our projection.
The beauty of our forecast is that we are always on hand to revise and answer questions – just get in touch.
Goldman Sachs
In November 2021,Goldman Sachs published its outlook for asset allocation in 2023 and beyond.
The projection is that silver prices would average $27.50 per ounce in 2022, $28.50 in 2023, and $29.50 in 2024.
As is the common theme, strong industrial demand for green technology fuels the forecast. They also mention scarcity due to low mine supply growth.
Bank of America
In October 2021, Bank of America published its outlook for precious metals in 2022 and beyond.
It forecasted thatsilver prices would average $26 per ounce in 2022, $28 in 2023, and $30 in 2024.
Higher inflation, a weak US dollar, and high investor demand were the positive drivers.
This bullish prediction relies on very weak economic factors. If the market shows these signs at the beginning of Q4, then it's worth paying attention to.
Download Our FREE Ultimate Insiders Guide to Silver & Gold Investment.
What Are The Risks And Opportunities For Silver Investors In The Next Few Years?
Like any other asset, silver investment comes with risks.
Much like the forecasts rely on downturns and surges in renewable growth, the reverse could happen to silver's price if these don't happen.
Understanding these risks is key to making a well-informed investment decision. Here are some markers to look out for:
Risks
Silver investors may face several risks in the coming years:
Stronger US dollar. A stronger dollar would make silver more expensive for foreign buyers. Look out for the Federal Reserve's faster-than-expected tapering and tightening of monetary policy. A strong dollar could be caused by a safe-haven demand amid geopolitical tensions or market turmoil. These factors could signal strengthening dollars and impact bullish silver forecasts.
Higher interest rates. High-interest rates can force investors away from precious metals and into high-yield investments instead. This could lead to lower demand for silver and downward pressure on prices.
Lower industrial demand. Many industries, including electronics and solar energy, use silver for its excellent conductive properties. This is a major contributor to the silver market. If these industries slow down due to economic disruptions, it could lower demand for silver and soften the price.
Opportunities
On the other hand, several opportunities could benefit silver investors:
Weaker US dollar. As the forecasts explained, a weak dollar increases popularity in overseas markets. This popularity could cause a surge in the silver market.
Higher inflation. Inflation erodes the purchasing power of money. As a result, investors turn to inflation-hedge assets like gold and silver. If inflation rises, it could increase demand for silver and push up prices.
Higher green energy demand. Silver is a key component in the green energy sector, particularly in solar panels. If expansion into these areas accelerates, it could take the price of silver with it.
The forecasts highlight that the industry could significantly contribute to Silver's success. It isn't as popular a hedge as gold, so the industry is the area to watch.
Need Help Putting Together a Physical Silver Portfolio?
Use our automated portfolio builder and see just how far your investment can go.
How To Invest In Silver To Take Advantage Of Its Potential?
Investors have several options to invest in silver to exploit its potential. Each method comes with its own set of advantages and considerations. Here are some of the most common ways to invest in silver:
Buying physical silver. This generally involves purchasing silver coins or bars from a reputable dealer. Yet, this also involves possible storage costs or security risks.. On the whole, this is the recommended way to invest as you can't beat the comfort of owning the tangible asset.
Buying silver ETFs. Exchange-traded funds (ETFs) that track the price of silver offer a convenient way to gain exposure to silver prices.
Buying silver mining stocks. Purchasing shares of companies that explore for, produce, or process silver can provide investors with leverage to silver prices.
Buying silver futures or options. These contracts give investors the right or obligation to buy or sell silver at a specified price and date in the future.
Each investment has its advantages, but investing in physical silver is the right choice to leverage all the benefits of silver investment.
It comes with the benefits of other methods whilst providing you with a tangible asset of value. An actual store of value with potentially sizable untapped upside.
Buy Physical Silver Today - Browse Our Extensive Range Of Coins And Bars
Conclusion
The silver price forecast for 2024 is not clear-cut, but most forecasts point to an increase. Based on the sources we have reviewed, we can conclude that:
The price of silver will likely increase moderately in the next few years.
Silver prices are influenced by factors such as inflation, industrial demand, and the strength of the US dollar.
Silver price trends show that the precious metal may face some risks, such as a stronger US dollar and lower industrial demand.
The price of silver could benefit from some opportunities, such as higher green energy demand and higher physical demand.