Rewarding employees is a great way to improve morale and increase motivation within the workplace. Whilst many companies offer money-based bonuses, physical gifts can also sometimes be awarded to employees. In the past, employees were often rewarded with gifts such as carriage clocks or gold watches for their performance, whilst today employees are more likely to be gifted items such as tv's iPhones or tablets.
Bonuses of gold and silver are also sometimes gifted to employees. This is usually given in the form of bars or coins. For employers looking for a more creative way to reward their staff, gold and silver may represent the perfect option.
Reasons why you should consider rewarding staff with bonuses of gold and silver
There are now many companies which award their staff some form of monetary bonus. It has reached the point where it has become almost expected by many employees. Staff have to wait until the end of the year to receive any sort of financial bonus and they are not always enough of an incentive on their own to keep your workforce fully motivated. Bonuses of gold and silver are a much more personal reward idea. They hold their value over long periods of time and make for a timeless, unique bonus. Not only are they something that can appreciate in value, but they are also less likely to be frittered away, in the same way, that an end of year bonus might.
---
7 Crucial Considerations before you buy gold or silver. Download our FREE cheat sheet
---
Gold and silver are available in a wide range of forms
Gold and silver bullion is available in both coin and bar form, offering a wide range of possibilities for employers in terms of bonuses. Whatever value you're looking to gift as a bonus, you will find something that fits your requirements.  A gold bar, for example, might make for a great retirement bonus. You could even have it engraved with a personalised message thanking your employee for their contributions over the years, making it a very special and personal bonus gift.
Tax advantages
PAYE tax and National Insurance contributions must still be deducted from bonuses of gold and silver using the employer's usual payroll procedures, however, gold and silver bullion often comes with certain tax advantages. For example, all legal tender coins in the UK are completely free of Capital Gains Tax whilst coins such as gold sovereigns are free from VAT.
Gold and silver coins
Coins make an ideal bonus gift.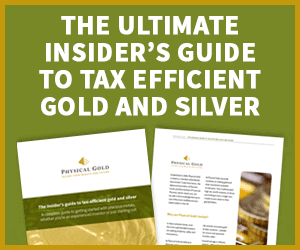 They are quite small and can be easily presented in a nice case or sleeve. There is an element of mystique surrounding coins, gold coins in particular, and they are seen as something precious and valuable. Presenting an employee with a gold coin can make them feel valued and special. It's not something that would find at your local department store or everyday retailer unlike bonus gifts such as TVs or the latest iPhone. Here are some great examples of bullion coins that would make a very special bonus gift.
Gold Sovereigns
Gold sovereigns will probably go down in history as one of the finest ever examples of British coinage. First minted in 1489 on the orders of King Henry VII, it was the largest gold coin ever minted in Britain at the time. Today gold sovereigns are no longer in general circulation; however, they are still are still classed as legal tender along with British Bullion coins such as Britannia's and Queen's Beasts coins.
Gold sovereigns are stunning examples of British design and craftsmanship. They are often given as special gifts on important occasions and are a perfect reward bonus for a hard-working employee. Steeped in history there are many examples of gold sovereigns in the UK including those that have been in circulation as well as bullion coins. Browse Physical Gold's selection of gold sovereign's here.
Queen's Beasts coins
Queen's Beasts coins are a stunning collection of coins made up of 10 different coins each featuring one of the 10 heraldic beasts present at Queens Elizabeth II's coronation. Available in either gold or silver, Queen's Beasts are very high purity coins containing .9999 silver/gold bullion. Like gold sovereigns, Queen's Beasts coins are also considered Legal tender in the UK and are therefore free from Capital Gains Tax. With their stunning designs and high bullion content, Queen's Beasts coins would make an excellent bonus gift. Browse Physical Gold's Queen's Beasts range here.
Order gold or silver through Physical Gold
Physical Gold are specialist dealers in gold and silver. We offer a wide selection of investments at leading market prices, many of which are Tax and VAT free. These include bullion coins, gold sovereigns and gold/silver bars. Get in touch today to find out more by giving us a call on 020 7060 9992.
Image Credits: Money Metals and Bullion Vault