"This time of year we see more and more people looking to the precious metals market not only as a safe haven investment but also for savvy Christmas gifts." Daniel Fisher, CEO, Physical Gold. 
Buying gold for Christmas
The precious metals market is braced for sales to rise dramatically over the next few weeks, as an increasing number of new investors look to give the gift of gold this Christmas. 
Last Christmas, Physical Gold – the UK's leading provider of gold and silver coins and bars – saw a 53% increase in customers buying Sovereign coins and  5g gold bars, which are designed as gifts to help people save for their future. 
In 2020, The Royal Mint saw a 510% surge in gold sales in November and December, compared with the year before. Daniel Fisher, CEO, Physical Gold, said: "This time of year we really do see more people looking at the precious metals market, not only as a safe haven investment but also for savvy Christmas gifts.
Gold preferred to gift cards
"Once a high street gift card might have done the trick, but today there may not be a more savvier Christmas present to buy than physical gold; to invest in your future, a family member's future or to boost your own investment portfolio."

Recently there has been a huge uptick in the sale of precious metals, noticeably among young adults, and that has been evident in Physical Gold's recent sales. According to the Royal Mint, the number of customers purchasing gold aged between 22 and 37 increased by 32% in 2020, as the coronavirus pandemic put precious metals under the spotlight. 
Daniel Fisher continued: "At Physical Gold we are hearing from plenty of millennials stuck for Christmas presents, coming to us with a genuine interest in purchasing precious metals; be that for friends, family or partners.
"Lately, too, there has been an increase in older generations purchasing physical gold. A number of our customers have hinted at these investments being put aside for their children's and grandchildren's future."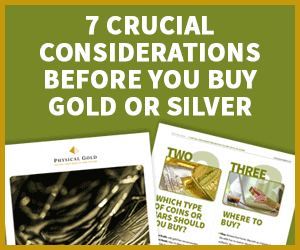 Gold price spikes with demand
Customers are being warned not to leave their Christmas gold shopping until the last minute as gold prices are expected to rise in December. In 2020, the gold price dropped significantly in November, losing almost 10% of its value. Prices then rose around 3%  again leading up to Christmas day and the New Year period. The pattern was similar in 2019, with 3% depreciation in November, followed by 2.5% recovery in December.
Daniel Fisher, says: "Our historic prices would seem to suggest that the best time to buy Christmas gold is around the end of November and early December. 
"Whether you are an experienced gold investor, or looking for a unique Christmas gift, Physical Gold offers its customers a simple, transparent and cost-effective route to holding top-grade investment gold in your hand."
As a present, gold or silver has the advantage of being a tangible gift that someone can open at Christmas. One of the big advantages of precious metals is that there are numerous products you can invest in, depending on what you feel comfortable with. The most obvious is simply to buy physical gold, either in the form of gold bars or coins. 
Physical Gold has an extensive portfolio of gold and silver bars and coins in a variety of forms and denominations in the UK. Whatever your reasons for buying precious metals, Physical Gold Limited offers a safe and secure way to buy gold and silver online.