For many, their wedding day is a very special day indeed, one that could be considered the happiest day in the life of a young couple. The exchange of marriage vows, adorned in special wedding attire makes the event a celebration, the memories of which would hopefully be cherished by friends and family in the years to come. Irrespective of religion, class or nationality, weddings all over the world are carried out with pomp and gaiety and in a similar spirit. The only things that are different are the customs, in keeping with diversity across the world.
The wedding gift
Of course, gifting is a major part of the wedding festivities and often gifts of value are showered upon the joyous couple. The most valuable gifts usually come from close friends and family. Brothers, sisters, parents, grandparents and close friends will all pull out their wallets and spend lavishly on getting the happy couple a memorable gift. There are certain emotions that people generally follow when making the decision to purchase a gift. People generally try to align the gift with the personal tastes of the receiver of the gift. For many, they intend the gift to be something more than just a gift. They intend the gift to have emotional impact, so the couple would remember the person who gave them the gift.
---
Download our FREE 7 step cheat sheet to buying gold and silver here
---
However, far too many people end up buying kitchen accessories and home décor when it comes to buying a wedding gift. Simply typing in 'popular wedding gifts' into Google, brings up a laundry list of items such as cupcake carriers, mixing bowls, glass bowl sets and baking utensils. Items of greater value perhaps, include luxury watches and even holidays for two to Dubai. But, none of these gifts will stand the test of time. Holidays will be enjoyed and a few memories preserved in the minds of the holidaymakers and pictures. Other luxury items like watches, google glasses, too will eventually reach the end of their product lives and be eventually forgotten. In order to select a wedding gift that is timeless, has lifetime value that grows and has a huge impact, one needs to turn to silver or gold.
Gold as a wedding gift
The timeless value of gold can never be disputed and the precious metal makes a great wedding gift. For a high-value gift that is both impactful and unique, one can consider buying a gold bar. Gold bars are available in different sizes, from 1oz bars to 500gms and even 1 kilo.
A popular gold bar of choice is the 100g gold bar which offers great value for money. However, if buying a gold bar is not your thing, it's worth considering gold coins instead. Gold is, of course, a wedding gift that is an asset for the young couple and for many, could be a first investment in building a wealth portfolio. They will always thank you for helping them take a step in that direction. Physical gold has many options for buying gold coins. Popular choices include the Gold Sovereign, the Gold Britannia, the 1oz Gold Lunar Dog and the Gold Krugerrand. For a great wedding gift, consider buying a case of gold coins. Cases that can hold up to 10 coins are available.
Silver as a wedding gift
In terms of budget, silver is a great deal cheaper than buying gold.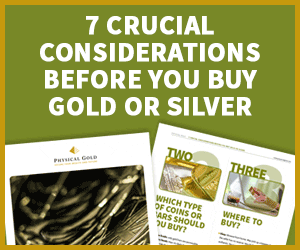 In fact, the price of silver is approximately 75 times cheaper than gold. However, just because silver is cheaper than gold, doesn't mean that it makes any less of a gift than gold. The fact that silver is cheaper, means that you can invest in more of it as a gift. Like any precious metal, it shares the properties of timelessness, uniqueness and ascending value. Physical gold has some excellent choices in silver bars, as well as collectable silver coins. An amazing purchase is the 1 kilo silver bar. Other great options in silver include the 1oz Silver Maple Leaf Coin, 2oz Silver Queens Beast Bull and the Silver Lunar Rooster.
Call our precious metals experts before you buy a wedding gift
Talk to our team of experts at Physical Gold, before you dash off and buy a wedding gift. Our precious metals experts can help guide you on the best purchase to make, so the wedding gift you buy has great style, depth and appreciates in value in the years to come. Call us on 020 7060 9992 or contact us via our website. The couple you're buying the gift for will be happy you did.
Image credits: Bullion Vault and Pixabay