Reasons to Invest in Gold
We all know that the world we now live in is evolving at the fastest pace in history. Globalisation, technology and devalued currencies are leading to huge changes that are set to impact us all.
While the rise of the internet provides us with unprecedented access to consumer goods, it's also quickly eroding the global economy as we know it. Margins are being squeezed, leading to high street giants closing down and job losses. Most of us have escaped these changes so far, but the bubbles being created in the stock and housing markets and record levels of national debts will cause a huge market adjustment in the coming years.
Investing in gold is the best way to protect ourselves from many of these dangers. Today, I want to highlight 5 compelling reasons to invest in gold.

1. Protection from a house market crash
In the UK, we're a nation obsessed with property ownership and it's easy to understand why. House prices have rocketed over the past decade in a market where investors have benefited from record low-interest rates and easy money. 5% deposits and low mortgage APRs have granted buyers easy access to the market. A competitive mortgage market has thrived on offering interest-only mortgages.
As prices have risen year on year, many house owners have remortgaged and pushed borrowing to its limits. But now we're entering a period where all these dynamics are reversing at the same time.
Interest rates have now risen both in the UK and US, with promises of more hikes to come. No longer can mortgages be obtained with tiny deposits or interest-only repayments. New mortgages and remortgages are now based on higher rates, deposit requirements are higher and monthly repayments are sky-rocketing.  All of this is set against a backdrop of falling house prices.
With the average UK resident highly exposed to the property market, a crash in prices will impact us all. Repossessions will hit lenders hard, while stock markets will decline as less disposable income crimps corporate profits.
Owning gold offers protection against such market crashes. As a safe haven asset, it's gold investors who will benefit when the markets go through a prolonged period of pain. Have a read of our study, Gold Investment versus Property.

2. Tax efficiency
A good reflection of how much tax can reduce your investment returns is the fact that every financial adviser will encourage you to fill your annual ISA allowance before you look at anything else.
However, returns on cash ISAs are lower than inflation, effectively reducing the buying power of your money. Even equity ISAs remain very exposed to market bubbles, and annual limits reduce the amount you can invest.
If the right type of gold is bought, then it can be a completely tax-free investment, with no annual limits whatsoever.
Any investment grade gold is exempt from VAT. Two elements are needed to qualify. The gold needs to be in the form of a coin or bar, and its purity needs to be 22 carats or higher. SO if you stick to these types of gold, you'll pay no tax when you buy.
Even better, is that certain gold coins are also free from Capital Gains Tax. This means that unlike every other asset in the UK (except your primary residence), any profits made in this type of gold cannot be taxed.
To qualify, gold coins need to be UK legal tender. In other words, if it has a face value, it is classified as legal tender. Any profits made on selling legal tender are tax-free to UK residents!
3. No counterparty risk
Owning a variety of investments is a great way to diversify.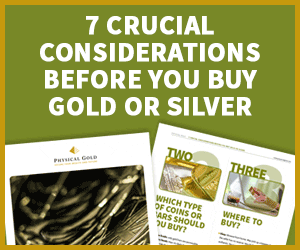 But most investments are based on a piece of paper confirming your ownership. These so-called paper assets are great when things are going well, but can fall to zero overnight when matters turn sour.
Owning stocks has one huge risk, you're depending on one particular company to perform. Look what happened to the entire banking sector in 2008. Values of bank shares plummeted in a matter of weeks.
Bonds are similar. Even owning Government bonds means you're exposed to political choices. Italy is a great example where huge debts and political instability have led to plummeting prices.
Even cash in the bank and credit cards can be vulnerable to cybercrime and online fraud.
Owning physical gold means taking personal possession of the gold coins and bars you've bought. It doesn't matter how a certain company performs, your gold always has an intrinsic value. In today's digital globalised economy, the threat to paper assets and cybercrime is growing.
4. Liquidity
Gold can be traded anywhere around the world. It has a historical track record stretching back more than 5,000 years and the gold spot price is published daily. Gold coins allow for selling small parts of your asset when you need, so you can sell whatever quantity you want at the prevailing rate.
Compare this to the inflexibility of selling a property where the whole asset is sold, providing no scope to sell only part of it. Sales can extend to months or even years.
---
Check out our full suite of video tutorials here
---
5. Currency devaluation
Last but not least is the growing threat to today's global currencies. Actually, global currency systems change every 30-40 years. We've seen a traditional gold standard, evolve into a gold exchange standard, then the Bretton Woods system, and finally into the US Dollar standard.
The problem with so-called Fiat currency like the Dollar is that its value becomes undermined as US Governments print more and more of it. Unchecked US debts in the Trillions further devalue the currency.
In Europe, we're also seeing the dismantling of the Euro with Brexit. There's a significant threat that other European countries will also withdraw in the coming years.
No doubt, when deflation and then inflation take hold, Governments around the world will seek a new system and new solution to replace the US Dollar standard. In that case, they'll look at what's worked best in the past, and likely return to gold.
This could be catastrophic if you're holding all your assets in Dollars, Euros or Pounds, but provide huge riches if you already own gold.
There are many other benefits and reasons to invest in gold, a handful of which I've covered in today's video. The key is recognising that the global economy is at breaking point and it's a matter of when, not if, it will implode. Reverting to owning gold, takes the guessing game away, securing you in the knowledge that you're prepared for any outcome.
We're here to help
If you have questions about how to get started with gold investment, then please contact us by calling 020 7060 9992, using the live chat widget on the website, or by contacting us here. Our expert team has helped thousands of people with their first foray into gold.